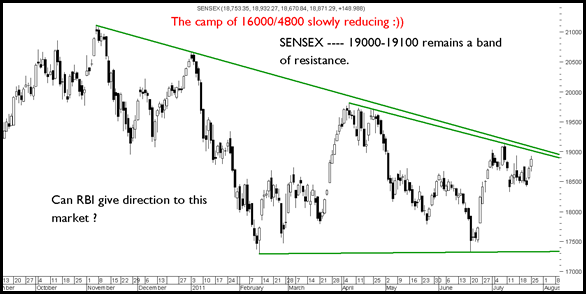 Sensex OverView:
Just a month back we were at 17300 with lots and lots of pessimism with majority of the market participants looking towards 4800/16000 levels.
Suddenly a month later we are at 18870 which is a decent 8-10% from the bottoms with many stocks hitting new highs as well as bouncing back 20-30% or even more. This is how dynamic the market is. Now what is surprising is slowly the 4800/16000 camp is reducing 🙂
This is what i had posted at 11 am in the day on June 20 when lots of Mauritius rumours were being heard and lot more.
The next day it was mentioned about some of the top picks in the index
Some of them like ITC,HUL,HDFC Bank, Bharti Airtel moved up 8-15% and ended up making lifetime highs ! thats some serious outpeformance.
In the next few days many stocks like Godrej Inds, Lnt, Bajaj Auto, Colgate, Yes Bank , Atul Limited , VST Inds, Pidilite,APL Apollo and so on which did give good returns. Some like Biocon,Cadilla showed some surprise but ended lower.
Right now i would expect the market consensus to slowly turn positive which will fuel a better move on the broader market. But its going to be a selective period with certain stocks outperforming in a big manner.
Sensex Technical View:
In the near term for the Sensex the trendline continues to come around 19000-19100 and 5650-5750 for Nifty.
Till we dont start sustaining above those levels the momentum could remain on the side counters only. Any sustained move above 5650 for 2-3 sessions can take the index to 5760-5790 i.e 19200/19800 on the Sensex.
Also once it starts trading above 19130 it will be a signal of a higher top and a trendline breakout. But i expect the rise to 19800 when it comes will be slow.
My point of view would be clear from this post - https://nooreshtech.co.in/2011/07/markets-worried-global-concerns-rising-borrowing-rates-high-inflation-next-few-months-an-excellent-time-to-create-a-portfolio.html 
I continue to remain in the bullish camp 🙂 who thinks 5200-5100 is the base for the market.
Meanwhile La Opala Glass and Piramal Glass have started their upward journey from recommended levels both being up 10-15% . Continue to hold the same for targets of 115-120 and 140 in medium term for La Opala and Piramal Glass for 165/180 in short term.
Mumbai 30-31st July
Mumbai 27th-28th August
Online Technical Analysis Workshop on
August 6th-7th
To know more on Discounts & Details contact: Kazim on 09821237002 or Asif on 09833666151