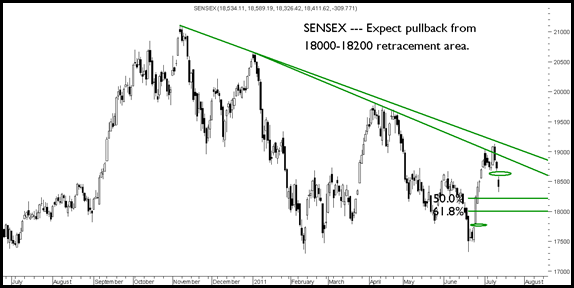 Sensex Technical View:
- > The volatility has increased in the index and yet again Sensex found resistance at the trendline.
- > The drop has been sharp as before but what we see is contraction of the falls. If the current downmove is not able to break 17500-17700 in 2-3 weeks then it could be first signs of markets having bottomed out.
-> The upmove took around 3 weeks from 20 June to 8 July. For a confirmation of a strong bear market it should break 17300 well before the end of the month or at least cover the gap left at 17754 levels.
- > Technically there are good indications that the Sensex should find some pullback at 18000-18200 levels and any further crack in this month has strong support at 17700 levels.
- > Again would re-iterate the bullish view and for us an index safe entry point is at 18000-18200 and 17700 levels. For the current scenario will stick to specific stocks.
-> In the last few weeks there have been many index constituents or mid to large cap stocks which have outperformed so there are lots of short term opportunities.
Taking a Quick Time Analysis of the major cycles till now
1) Sensex – 2942 to 21200 ---- 28 April 2003 to 10 January 2008 --- Roughly around 55-58 months
2) 21200 to 7700 ---  10 January 2008 to 27th October – roughly around 8-10 months
3) 7700 to 8047 --- Around 4-5 months
4) 8047 to 21000 --- 06 March 2009 to 05 November 2010 --- 21 months
5) Current move – 21200 to 17300 – 05 November to 20 June 2011 – 8 months
The general trend which i have seen is market tends to make important bottoms around fibonacci months and thats one of the reasons we could pick the major bottom in March-April 2009.
So right now June seemed to be around 8 months from peak. So expect a major bottom to be in place already or by 1 month more. Else the next time zone could be 13 months which would be year end.
Time Analysis is not a strict science but works well if able to use it in conjunction with technical analysis. Also there are various time frames involved which cannot be posted in one blog post :). But as per the time analysis I am looking towards we might have made the bottom or say it will be confirmed in next 1 month and then we could see a good rally till end of the year. ( This is a personal view based on my time analysis which may differ with others looking into similar analysis)
Strategy
- > The current market condition is a consolidation of a correction after the good rally from 8000 to 21000. My personal view is the major part of the price correction is over unless 17k breaks. Now its about a time wise correction.
- > Such a scenario requires more timing accuracy. So its more important whether you were a buyer at 17300 and booking at 18500. ( we mentioned that the move above 18500 should not be used for investment but increase cash )
- > So one needs to continue to look for Index and Stock specific opportunities then to look for a major VIEW on Sensex / Nifty and be hung on it. Many people have been hung on 4800 Nifty which just left out the clear opportunity from 5200 to 5650. ( this part of the move was clean)
- > Stick to finding opportunities as my personal feeling is post a few months of such consolidation there could be some super stock specific moves as well as index. Its the time to research then to predict !!!
- >My personal view is Sensex should hold above 17000-17300 on downside and may not cross 19800 levels on upside in a hurry for a few months. But the under-tone remains bullish and continue to buy on dips and sell on rise. Above all at some point of time in next few months its going to be a clear Buy and Hold market for long term.
-> Review point for bullish stance is if 17k is broken which i dont expect. On the upside would be surprised if 19800 goes but that would turn the markets to be real bullish.
BOTTOMLINE ---- This is the time to research find fundamental turnarounds, value picks, Invest slowly and time to create a portfolio for the long haul. Everybody on the street is not positive , Broader market is close to 2006 levels, Various Global Concerns, Rising Interest Rates, Falling Stock Prices, High Inflation,Falling Earnings, P-E Contraction, Political Reforms Paralysis  and so on  --- But what i see is opportunities come only in this scenario.
The next few months will open up opportunites so dont be scared on the street but be prepared 🙂 --- Next few months will be the best time to create a long term portfolio --- START TODAY !!
Luck is Opportunity meeting Preparation 🙂
Cheers,
Nooresh