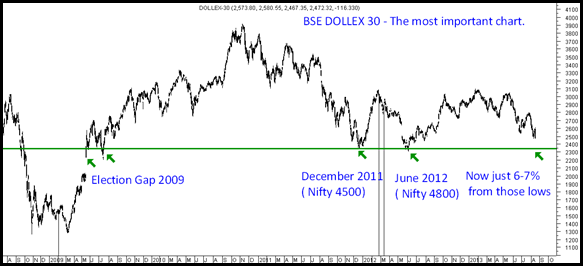 Have generally looked into CNX Defty before but for the recent discontinuation of the Index by NSE 
Some really important things to note.
-> The lows of 2300 odd is the number where Index has found support over the last 4 years.
-> Post the election gap up of 2040-2240. The low was around the same price in next dip post elections. ( shown by arrows )
->In December 2011 and June 2012 when Nifty made lows at 4500/4800 and Sensex 15100/15750 which was a bit apart. During the same time Dollex made lows in the band of 2310-2340. This level is where we have seen a sudden reversal in FII buying in last 4 years.
-> At the current levels of 2472 we are just 6-7% away from the multiple lows.
-> So combined move of USD-INR and Sensex/Nifty will take it pretty soon to important support levels. This should hold for the short term but the bigger risk comes if we were to break those 4 year support levels.
-> But it does not matter if you look at Sensex/Nifty they give a different picture from the broader market which is already at 4500/4800 levels and many stocks below 2008 levels also.
So for the short term we might be looking at these zones if they come for a bounce back trade in Nifty / Sensex alongwith a small topping out of USD INR
TECHNICAL ANALYSIS TRAINING SESSION BANGALORE
AUGUST 31-1 September
If you would like to confirm your seat for the Bangalore Training session and make an online payment then do so on the following event link on explara
https://em.explara.com/conference/technical-analysis-training-equitiescommodities-51ff652cafca8
Regards ,
Nooresh