2 months back Nifty was at 6000-6100 levels with all investors, business channels – CNBC/ET Now etc , investors being gung ho about the Indian economy.
Now Nifty is at 5500 and suddenly everyone on the street has become ultra negative.
This is how market works – Sometimes surprises that all bad things seem to be visible only in bad markets. In 2011 the analyst/investors consensus was bearish and we saw Nifty move from 4500 to 6000. Again in start of 2013 the analyst/investors consensus was bullish and within a 10% cut in Nifty the consensus has quickly shifted to ultra bearish.
Will not argue on fundamental parameters  like forward P-E , P/B of Nifty etc even though they are below the median average. For Indian Markets P-E = Price to Enthusiasm
Currently the enthusiasm is definitely at the lowest which makes it an interesting time for investors.
Now lets look at the Technical Picture.
-> Globally markets are nearing 12-13 year highs or major bullish trend change. With no euphoria in sentiments globally a fresh 12 year high implies we might be staring at a possibility of new bull market in global indices.
Have attached the report which has been released by us for institutional clients and being pitched for this whole month of April – ( takes time to meet a lot of people )  
Hope this report works out like the last one in August – Forget the Past when we turned extremely bullish at 5200 – Forget the Past - https://nooreshtech.co.in/2012/08/analyse-india-forget-the-past.html 
As mentioned in the report we were expecting positive divergences and test of bottoms around 5500-5550 Nifty in the bottom case which we have come to today.
Lets look at current charts.
Sensex – Technical View
-> Nearing the long term support trendline
-> Gap at 18000-18200 being filled.
-> Previous tops/Bottoms and last breakout being tested.
17800-18200 remains a very strong positive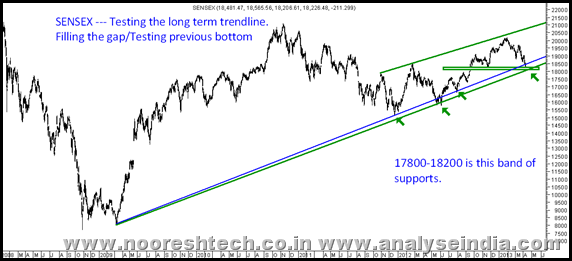 RSI making positive divergence and Sensex below 200 dma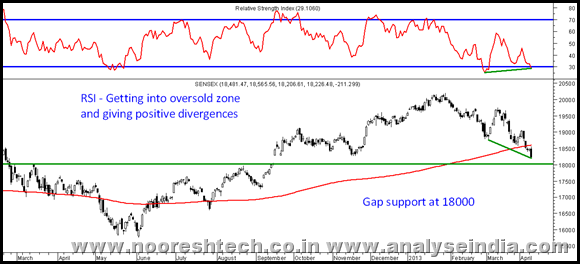 NIFTY TECHNICAL VIEW
-> Testing the long term trendline which comes around 5350-5420 zone and rising daily
-> The last major breakout gap at 5450-5520 being filled.
-> Previous bottoms/tops and breakout being tested.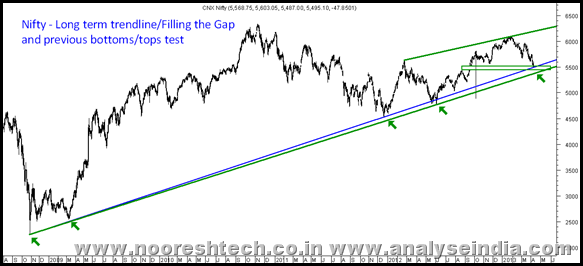 RSI making positive divergences on current lows.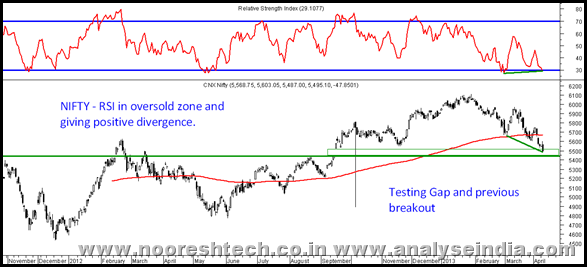 Conclusion
-> The last time Nifty was similarly oversold was at 4530 and 4800. The bounce backs were huge post those levels.
-> We may in minimum case expect a bounce to 5750-5950 or higher in the next few months where one may review to hang around for a long term bull market or trim positions.
-> Downside could see 5350-5420 levels which is the trendline.
-> Broader market has fallen much more than the benchmark index making it very interesting.
-> Oversold conditions can remain for couple of weeks creating volatility and opportunity. Investors may aggressively look to buy quality stocks like Reliance, Cipla, M&M ,BPCL , Ongc on sharp declines or take a simpler view to buy Niftybees, Junior Bees. Later convert to specific stocks when your are convinced.
-> My gut feel is this uncertain painful period may start till max of Mid May and we might be in a different rally altogether from June. So the strategy should be to accumulate and this could be one of the best opportunities for a long term investor.
-> We may review the long term bullish stance if we were to break 5300 levels.
Midcap Favorites – Godrej Inds, Aditya Birla Nuvo, Smartlink, Aarti Inds, NBCC and quite a lot of them look interesting.
As said by Warren Buffet - Be Fearful When Others Are Greedy and Greedy When Others Are Fearful 
It is easier said than done. Right now a lot of portfolios might be down 5-20% that's part of the investment cycle. Do not get scared if your are into quality or rather take this opportunity to do a quality check on your portfolio.
Disclosure: Investing aggressively over the last few sessions and intend to be fully invested by mid-may with a long term view so there can be a strong positive bias. Please do your own research / risk management.
Happy Investing
Nooresh Merani
www.analyseindia.com  ( For more of our services.