Before I go into the post let me just tell you this is just one of the approach to looking at the Nifty chart as of now.
Nifty after making a top at 9100 in March 2015 and a lot of volatility in the 2 years is now back to the same highs.
The next question which comes to mind is will it cross the highs of 2015 at 9100 and start a new momentum move or not ?
So let us look at the Nifty chart
Nifty Technical Chart - Weekly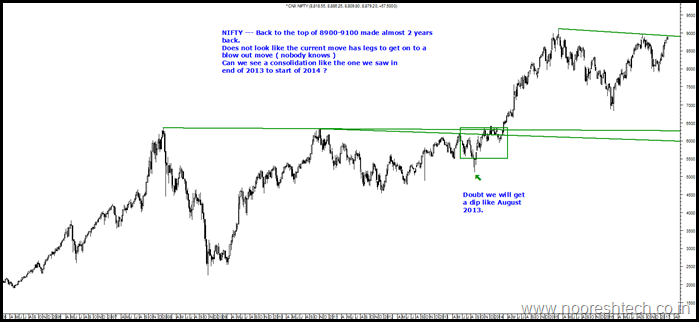 Observations
It looks like a cup and handle formation on the Nifty in the last 2 years with a breakout point at 9000-9100 levels.
We saw a similar cup and handle formation of 3 years and 6 years in 2013 end to 2014.
The breakout back then was not smooth with Nifty making a breakout in end of 2013 but the real trending move started only in March 2014.
Also the Nifty had just recovered from a quick downmove in August 2013 with a solid crack in smallcaps/midcaps.
By March 2014 the trend was very clear in the Nifty as well as other broader indices. Do read this report which we came out with in March 2014 - Indian Elections - Do they Change Market Trends
Right now in the current move up to 8900 we have a strong Midcaps/Smallcaps moves already. Also none of the stocks/sectors are showing clear leadership unlike 2014. ( Another post on large cap stocks on radar next)
My personal view is the current move does not have legs to do a move similar to 2014 yet. We may review the stance again in coming weeks/months. The markets can consolidate for quite some time before a trending move and in this period would be the time to spot out leaders in the largecaps and midcaps.
Believe the next few months would be confusing but the next year or two looks pretty exciting and one should be watching the developments closely.
In the next post will try to focus on Large Cap stocks of Nifty which may give us an early indication of leadership.