Hi,
Nifty has done a solid bounce back much more than what I expected from the bullish point of view I had in February 2016. The trend continues to remain strong with higher tops and higher bottoms. The last bottom at 8540 would be a first zone below which would look at any short term trend change.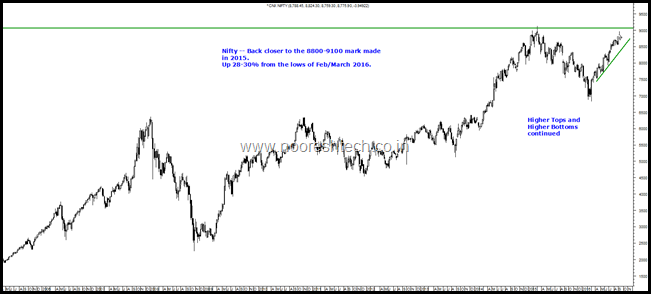 Nifty has done a strong move since the bottom in February 2016 at 6850-7000 where a lot of people on the street were sure about 6400.
We did expect a sharp bounce like it did in 2012. Some old posts mentioning it   -  IIF Meet video - Beg Borrow Steal and Invest was the view in February 2016.
Although i expected a lot of resistance to come in at 8000-8300 but we have taken that out with ease and even digested events like Brexit.
Technically there is no reason to doubt the trend till 8540 is taken out. But the previous top at 9000-9100 should be a stiff resistance. Also a correction after such a rally is fine and it could also be timewise where markets remain sideways in a range for quite a few months.
Conclusion - Nifty is in a strong trend but a timewise correction is possible in coming months. Price wise can be confirmed post a dip below 8540.
Now comes the part which is a bit uncomforting is the solid rally by smallcaps/midcaps and micro caps. Also being focused on smallcaps/midcaps it has been a good enough time. But the moves have now shifted to stocks which are highly illiquid and seeing sudden bursts of 20-50% moves.
One of the reasons there has been not much update is I have been busy trading/recommending the microcaps/smallcaps as well as any mention of an illiquid name can make the stocks go dizzy in such conditions. Hopefully the action shifts to liquid large caps or midcaps and i ll get to update more. Focusing on Pharma/Fmcg sector.
Whenever I find myself trading a lot of microcaps i do get a bit uneasy making that quick money. The last time I got this uneasy did not end well for the markets in next 2 months. Was just a lucky timing as I did not act enough myself but luckily discipline helped.
Nifty and Microcaps topped out almost at the same time of the post in January 2016 !! and we saw a good sharp drop in microcaps. I did not think it would be that sharp but its better to be cautious when you see signals.
Midcap and Smallcap Indices are in all time highs and up 10-15 % from the Nifty equivalen tof 9100 hit in 2015.
Across all the major indices tracking midcap/smallcaps on #BSE and #NSE the common things are
The Index is trading at all time highs.
It is higher by 10-15% from the highs of 2015. Nifty equivalent of 9100.
Up a good 35-50% from the bottoms in Feb/March 2016.
A good solid move of 10% + in last 2 months.
If the indices are up then some microcaps would be up much more. Also we do not have an index tracking the microcaps and kudacaps/bhangar caps etc 😉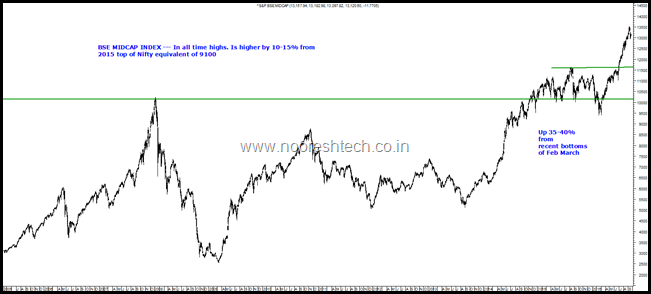 BSE Midcap Index is up 10-15% from the highs in 2015.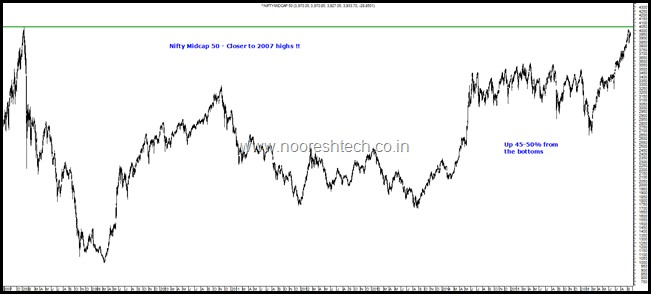 Nifty Midcap 50 is back to the highs of 2007 and up 10-15 % from the highs in 2015.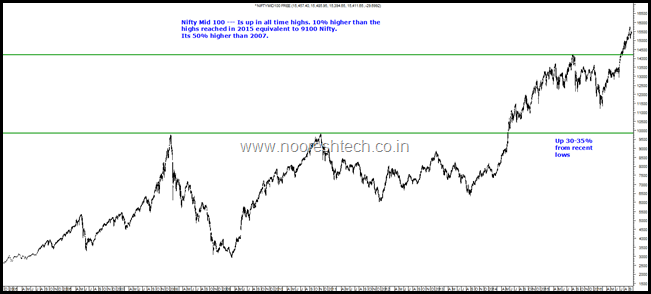 Nifty Mid 100 is at life time highs and up 10 % from highs of 2015. Also this targets the top 100 midcaps and shows how the quality midcaps have outperformed.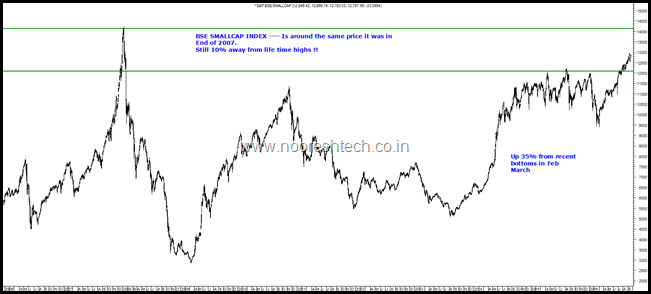 BSE Smallcap Index which is the closest we can get to the lower rung of stocks is now up 10 % from highs of 2015 but still 10% below highs of 2007 ( So we are nowhere as crazy as 2007 as not even crossed that high )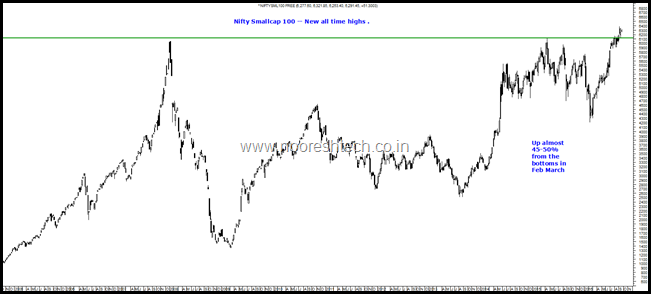 Nifty smallcap 100 has crossed the all time highs in last few days above 2007/2015 highs. This chart signals the momentum may continue in Smallcaps in the next few years.
Conclusions
There are two ways to look at the above Smallcap/Midcap Indices - One it shows that the leadership is evident in Midcaps/Smallcaps and an investor should be selective. Secondly a big divergence from the benchmark indices is not generally a good thing and in past has led to short term corrections.
To put it simply we are nowhere as crazy in divergence like in 2007 or in 2010 but in the near term it is a little overheated and could get more also you never know. But such jumps lead to a shorter term correction.
At such times it is necessary that one is cautious and very selective. Not all smallcaps turn into midcaps and not all midcaps into large caps. So do not go with blindfaith and be selective as an Investor!!
Its a good time to weed out the portfolio of bad stocks , keep some cash for fresh ideas , shift to better stocks. A little bit of caution does not hurt.
This may not be the time for leverage for traders who are not disciplined.
Do note its a time to be cautious and not to go short-selling as a trader or high on cash for an investor 🙂 !!!
Finally do read the disclaimer and do your own risk management.
Please Note -- Personally and for clients have been a tiny bit leveraged or totally allocated right from Feb/March 2016. Cutting down on leverage and looking to increase cash , also focusing on stocks which are cash bargains or where downside is limited. So its a biased view.