Nifty has dropped from 8950 to 7950 in the last couple of months. This may not be as sharp a drop in percentage wise as it was in 2008/2011 but the speed of the fall on relative basis makes it as oversold as those times.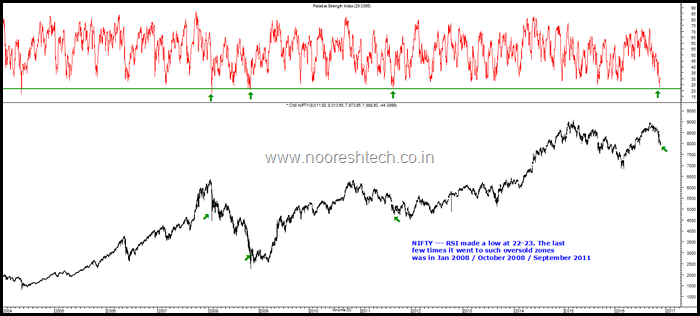 Nifty - Oversold - But Bottoming out takes Time
The previous instances when Nifty had hit 22-25 levels was in Jan 2008/ Oct 2008 and Sept 2011.
In Jan 2008 after a strong bounce from 4450-4500 to 5500 it again retested the bottoms did a bounce again and finally broke down the trend.
In October 2008 Nifty fell from 4200-4400 to 2200-2500 in a sharp manner. The first time it hit oversold levels of 22 it was at 3200 and made a durable bottom at 2250-2500.
In September 2011 it hit a low of 4800 and took another 2-3 attempts in the range of 4500-4800 with positive divergences to form a durable bottom.
Nifty has again hit 22 ? What next ?
Here comes the tough part of trying to predict as its absolutely impossible to catch all cycles right and I would not try to attempt as cannot be lucky always 🙂 ( February bottom i got lucky )
But lets make an attempt to look at the price action
1) Nifty lows at 8450-8550 was an intermediate bottom which has been taken out on a sustaining basis. This changes the short term trend down and will change only above 8630/8750 or when we form another swing top in coming months and that is taken out.
2) Nifty is oversold but in previous instances it has taken 1-3 months also to bottom out. If that happens it can be pretty boring and in a range.
3) Very rarely have we seen a V shape recovery after such a correction. But who says it cannot happen ?
4) 61.8% retracement of the move from 6850 to 8950 comes to around 7650-7700. Lasy time in August 2013 we reversed after doing a similar retracement.
5) Technically a good setup to enter would be when we start making Positive divergences on Nifty i.e - Nifty makes another low or two and RSI inches up higher. This old video might help in understanding it ( RSI - What happens when Oversold )
6) I would prefer to wait for a divergence with a new low or a strong reversal to take a fresh trade. I dont mind missing out on the first move or entering fresh trades at a higher price point on confirmation as a trader.
As an investor now things are a bit tougher. Majority of Investors would be focusing on the Smallcaps/Midcaps.
Lets look at the smallcap and midcap index.
I had mentioned a cautious view on Sept 21st 2016 in this post - #Smallcap Indices in All Time Highs and Outperforming Nifty!! Time to be Cautious and Selective !!
Post a little dip on Surgical Strikes Announcement the Smallcap Index went up another 10% !!
Now lets look at the Smallcap Indices again.
BSE Smallcap Index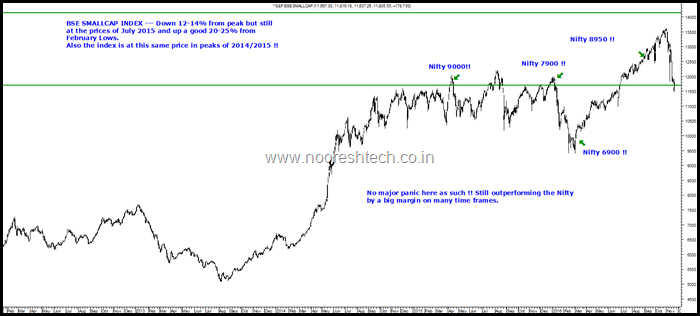 It is down just 12-14% from the peak but if you were to compare from the day when Nifty made a top at 8950 around Sept its down only 7-8% whereas Nifty is down 10-11% !!
So it has been a solid outperformer to Nifty on various timeframes and seems no panic here.
Now lets even look at the BSE Midcap and NIfty Midcap Index
Nifty Mid100 -- What resilience and outperformance to Nifty. Still above the price when Nifty was at 9000 !!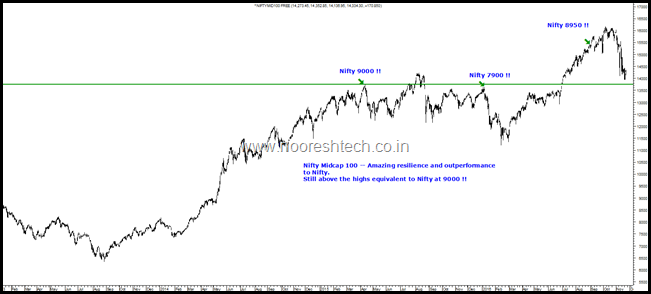 Still higher than the prices at 9000 Nifty in March April 2015 and 7900 Nifty in Jan 2016 !!
Down only 12% from peaks and outperforming Nifty from the time it topped at 8950 !!
BSE Midcap Index - What Resilience and Outperformance to Nifty. Still above the price when Nifty was at 9000 !!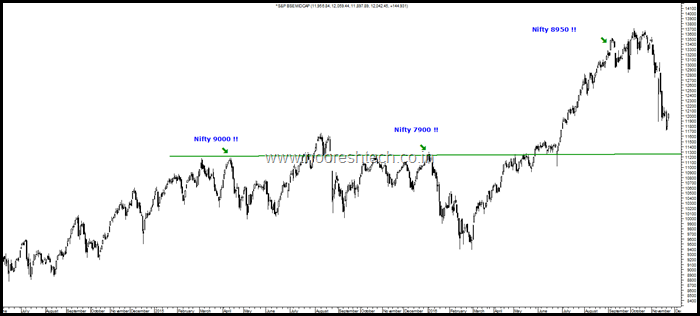 Still higher than the prices at 9000 Nifty in March April 2015 and 7900 Nifty in Jan 2016 !!
Down only 12% from peaks and outperforming Nifty from the time it topped at 8950 !!

Conclusion -

The Midcap and Smallcaps have outperformend in last 2 years as well as over last few months even after the current correction.
We have not seen any panic in the smallcaps/midcaps like we saw in February/March 2016.
Its difficult to say whether resilience is a good sign or bad but definitely its not a time of pessimism in the Midcap/Smallcap space. .
Simply put the Midcaps/Smallcaps have not fallen a lot of seen in any panic. Can it panic - I dont know but it definitely is not a pessimistic time to chip in.
So for an investor it is this way

You did not like a stock at 100 rs as it was overvalued 3 months back but after that stock went to 150 and is now at 110 it suddenly looks value.

Is it because of a 25% drop from peak which is giving an illusion of value or fundamentals have changed ?

Is it that you are scared you dont want to miss out ?

This is a time to evaluate with a fresh perspective and not get anchored to the high and low prices as an Investor.

Strategy

Technically the Short Term Trend is down with Nifty getting into oversold zones like 2008/2011 but unlike previous oversold zones the Midcaps/Smallcaps have not seen a panic and rather showing a lot of resilience.
The strategy for a trader should be to stay with the trend which is down or wait for a Positive Divergence on Nifty to start looking for long trades. There is a time to trade and there is a time to sit and wait.
For an Investor the strategy would entirely depend on the cash levels.

But if you do not have a good allocation to equity as part of networth the next few weeks/months could be a good time to deploy fresh money in parts with a view of next 2-3 years.
If the correction of 15-20% from peak has scared you as an investor you got to read the following.

I would say i have a lot of clarity on the 2-3 year picture being rosy but the next few months are pretty confusing with markets. As a trader have a simple rule - When in Doubt , Stay Out !  - As an Investor when in doubts stay in the hunt for a good entry price !
Also next time would try to make a video explaining the thoughts in much more detail and also elaborate on the Chor Zabardasti Bane Mor theme.

If you are looking out for customized Advisory - https://nooreshtech.co.in/quickgains-premium/platinum-plus