I got this idea from a whatsapp group where somebody showed a chart on Google Trends for the word multi-bagger and this data on circuits today ( not verified).
532 Stocks were on Upper ckt today-29 stocks were at 20%, 53 at 10% and 347 at 5%.
Is this the start of craziness or end of it. I have no idea but if you are not a swift trader with lots of risk apetite and has already made some money in this madness its better to be careful/selective/cautious or simply avoid and relax. Very important that you do not allocate a lot of your capital to crazy stocks.
Investors need to be careful as this is when you start making blunders. Also the way some investors have been thumping about microcap trades its amazing they still call themselves investors. I call everyone a Trader on different time frames unless you hold forever.
Disclosure - I do trade in crazy micro caps but do take care of risk and will get out swiftly and even if i dont allocations are not huge to dent the portfolio. Just bought a crappy hospitality stock today. ( Now if you think you want to know the name - thats the trap dont get into it )
This is what i tweeted
The kind of stocks i have bot and sold and others are too is like #kachronkekhiladi. Be selective/cautious/avoid if ur not swift to get out
This is the chart for Mutlibagger - Google Trends.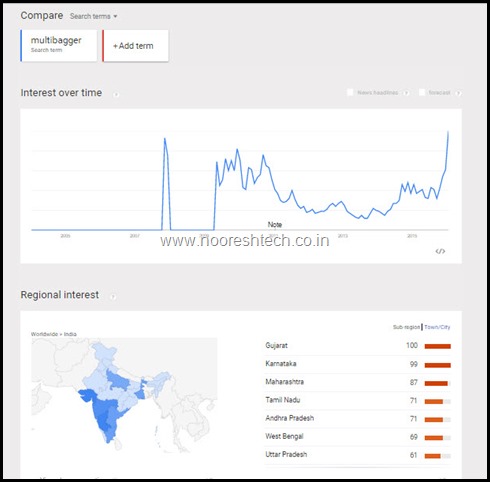 What is amazing is it has crossed the highs of 2007 !!
Madcaps, Koodacaps, Microcaps,Smallcaps, Kachracaps and any Tom Dick and Harry etc are some words being used.
Happy Investing.