Of late many of us have been talking about the Index and a good feeling comes is that Nifty and Sensex have just fallen 25% since 2008 or 2011 highs which is not really bad.
Everyone around the street is taking their best guess on the where would Nifty/Sensex bottoms out.There are too many camps some expecting 12000/3800 another at 14500/4500 and rest at 15500/4700 as to be possible bottoms.
Although my view has been 4500/14500 to be the worst in case but would prefer to stop guessing the bottoms for the Index as i believe we may be closer to 5-10% of bottoms for many stocks.
During my analysis tonight was trying to look at a statistical bottom and tried using excel which i am not good at( so mind me if any errors in numbers )  but i was really surprised at some data points!!
1) Majority of the Indices did not reach highs equivalent of 21k Sensex and 6.3k Nifty.
Some observations on this
- > Bse Midcap is down 42.6% in comparison to 2008 highs and down 33.13% from 2010 highs. Is now equal to what it was in May 2006 ( Sensex equivalent high of 12700 )
- > Bse Small Cap is down 53.33% in comparison to 2008 highs and down 41.54 % from 2010 highs. Is now equal to what it was in January 2006 ( Sensex equivalent of 10500 )  and 3-4% away from September 2005 ( 8000 Sensex ) .
- > Bse Dollex – 30 and CNX Defty ( i.e Sensex and Nifty in dollar terms ) is down 40% from 2008 highs and 33% from 2011 highs.
Now the above thing implies the mid-cap and small-cap which comprise major portfolio is down by 40% from 2008.
For the Foreign Money ( FII ) they are still down 40% from 2008 and if i were to take a direct comparison in dollar terms Sensex and Nifty has already touched  4500 / 14500.
2) Some of the Indices have totally outperformed and are way beyond 2008 highs !! or Sensex 21k/Nifty 6.3k
- > Many indices are still way above 21k/6.3k equivalent levels namely ---BSE FMCG – 48.5% , BSE – Auto – 41% , BSE Healthcare – 29%.
-> At the same time BSE consumer durable –13% , IT Index –8% have also fallen less in comparison to benchmark indices.
What the above statistics shows is that an outperformance in few constituents of the benchmark indices like Auto, FMCG, IT and total underperformance by Capital Goods, Metals, Oil and Gas, Real Estate, Infrastructure has created two different indices.
One group of stocks is down 50% or more and the other group is positive returns in last 3 years. For example Reliance is down from a high of 1630 to 767 which is a 53% drop and is the highest weightage in the Index !!!
Bottomline :
The markets have already corrected a lot more then what it looks like from the benchmark indices and there are a lot of stocks which are available at 2006 prices !!! ( Midcaps and Smallcaps ). So for a long term or even a short to medium term investor the thing to look out for is stock specific valuations and prices.
Imagine if you would have bought a Hero Honda at peak of 2008 you would still be up 120% in this fall too !! But remember Hero Honda was not a great performer in 2004-2008 bull market ( it just doubled in 3 years whereas Reliance Inds did 8 times in the same 3 years )
So themes will change over the next 2-3 years and one should be on lookout for quality stocks irrespective of the INDEX !!!! Focus on buying quality stocks !!! or else you might be left waiting for index bottom.
Also please find attached a snap shot of Nifty 50 stocks and their performance. We will look into the details in next post.
Just one quick observation
Stocks like SBI, Tata Steel, Tata Motors, Bhel, Axis Bank , Jindal Steel and almost 10-15 stocks have fallen more then 40% in the same period when Nifty has dropped 25.04% !!
Have a look through the image below for more idea.  ( Click on the image to enlarge )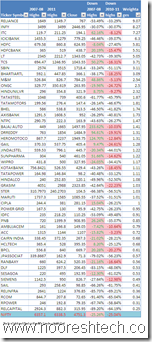 Happy Investing,
Nooresh Merani