In my earlier post on a similar crash situation was when Nifty had corrected sharply in 2012 and in 2016.
Nifty at 4800 in 2012 - https://nooreshtech.co.in/2012/06/how-to-survive-a-market-crash-and-end-of-the-world-in-2012-sunday-thoughts.html
Nifty at 7000 in 2016 - https://nooreshtech.co.in/2016/02/how-to-survive-a-market-crash-in-2016.html
In that sense today the Nifty is just down 5% from the peak of 11171 but the broader market is down 20% or more from the peaks of 2018 but the sentiments have taken a knock as many stocks have fallen a lot from peaks.
Why is a 20-25% drop from the peaks such a sentiment hit ?
1) Some of the worst hit stocks have fallen 50-90% also.
https://nooreshtech.co.in/2018/05/smallcaps-can-be-brutal-if-you-are-not-careful.html
Its not the 50-90% fall but the problem is some companies which are outright frauds never come back to previous prices and there is permanent loss of capital.
I remember recommending Nilkamal , Aarti Inds, NBCC, Supreme Petro etc and seeing a drop of 30-50% in 2012-2013 and a multi-fold rally in coming 1-2 years.
If one can avoid frauds itself is enough. Also if you get one diversification should help you save your portfolio. Have recommended duds like Cebbco, Zicom too but allocations was a savior.
2) 80% of stocks have fallen more than 20% and the median fall is 34%
This image from Jatin Khemanis blog gives some good stats.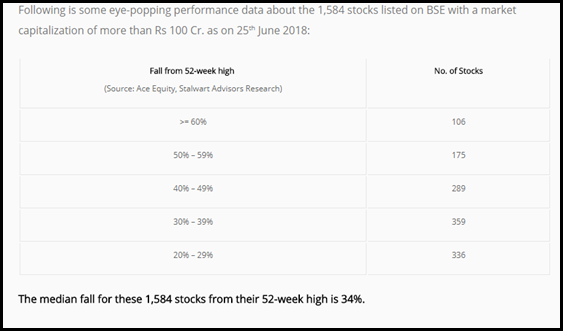 .
The draw-downs are part of Investing and more so for a smallcap investor, but it hurts to live through one. If one cannot live through a 20-40% correction very often the focus should be to re-think your asset allocation.
3) The correction is after an almost a linear rally in last 5 years
Another reason the draw-down of 20-30% is that the linear move in last 5 years has almost wiped out our memory from a scenario where one will have face losses and also live through it for months or years too.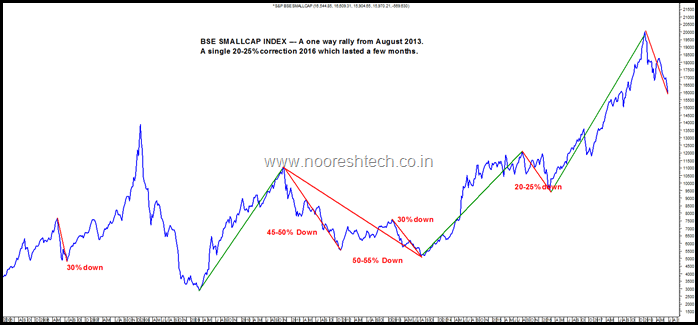 The toughest period was 2011-2013.
Smallcap Index fell 45-50% down in 2012.
After a brief recovery in 2012 it made a new low in August 2013.
So from a peak in November 2010 to August 2013
Selective stocks did well in 2012-2013 even when a lot of bad businesses and frauds collapsed.
Will we see a period as painful as 2011-2013 or maybe not 3 years but a year of pain to live through. How many are ready for it ?
Here I remember a nice sentence which one of my mentor used to say.
No Situation is Permanent. Ye Waqt Guzar Jayega.
( Apt in all times. )
4) Belief and Patience !!
I remember this very nice conversation by another mentor of mine a 2-3 years back.
D S – I had a dream i should sell all my equity holdings as markets are up.
Me : Why so
DS : I have made enough money for my family with multi fold moves in my portfolio.
DS : But what will I do with the money. FDs will give me 5-6%.
DS : So i decided to stay invested as even if make bad decisions in a growing economy over the next years I think i should be able to do more than 6-8%.
This is an investor who has gone from Rags to Riches and had his share of big mistakes and some humongous multi-baggers.
Another mentor would say Good Research happens only in Bear Markets as one has many doubts and is not ready to buy expensive. ( In the last few years what worked was – Buy First , Research Later – Think we are done with that now. )
Technically the divergence in smallcaps with the Nifty suggests a whole lot of opportunities could be for grabs but selectively. Time to research and deploy capital provided one has belief and patience.
Also one has to be extremely careful in terms of the kind of companies one buys. For example in the last couple of years suddenly the " Chor Bane Mor " tagline became an investment strategy without any research.
This is what my strategy which i presented in 2015.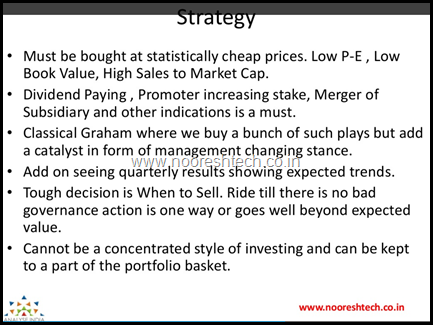 Importantly it was about a good business being bought cheap with a catalyst. I always thought it to be a part of the portfolio and not a concentrated style.
Now also I would stick to the same strategy but it would be only a part of the portfolio.
5) Buy Selectively!!
If one cannot do research in smallcaps they are better of going through the Adviser Route or the Mutual Fund Route as in times like these some of the companies bought purely because of a stock price fall can be dangerous.
Also most people like to buy known names which have fallen. It hurts a lot. Like for example in 2012-2013 everyone bought HCC,GMR Infra, GVK etc but the best performing Construction stock was KNR construction.
So go ahead do research and find interesting companies or find a good adviser or randomly pick a smallcap mutual fund to SIP into.
Let me warn you - It wont be easy. Are you ready to live through another 20% fall or 1-2 tough years ? Its not a prediction but a mental setup one needs to have in Smallcap Investing.
Conclusion
My personal view is this is not going to be an easy period but who knows the future. The risk-reward is tilting towards an investor in smallcaps but in very select cases. So one needs to be extremely selective. A couple of years down the line the next few months may look like an opportunity in hindsight. Be selective do not buy a stock because its down 50-80%. Good words to remember and think deeply on– Research , Diversify , Adviser, Mutual Fund, Allocation, Asset Allocation, Smallcaps, Microcaps, Cash Allocation and lastly Belief in India Growth Story and Patience to ride it.
The last time I wrote the Article on June 2012 and February 2016 the bottom was not far for Nifty.Fingers crossed for Smallcaps

Disclosure – Please do your own research, risk management. I have a biased view given that we are fully invested and also sitting on a draw-down but have had a fruitful 4-5 years in smallcaps giving us more comfort , belief and patience. Hope not to have many duds

For our services check link on top of website –
Can subscribe to The Agnostic Portfolio ( Its down 10-12% since launch in mid April) . Open for subscription till July 15th.
Technical Analysis Training Mumbai
Date:
30th June and 1st July 2018
Timings:
9 am to 6 pm
Venue :
Hotel Karl Residency
36, Lallubhai Park Road
Andheri (W), Mumbai, 400058
Maharashtra – (India)
Fees
Rs 16520 ( 14000 + 9% CGST and 9% SGST ) ( No Discounts )
Registration and Payment Link
https://www.instamojo.com/noooreshtech/technical-analysis-training-mumbai-30th-june/