Just 6 months back we were looking at the Smallcap Divergence on the upside where Smallcaps were moving up with a struggling Nifty.
BSE Smallcap Index and Nifty/Sensex–Momentum Divergence–How long can it continue ?
Now we are staring at the other end of it.
Nifty moved up all the way to 10700-10900 from the lows of 9950 and Smallcap Indices have struggled and are currently close to 2-5% away from the Feb March Lows. The worst names have been very badly hit as we saw in this post. Smallcaps can be Brutal if you are not Careful.
Such divergences last a few weeks or max 1-3 months.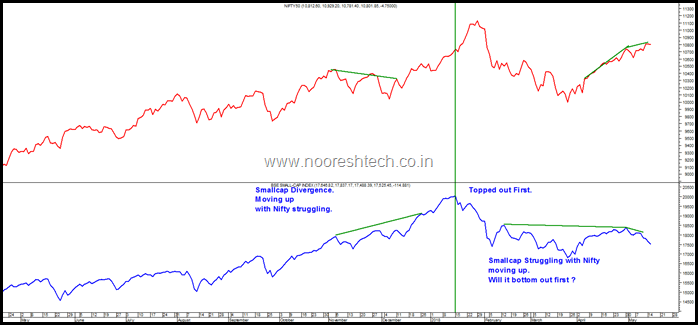 Smallcaps Divergence started in December 2017 and smallcaps topped out a bit before compared to the Nifty.
The bounce has been strong in Nifty from the lows but Smallcaps have struggled to sustain the bounceback.
Now we are on the other side where Smallcaps have in the last 1-2 weeks gone down when Nifty was moving up.
Will smallcaps bottom out first before Nifty ?
My view is the smallcaps may bottom out first and are now back into the risk-reward buy zone. But one needs to be selective and also ready for the risk.
Smallcap Indices Chart
Bse Smallcap Index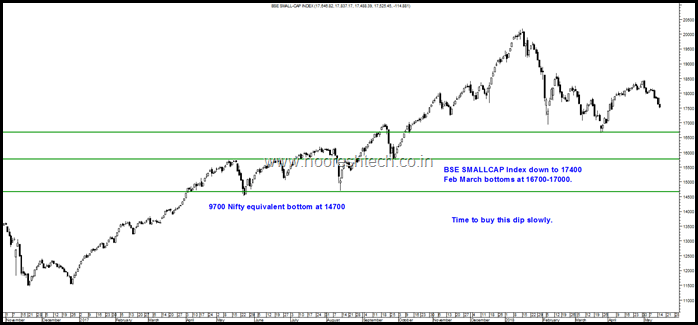 Bse Smallcap Index at 17300-17400 is not far from the Feb March lows of 16700-17000.
9700 Equivalent lows are at 14700.
Time to buy this dip is our view.
Nifty Smallcap 100
Similarly the Nifty Small 100 at 7800 is close to the Feb March lows of 7600-7800.
9700 Nifty equivalent bottom is at 6900-7000.
Believe this is the time to buy the dip selectively.
Its not very often when Nifty goes up 2-4% and Smallcap Indices are down 5%. These divergences do last for a few weeks to months but in hindsight turnout to be opportunities to buy selectively.
In our previous posts there are many charts and sectors we mentioned we continue to like. Hotels being at the top of it.
Subscribe – The Agnostic Portfolio