BSE Indices are not tracked as much and we find BSE Smallcap as the best indicator for looking at froth/momentum in the markets.
The reason to look at it is because it has the lowest of the smallcaps and is not limited by no of stocks like Nifty Small 100. As of now the index has 849 Stocks !!
The S&P BSE SmallCap is designed to represent the bottom 15% of the total market cap of the S&P BSE AllCap. The index is designed to represent the small-cap segment of India's stock market.
We have been looking for divergence in BSE Smallcap Index move with the benchnmark – Nifty/Sensex for finding times to get strict with our stoplosses as well as ride momentum.
What is the Divergence we look for.
1) Momentum Divergence of BSE smallcap with Nifty/Sensex
When Nifty makes lower tops or is struggling to make strong moves and BSE Smallcap Indices continue to make higher highs or much stronger moves.
After this we generally see a good correction of 10-25% on smallcaps and 5-15% on the benchmark. The tough part is this divergence can stick for a couple of months also. So the strategy is to ride with strict stoplosses but start avoiding leverage. Not the best time to put fresh money and if you are a conservative trader/investor keep increasinhigh g cash in small parts.
2) Panic Divergence of BSE Smallcap with Nifty/Sensex
When Nifty/Sensex does not break new lows but the BSE Smallcap Index makes new lows with sharp cuts in the smallcaps/microcaps.
After this we generally see a major bottom being formed and a good 10-25% quick jump in smallcaps and 5-15% in Nifty/Sensex and many a times a multi-year low. This is the time to avoid shorts and start looking out for momentum reversals. Best time to deploy cash as it does not happen often.
Let us see few examples in last 10 years.
Nifty/Smallcap – Crazy Momentum in Smallcaps 2007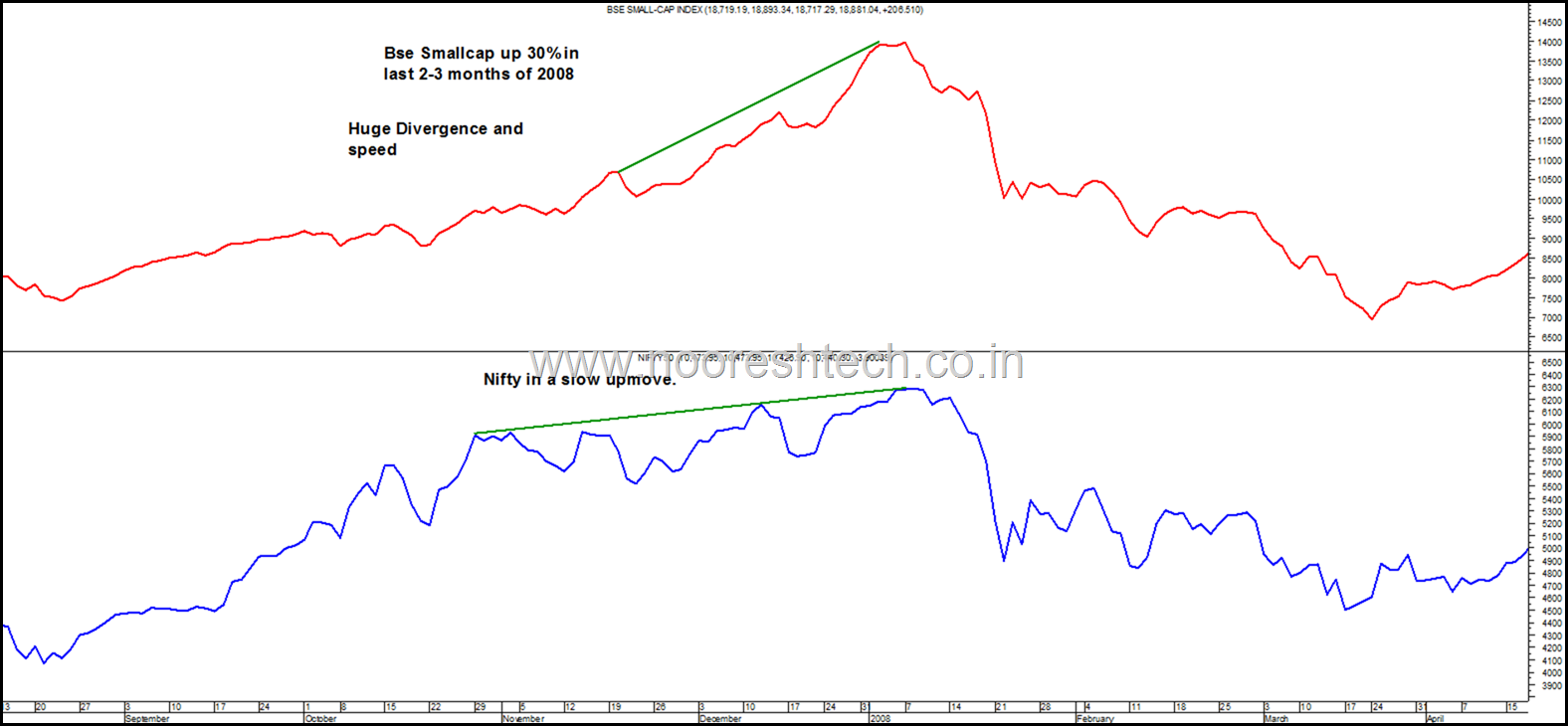 There was a 30-40 % jump in the smallcap indices in last 2-3 months of 2007 compared to a slow and laborious 5-8% move in Nifty.
This is the worst momentum divergence where the BSE Smallcap Index moves 3x the Nifty move.
We all know what happened post January 2008.
Nifty/Smallcap – Panic Divergence in 2008. Smallcaps make new lows Nifty/Sensex does not.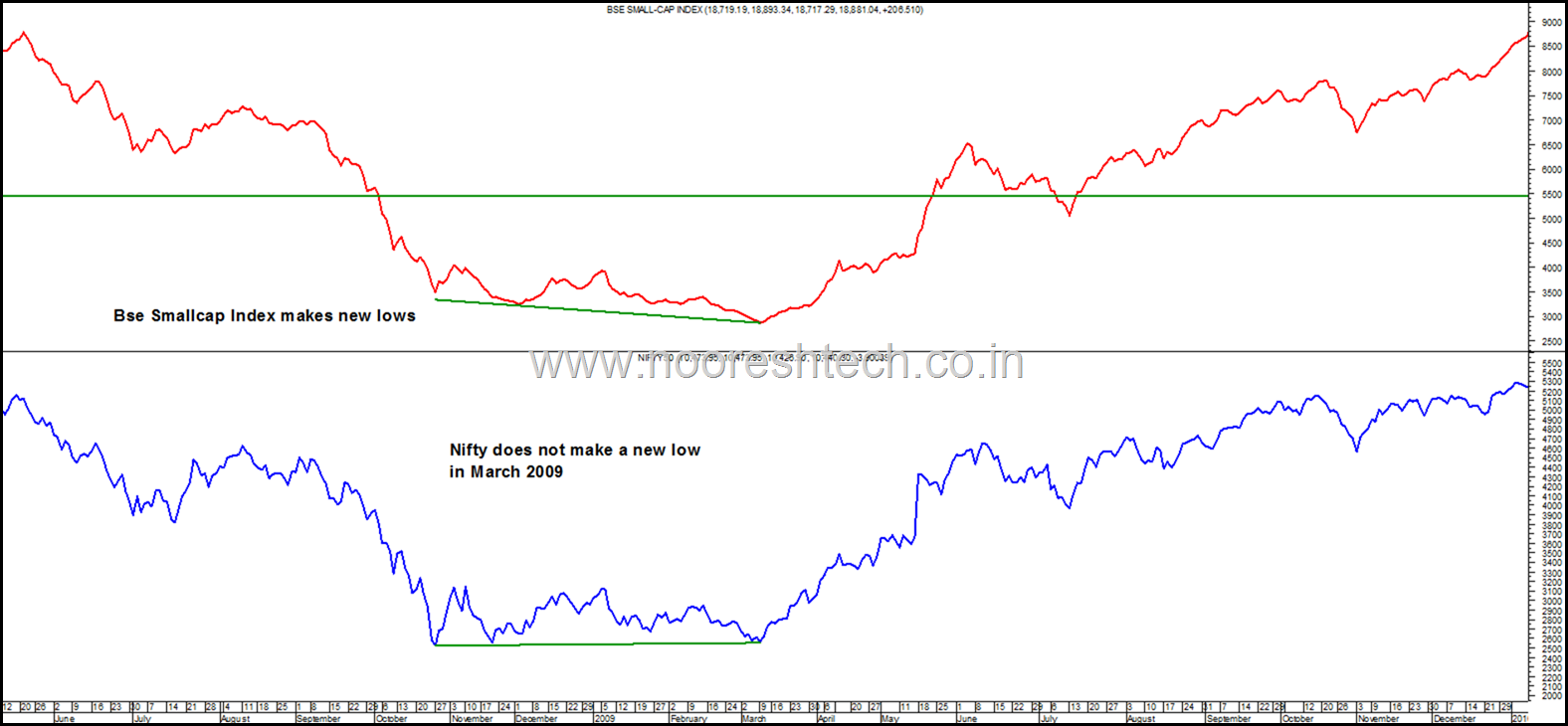 Couple of new lows in BSE Smallcap Index compared to same bottoms or higher bottoms in Nifty/Sensex.
This was again 3-5 months before the things turned around in March April 2009.
Buying on the turnaround or deploying cash in parts would have been good but a tough decision to make.
Nifty/Smallcap Momentum Divergence in 2010. Smallcaps rally harder than Nifty/Sensex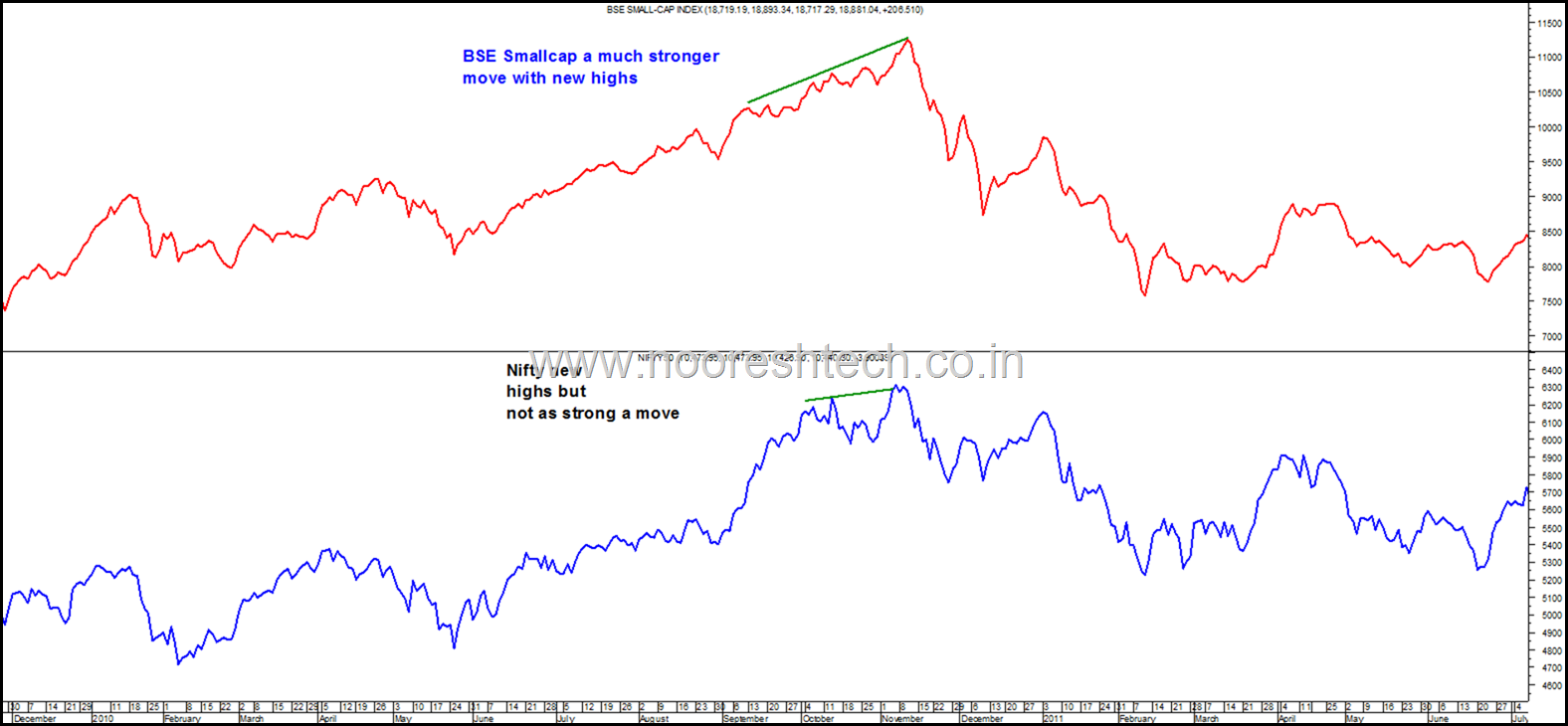 Nifty/Sensex new highs though marginally higher but the Smallcp Index did a much stroner move.
This was not as strong a divergence like 2007 but being cautious and acting after breakdown would have helped.
Nifty/Smallcap Panic Divergence in 2013. Smallcaps break 2011 lows but Nifty holds on.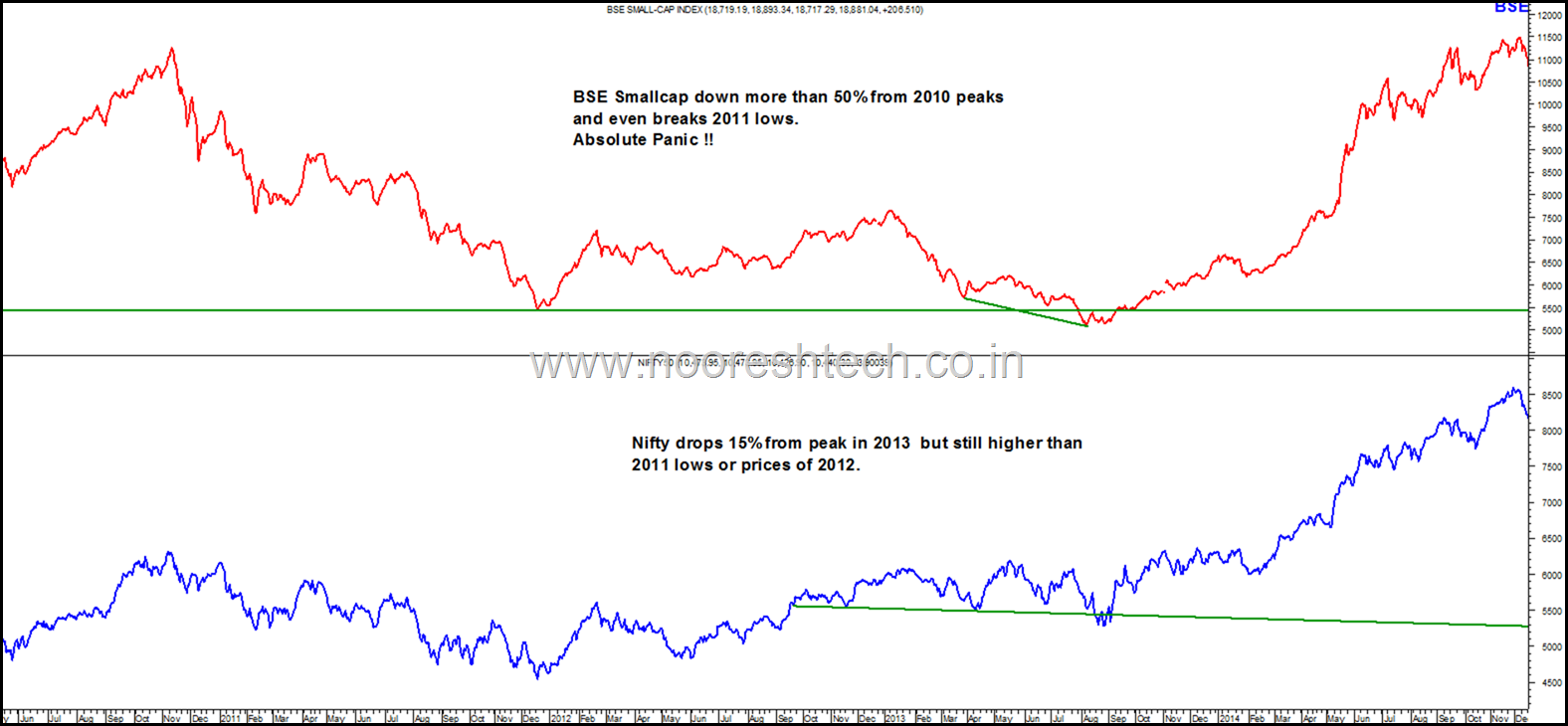 Nifty/Sensex did a quick downmove in 2013 on back of USD INR rallying to 68.
BSE Smallcap Index was down more than 50% from 2010 peaks.
BSE Smallcap Index did a stronger downmove and also broke 2011 bottoms where as the Nifty was 10-15% higher than those lows.
This signalled extreme panic in the markets and the reversal since then has been amazing.
Nifty/Smallcap Momentum & Panic Divergence in 2015-2016 – Smallcaps kept diverging before start of all corrections.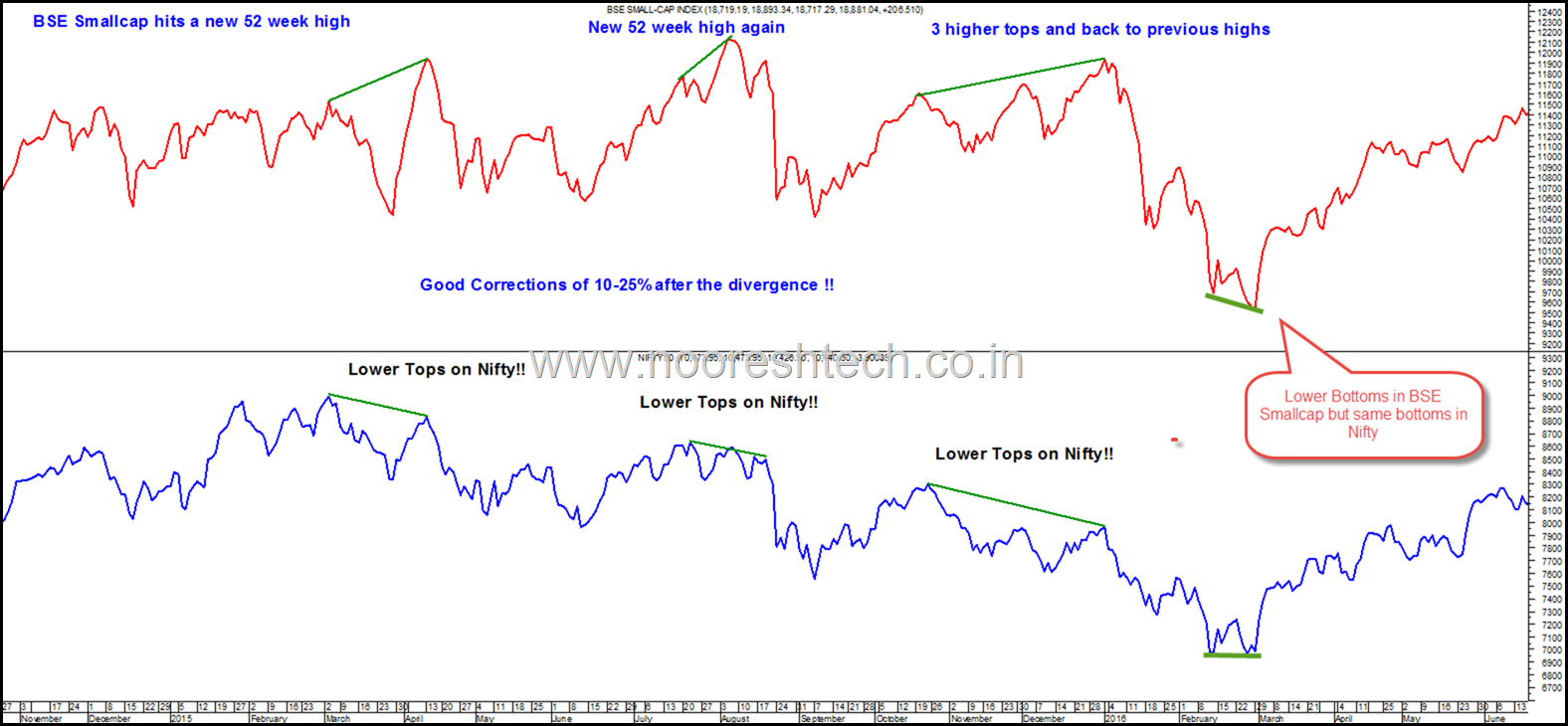 Quite a lot of divergences in 2015 in the period when Nifty topped out at 9100 but BSE Smallcap Indices hit new 52 week highs 2-3 times.
During such divergences another observation is new sectors emerge as leaders like Textiles/Chemicals in 2015.
The first two divergences in the year were followed by a good 10-20% correction in smallcaps.
The last one in end of 2015 was the classical one which lasted 2 months and did 2-3 new highs and back close to 52 week highs whereas the Nifty kept making lower tops.
This is the post in January 2016 - MultiBaggers – Google Trends crosses 2007 highs !!
This is my statement then - The kind of stocks i have bot and sold and others are too is like #kachronkekhiladi. Be selective/cautious/avoid if ur not swift to get out
( Getting a similar feeling today. More below )
We had a good 25 % crack in Smallcaps in Jan-Feb 2016.
Again we could see a Panic Divergence although for a small time frame in February 2016 when Smallcap Index made a much deeper low and Nifty almost the same. ( see red box in the image )
We could catch the same –IIF meet video in February 2016 https://www.youtube.com/watch?v=ufHJyDwk4qw
Nifty/Smallcap Momentum Divergence in 2016 pre – Demonetization and Trump.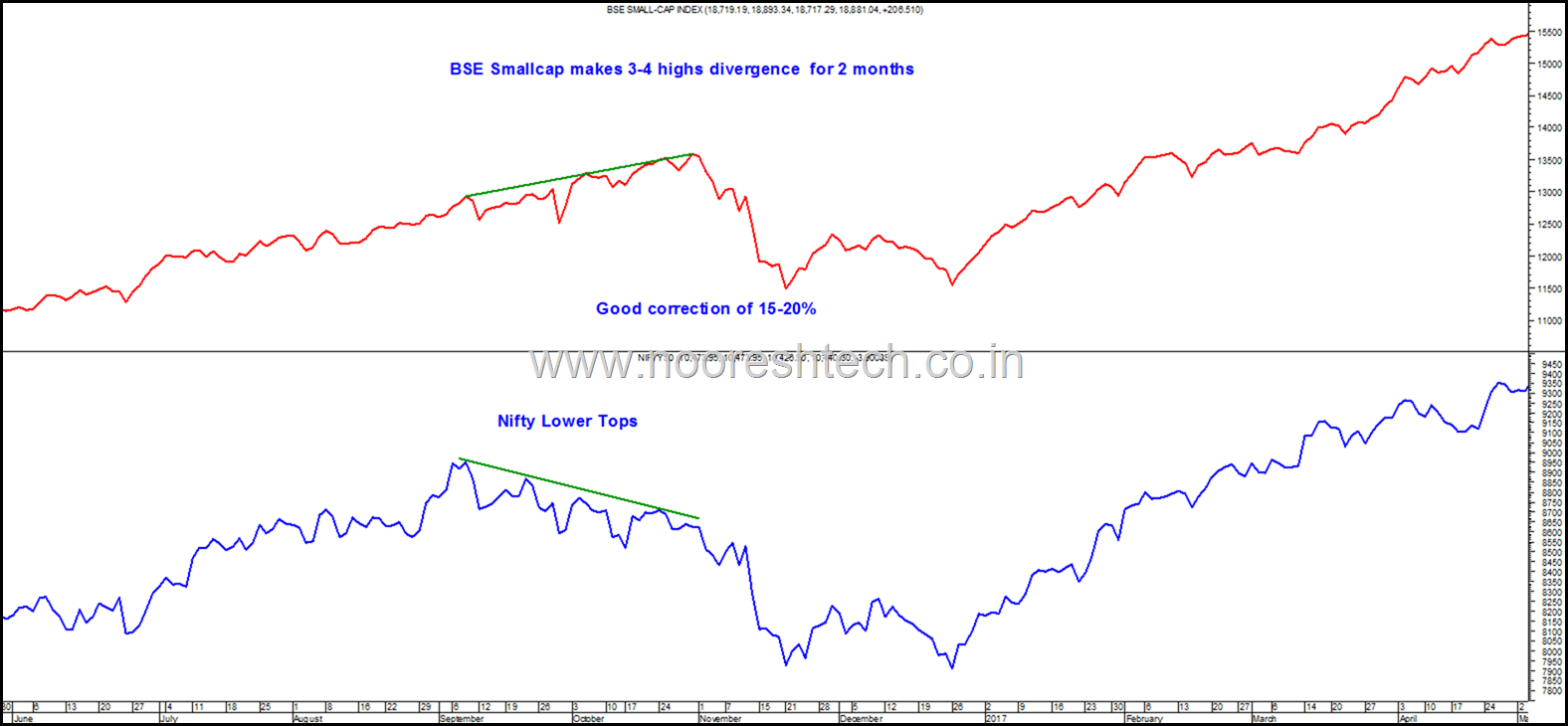 This was again a classical one with 2 months of newer highs on BSE Smallcap Index but Nifty kept making lower tops.
The Demonetization event helped the correction which again 10-20% in Smallcaps.
Now that was past. Lets look at the picture today.
Nifty/Smallcap Momentum Divergence has started – How long can it continue ?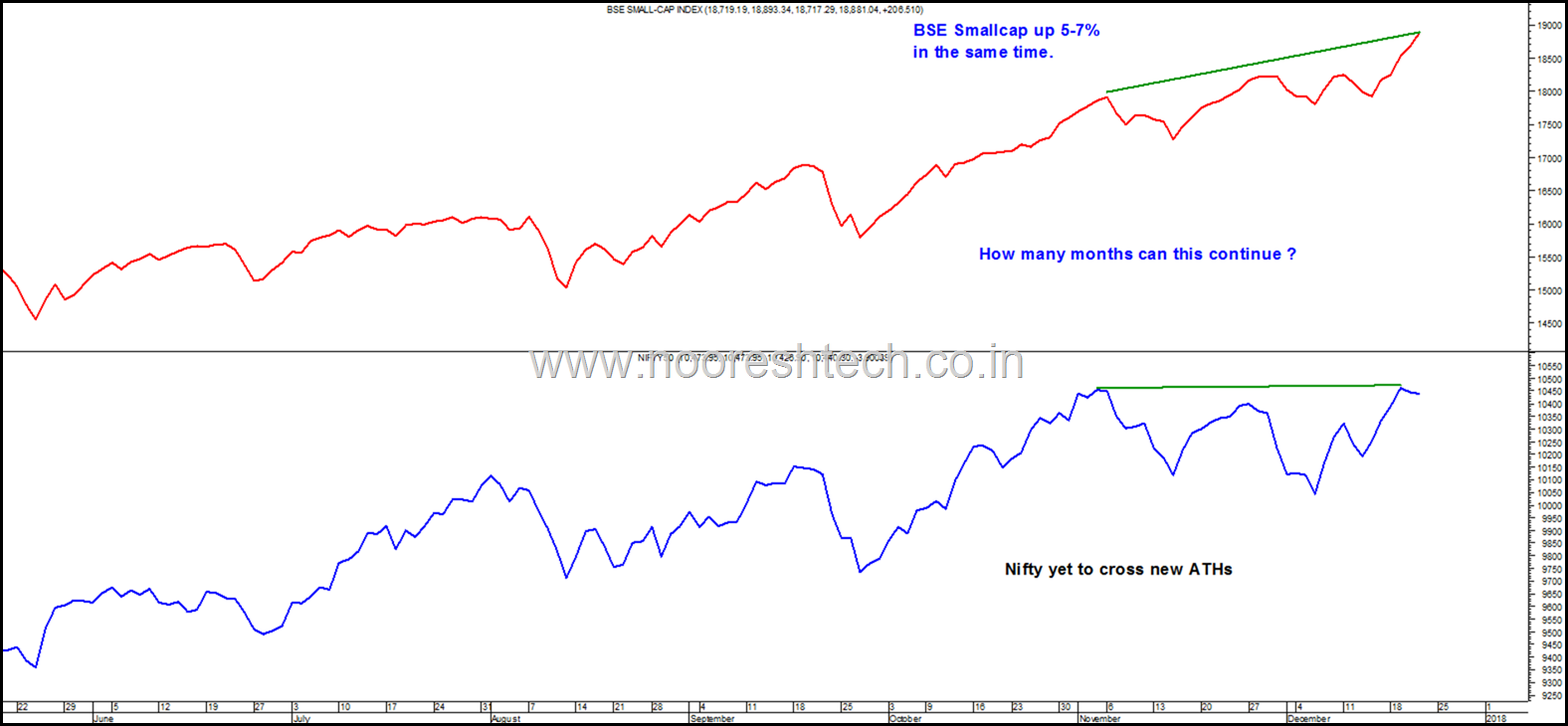 For the last 4-6 weeks the Nifty has not been able to cross the 10500 mark but the BSE Smallcap Index has continued to make higher tops.
This Momentum Divergence can continue for some more time and even pick up speed also.
The strategy as it is should be to ride the momentum with stricter stoplosses and do not use very high leverage. If you are a conservative investor this is a time one can build up some cash ( provided u r fully invested) slowly in parts through partial booking.
This is also the time to focus on New sectors emerging as leaders.
We have highlighted Fertilizers and very recently – Auto Ancillaries.
The other sectors are – Paper Stocks like TNPL , JK Paper and others. Hotel Stocks like Indian Hotels, Sinclairs , EIH , Orient Hotels and others. Media Sector – Tv18, network18, zee media , sun tv and others have also broken out. Selective Real Estate and Infra stocks have also broken out.
"For now the kind of momentum in smallcaps is like a problem of plenty for a momentum trader in smallcaps. Even while making money you are envious on the ones which you missed. Greed and Envy at its peak and this is when one can make stupid mistakes. You need to be nimble when you ride momentum and be ready to get out when your stops hit.This is not a caution but a reminder to stick to discipline. This is the time to ride if you are a discilpined as a trader and as an investor just sit out and watch the fun and book part profits if fully invested and look out for new sectors to churn this cash"

Its my personal view. Please do your own research.
Disclosure – Its a biased view on the stocks above and we are riding the move with full force but intend to get out of the trading positions if the momentum goes out.!! Rest Flows will continue to support the momentum as well as the correction. Do read – Flows to Floats –A heady Cocktail in the Making–Better to Ride than to Time.
Do your own research and please read the disclaimer.
Technical Analysis Training Mumbai
Date:
6th and 7th January 2017
Timings:
9 am to 6 pm
Venue :
Hotel Karl Residency
36, Lallubhai Park Road
Andheri (W), Mumbai, 400058
Maharashtra – (India)
Fees
Rs 16520 ( 14000 + 9% CGST and 9% SGST ) ( No Discounts )
Registration and Payment Link
https://www.instamojo.com/analyseindia/technical-analysis-training-mumbai-6th-and-7/
DISCLOSURE Nooresh Merani
Securities covered above: All listed on the blog – nooreshtech.co.in
SEBI Registration disclosure - Investment Adviser
Financial Interest:
Nooresh Merani and his family/associates/ analysts would have exposure in the securities mentioned in the above report/article.
Nooresh Merani and his family/associates/ analysts do not have any financial interest/beneficial ownership of more than 1% in the company covered by Analyst.
Nooresh Merani and his family/associates/ analysts have not received any compensation from the company/third party covered in the above report/article ever.
Nooresh Merani and his family/associates/ analysts has not served as an officer, director or employee of company covered in the report/article and has not been engaged in market-making activity of the company covered in the report/article.
The views expressed are based solely on information available publicly and believed to be true. Investors are advised to independently evaluate the market conditions/risks involved before making any investment decision
Also read the detailed disclaimer - https://nooreshtech.co.in/disclaimer