Had made this presentation in end of April 2017. Could not share it before.
The same presentation now with updated data as of June 2017.
Below is the old note on 28th April 2017.
Flows to Float - A heady Cocktail in the Making - Better to Ride than to Time
A constant argument that always ensues in every rally is "what happens if FIIs come to sell". We believe that this notion is set to take a back seat in current markets. Let us sample this : of the total market cap float in India of Rs 1 tn, inflows in Indian equities have been coming at fast pace of Rs 1-2 lac crore every year. Guess the source for this ? Not FIIs ? Not global sovereign funds ? But our very own domestic investment funds.
As per data analysed by us, automated flows to market as of today are to the tune of Rs 1 – 1.2 lakh crore (yes you read it right US$ 15-20 bn) and this comprises of 3 major components :
(1) Rs 50,000 to 60,000 crores per annum from SIPS at an average of Rs 4000-5000 cr per month
(2) Rs 30,000 to 40,000 crores per annum from LIC (an average number)
(3) Rs 10,000 – 20,000 crores per anum from Local Pension Funds
What is not considered? Ans. FII Inflows and ETF Flows
Against this, of the float in Indian markets, 50% is held by promoters, ~20% by FIIs and 7% by FDIs+FDRs. This leaves only 25-30% of total float in the markets, of which nearly ~13% is already held by DIIs. This leaves only 10-12% of float in the market(i.e. Rs 12-13 lac crore) of investible float for existing listed entities in Indian Markets. The incremental float addition to equity markets (through IPOs / FPOs) is expected to be only Rs 25,000 – 50,000 cr.
Now sample this – Of the Nifty 50 stocks, 33 stocks out of these 50 stocks, Promoters+FIIs+DIIs hold above 85% of equity, while in 14 out of 50 stocks it is above 90%. So, theoretically float is only 10-15% even in Nifty 50 stocks. We believe that DIIs will become more important than FIIs in coming years.
GSec yields on the other hand are at their bottom, generally a phenomena seen when markets bottom out. We believe, a heady cocktail of EARNINGS + LOW FLOAT + HUGE FLOWS are in the making. We believe over the next 1-2 years can expect a major trend up with a lot of hope and belief coming back. Upsides could surprise in a big way and it is better to ride this trend than time it. The risk-reward is similar to 2014 and one should review stance only below 8500 / 8800
Current view
We might have rallied a lot in the current move to 10100 but the structural trend remains strong.
Corrections in the Index should be used to increase allocation to equity. We are overbought in the short term and any correction from here would again be an opportunity.
In a bull market one needs to ride till the time market keeps making Higher Top Higher Bottom Formation. The last major bottoms of Nifty are at 9450/9150. Will review stance only below 9450/9100 ( Only problem those two points are not close from current price

)
Given the short term overbought zone in Nifty lets hope there is a correction and an opportunity. The good part is Smallcaps/Midcaps have not seen a big outperformance in near term. ( I take that as an indication of froth in the system.). It continues to be a good time to keep searching for good investment opportunities in the broader markets.
From a trading point of view would wait for some reversal signals in Nifty to look out for a trend change till then its a time to ride with trailing stops. Not a time to be leveraged long or short –whipsaws can hurt big time.
( If get time will keep a webinar in next month.)
This chart of Dow Jones shows how trend can continue its up 16% from the last breakout Point. A dip back to the trendline would be a good correction.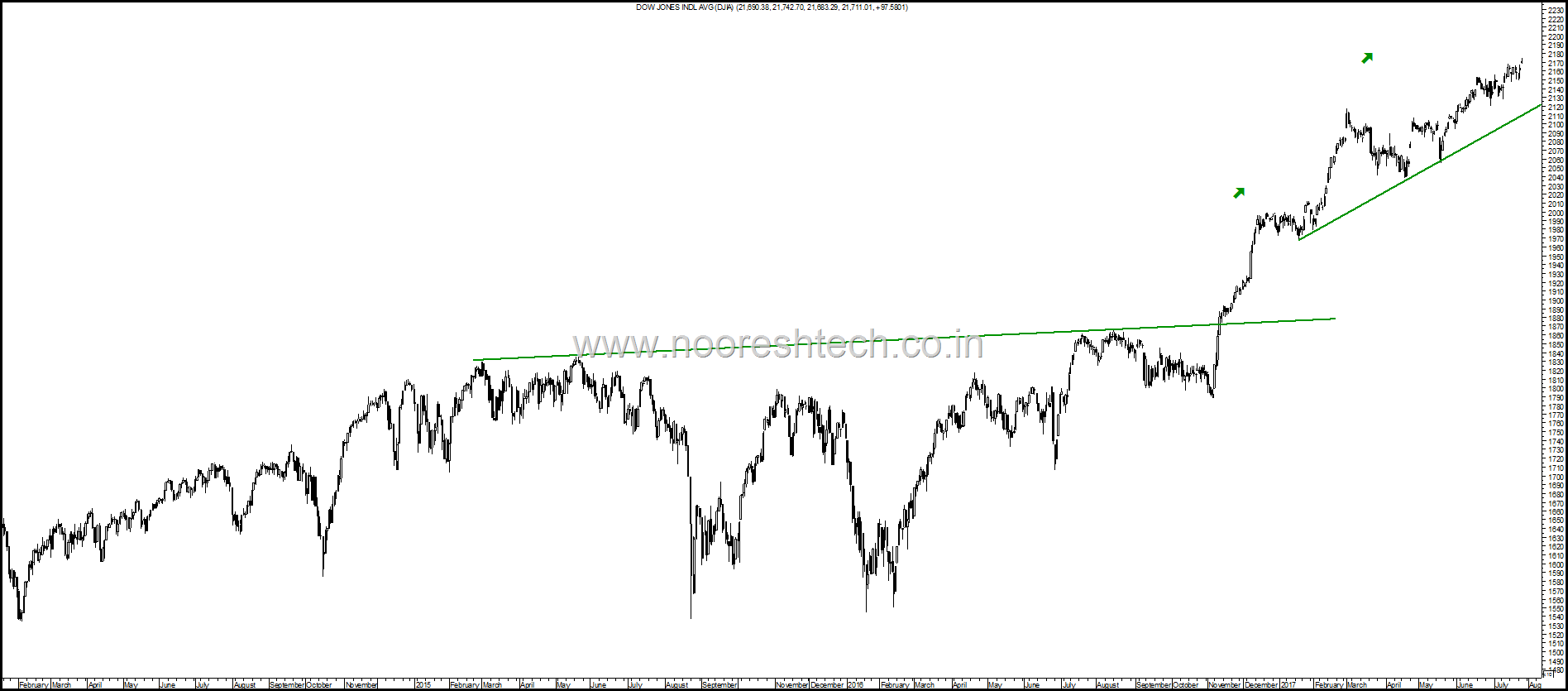 Nifty – Up 10-12% from last breakout point. A dip back to the trendline would be a good correction and opportunity. Will it come ? ( No view will wait for some candlestick reversal or any other signal.)
Will end of wit this chart of 2008 as to how there were quite a few corrections.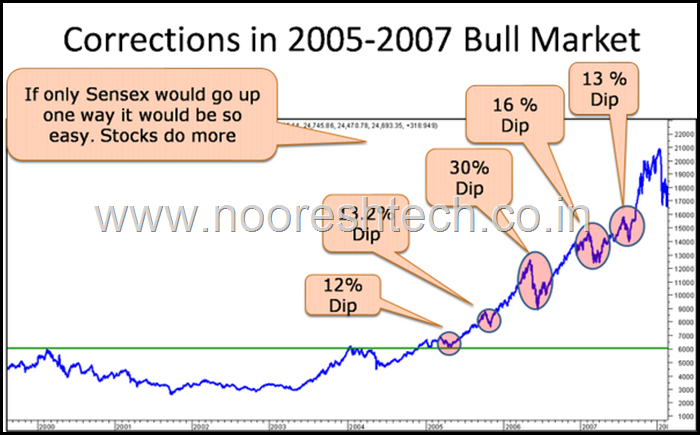 Nooresh Merani
Investment Adviser
9819225396
nooreshtech@analyseindia.com
twitter.com/nooreshtech
www.facebook.com/nooreshtech