Head and Shoulders which is the most read and heard pattern in technical analysis and generally used at convenience by technical analysts around the world to justify their bias.
The pattern works better in conjunction with other conclusions else it ends up in wishful thinking many times :). I had posted an article on wishful thinking on Inverted HnS – Link
The pattern is as shown below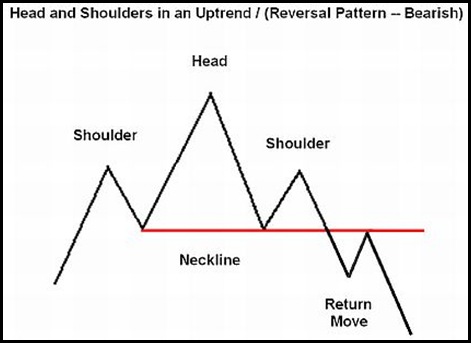 Its a belief that once a pattern is well known chances of the pattern failing is high or the targets being achieved too quickly before people jump on to it.
But in the above pattern what i have seen is many analyst use it with their convenience and independently of other formations to aid the possible conclusion.
Lets look into some possible wishful thinking alternatives.
Alternative 1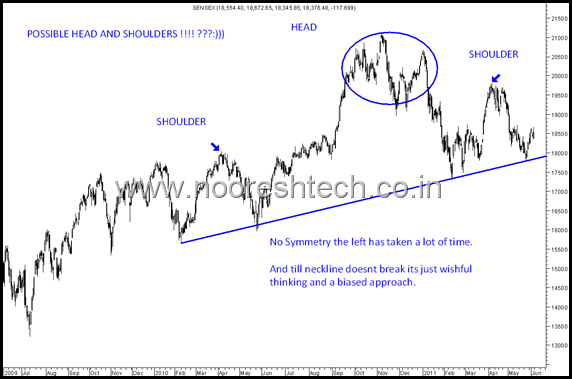 Things to note.
- > The left shoulder has taken a very long time and there seems to be no symmetry in the shoulders.
- > Also if we were to look a little back into history there are 3 shoulders on the left side.
- > The markets are still away from the neckline.
So for now expecting the formation to be completed then index should move to head size which is 3500-4000 points which comes to 13-14k target.
All in all its wishful thinking till we see prices showing direction.
Alternative 2-3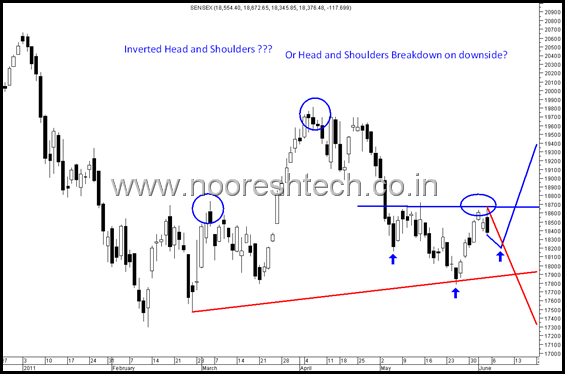 Now in the above alternative we have a possible head and shoulders of smaller scale compared to previous one looking towards a downside breakdown.
At the same time there is a possible Inverted Head and Shoulders pointing to 19800 🙂
So the technical charts may look interesting with the projections and different interpretations but as a matter of fact it is just conveniently used to justify a biased approach.
I had even read a pattern on Dow predicting 4000 levels 😛 on possible right head being formed 😛 hilarious will try to find that chart on the net.
We have a different way of looking into Head and Shoulders even in target and time calculations 😛 which is tried and tested.
Have a look into the following two posts where i discussed the inverted head and shoulders which worked out very well.
https://nooreshtech.co.in/2009/07/what-do-you-wanna-see-see-what-market.html  
Then again https://nooreshtech.co.in/wp-content/uploads/blogger/999-SensexInvertedHNS.png 
For now a simpler way to look into the current formation is a nice long channel and a triangle compression which will happen over the next few months. ( This is again my interpretation )
- > The markets have been in a nice 2000-2400 point channel for a long time with a breakout move in Sept 2008.
- > Markets are forming a huge triangle which will compress over the next few months and finally lead to a breakout. Possible levels that time would be 19000-19300 and 17000-17300 broadly.
- > Till then play out the range look to buy at 17800 ( lower trendline 1 ) or at 17300 ( lower trendline 2 ) for bounce back trades.
- > On further bounce one may even shout at the top trendline.
The above views are mine and i have no bias towards either of the alternatives 🙂 but none of them are conclusive enough on the possible head and shoulders. But one conclusion is post June-July consolidation it could be an interesting 6-9 months of strong directional move.
TECHNICAL ANALYSIS TRAINING SESSION in Delhi/Mumbai/Pune planned  in next 2 months. For more details call 09821237002 Kazim and Asif 09833666151 or mail to analyseindia@analyseindia.com.
If you would like to reach me mail me on nooreshtech@analyseindia.com
Cheers,
Happy Investing
Nooresh