As was busy in the weekend could not paste the following charts which i had discussed in a presentation at an investor meet.
Technical Analysis is an art and not a science so all copy book proceedures dont work out here. A chart is an image which can be interpreted differently but whats important is whether ppl get the moves right.
Now let us see various possible formations !! which i do expect to be talked about or already might be spoken about ! in various media which also spoke of HNS.
BULLISH FLAG :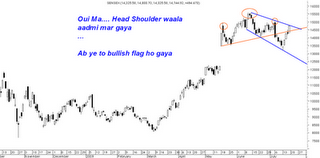 INVERTED HNS :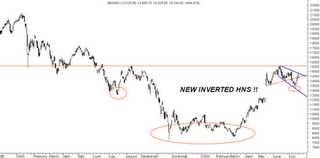 So there is a lot of jargon and possible targets with all these patterns.
There is a big difference between possible formation and confirmation ! else it ends up as wishful thinking .........
Best Regards,
Nooresh