Below i am trying to just look into VIX index which gives a good idea of sentiments and Bse Sensex which gives a technical idea.
BSE SENSEX :
Budget 2010
Last time in Budget 2010 the index had made a very clear Inverted Head and Shoulders pattern which was followed by a breakout in the day but intra dip from highs. Traders got a good entry point and a rally of 1000-1500 points from that zone. Also it was supposed to be a very good budget.
We had a long view around that time of the year so capitalized on the breakout.
Budget 2011
Although Sensex seems to be making a similar Inverted Head and Shoulders pattern but the breakout point is a little bit too far away. Also we have lot of resistance at the breakout point of 18700.
The pattern this time around is njot as positive as its a lower top lower bottom. The last important tops are at 19340/19600 which are far away to signal a basic trend change.
But if we were to see a breakout above 18700 then purely on the pattern gives a pop of 500-700 points alteast ( WISHFUL THINKING )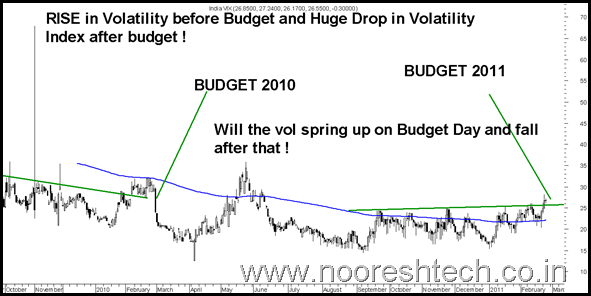 VIX Index
Budget 2010
Around two weeks before the budget we saw a steady move up in VIX with it ranging around 30-32. The VIX index crashed from 30 to 24 on the budget and went on to go lower. Also the Sensex went on going higher after the budget.
Budget 2011
The VIX is now around 27 zone which is lower then last time but with increasing derivative and options volumes the range for VIX has lowered. Earlier in 2008-2009 the VIX would always be around 30 + which has now shifted into the 20s. This time around the breakout has not been in place before the budget indicating the market is very light and no big bets are placed on the budget !! or maybe bets would come in these 2 days !!
Conclusion:
Well Sensex and VIX do point out to some major move of 500-800 points in the minimum case on Budget Day or after budget day its a bit difficult to guess the direction. If index holds on to recent supports of 18k and 5350-5380 on budget day then bias remains positive and we still have 2 more days to see how Index is building up. But VIX does suggest we may soon near an important Bottom in coming days!!
In the last few days we have seen markets have found that there is no follow up buying or selling so its difficult to have high conviction on long/ short as it can also turn out to be a non event.
So even though charts look positive till 5350 /18000 holds there is not much confidence as market is light and thats makes it more risky as fall or rise can be very sharp. So i will be looking more into the Option built up in next couple of sessions and see if there are more cues or possible straddle strategies which may be less riskier.
'TECHNICAL ANALYSIS TRAINING'
MUMBAI 5th-6th MARCH 2011
AND
DELHI UNIVERSITY, NEW DELHI.Date: February 26-27 2011(SAT&SUN)
DELHI ONLY 2 SEATS LEFT.

Registration:
Kazim 09821237002 Asif 9833666151
Cheers,
Nooresh