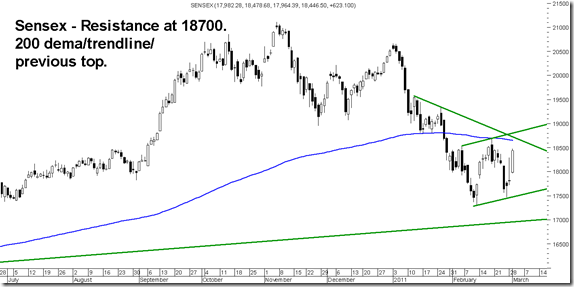 In my previous post had mentioned about some similarity to the positive formation in last budget which got negated due to the big move in crude.
But certain things which has a similarity is VIX has dropped in the same manner. In last budget also Sensex lost 400 points from the high of the day. This time also Sensex dropped 450-475 points from the high of the day.
Budget 2010 –  175 points plus down 240 points from highs.
Next Day -  343 points plus and crosses budget days high.
Budget 2011 – 122 point plus Down 470 points from highs.
Next Day 2011 – 623 points plus and crosses budget highs.
Although after Budget 2010 Sensex moved 1500-2000 points i doubt any thing that is possible 🙂 but just putting down how markets have been reacting to budget.
It seems our Finance Ministers budget is very difficult to understand and impact is seen on the next day or market creates a trap for people who short on budget day !
Sensex Technical View:
After quite some time we saw a big candle on Sensex which gave excellent day trading opportunities ( was a good day for trade in advisory side after being silent for quite some time)
Immediate resistances on Sensex are placed at 18650-18700 roughly 5600 odd on Nifty.
200 dema, previous top and trendline resistances all come around the same point. Till market doesnt close above those levels for 2-3 sessions the lower top lower bottom pattern remains.
The last fall from 18700 to 17470 took around 6 sessions. A faster retracement showing bullish strength can be seen if Sensex closes above 18700 in less then 6 sessions.
With the Budget out of the system and no major triggers it may get easier to look for stock specific trades on long and short. Traders can now start becoming a little active.
Randomn Thoughts :
One of the major impetus in Budget was opening up of Mutual Funds to Foreign Institutional Investors which are SEBI registered.
The contrast here is earlier Regulators had an issue with unknown fast money coming into the markets. But this has become a welcome to the same in a better smarter manner 🙂 Or is it a welcome to Black Money to invest in Mutual Funds??
Will this create more volatility in the Markets or bring in long only Pension funds who would rather go for a diversified MF or ETF. Will it bring a new way to turn Black Money to White. But any new money is welcome to the Mutual Fund industry which has seen its Assets under equities reduce irrespective of the superb Bull Move from 2009-2010. Seems a major game changer ! the announcement.
Rest of the budget clearly shows that the Government is opening up to the Financial Markets with a good emphasis on Fiscal Deficit being 4.6 % ( Its not whether they make it but this time those no announcement came in earlier in the speech )
Heard around the street that P-notes were major sellers in current fall.
Comments invited from people who understand this 🙂 i really dont but just random thoughts.
'TECHNICAL ANALYSIS TRAINING'
MUMBAI 5th-6th MARCH 2011
Registration:
Kazim 09821237002 Asif 9833666151