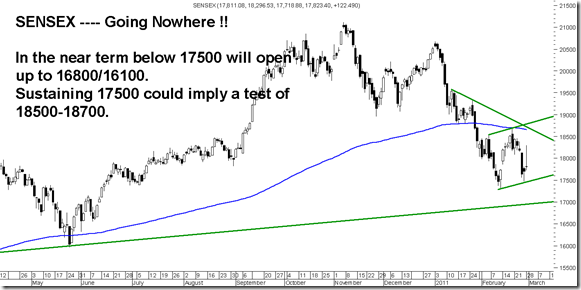 Sensex Technical View:
Basically at this point there is no clear direction or trade to go for with high conviction. Lower top Lower Bottom formation continues so there is no bullish indication. Also recent lows have been holding up so no bearish conclusions.
Volatility is very high with markets fluctuating on a huge range but there is no direction which is convincing enough.
In the near term we might be making a small channel but it needs to be seen if Index can maintain this 17500-18700 range. The range is wide but no great trade.
Continue to maintain the view of holding on to high cash till we dont see either a move down to 16800/16100 in panics or a turnaround above 18500-18700. The personal expectation is this painful period will stay till March end.
We may review the stance only in panics or if we see a move above recent tops like 18700 or if we see any positive formations on the charts which are still elusive.
No situation is permanent !
Stocks to watchout for:
Over the past few weeks we continue to see false starts on upside and downside. So for now i would just wait and watch.
Its not necessary to trade everyday or every move.