Sensex last month from November 26 2010 to 04 Jan 2011.
When index made a low of 18954 we maintained the view of being optimistic and to control panic. Lots of traders got sold out due to margin etc and trapped. The post written on 26 November 2010  Click here to read it
Quotes on that post – " The Bottomline is hold what you have and buy what you can !"
Post that Sensex bounced back to 20200 thats up by 1000-1200 points from the bottom
Again on 30 November we mentioned the stance of deploying cash on declines to 19k. Click here to read the article
Some quotes from the post -
We are down 2150 points or 10.1 % down with 15 sessions done. If we have to stick with the time cycle being followed then we might be through with the bottom by mid of dec and a strong recovery could follow.

I stick to my view of deploying cash at 18500-19000  or even fresh money with a medium to long term view. A few months later the current difficult phase would seem like yet another missed opportunity
Then we started with our free trial in 1st week of December and saw through the sharp fall of midcaps/smallcaps and a similar recovery but were able to get super trades on contra side – Check performance on www.analyseindial.com if u did not take the trial. Will look into stock trades in next posting.
On December 2 2010.
When Index bounced back to 20100 + levels we clearly stated one should book profits and remove cash deployed and stick to 25% cash. Exit all derivative and margin longs. Subsequently index dropped by 1000 points back to 19100. Also traders were advised to go short on Nifty . Click here to read the post
Some quotes from the post -
The current fall has done the 2k point correction and is retracing back which should face resistance around the 20000-20300 mark. Traders holding Leverage/Derivatives/Margin Longs should look to exit their positions in this band. Investors who added fresh money/averaged or bought in last 2-3 sessions should also take part of the money of the table to increase cash for further opportunities.

High risk traders can look for a short around 6020/6080 to cover back on dips.
Later on Dec 8 2010
Here i posted about the midcap and small cap index being hammered and may get more under pressure due to over supply and not fundamental reasons. Though the fall got accentuated in dabba small caps and operated stocks but gave good opportunities to average out or look into strong midcap companies.
Some quotes from the post which went precisely right. Check charts posted on this link
Midcap Index should not ideally fall below 7300 and only a break below 7100 would be scary.
BSE MIDCAP INDEX Intra Day Low of 7176 and closing low of 7260
BSE Small Cap Index the pain still remains if it breaks 9200 it could crack another 5% to 8600.
BSE Small Cap Index Intra Day low of 8617 and closing low of 8740
Again on Dec 13 2010
We mentioned that one should expect Midcap and Small Cap Index to give a sharp bounce back and Index could get on to to 19800/20300. Check Charts here
Wont be surprised to see a strong bounce back in small caps in next two weeks. Last weeks 5% crack was more due to the technical breakdown and further fuelled by margin selling so bounce back has to be sharp !

There is still a need for a confirmatory move over the next 1-2 weeks. Quality Midcaps will lead the show from now on.
Since then Sensex did a move to 20300 and has given a breakout. Small Cap and Midcap Indices are up by 10% from the day.
So what Next – Sensex all set for New Year with a possible breakout above 20300. This has been confirmed and in near term we should see Sensex touching 20800/21100 levels where we would review again. Or on dips to 20300 is where we would like to add fresh longs.
Please check the charts below for more. What is interesting to note is Midcap and Small Cap Index have bounced back from exact supports. Sensex close to channel support. This leads to higher conviction on long term patterns.
Sensex Technical View: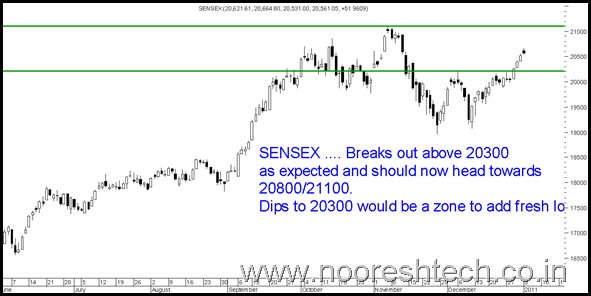 BSE MIDCAP Technical View
BSE SMALL CAP TECHNICAL VIEW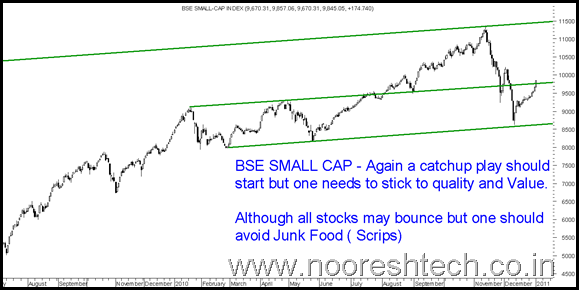 All the above analysis is based on Simple Practical Analysis which can be done by everyone provided they stick to our Keep it Simple Methods. The easiest way to do that is remove two days of your time for our technical analysis programs.
ANALYSE INDIA announces the next 2 day exhaustive Technical Analysis training program in Mumbai on
January 8th and 9th
To register yourself call Kazim 09821237002 Asif 09833666151