Sensex Technical View:
The last drop from 21100 to 18954 was quick and surprised lot of us but those who did not panic in the wake of news would have been spared with the bounce in last 3 sessions.
Although this time around we could not take a cautious stance at 21k as we have done before the 10% corrections but the update on 26 November clearly mentioned this
The Bottomline is hold what you have and buy what you can !
So if you have controlled your nerves and have bought/averaged or deployed fresh money or still holding longs then you should have a re-look into the portfolio as quite a lot of stocks have bounced back 15-20% from the lows.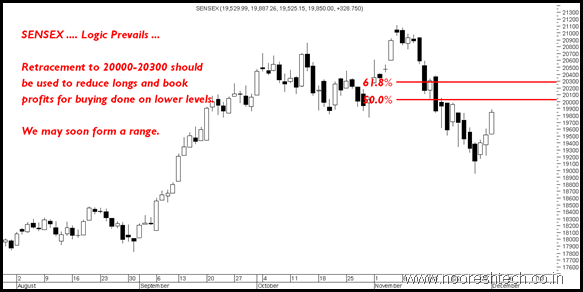 The current fall has done the 2k point correction and is retracing back which should face resistance around the 20000-20300 mark. Traders holding Leverage/Derivatives/Margin Longs should look to exit their positions in this band. Investors who added fresh money/averaged or bought in last 2-3 sessions should also take part of the money of the table to increase cash for further opportunities.
High risk traders can look for a short around 6020/6080 to cover back on dips.
There is a good possibility index forms a range in coming days with upsides being limited to 20300.
Medium to Long Term view remains highly positive.
Stocks to watchout for :
Please checkout the update on quite a few large caps posted 2 days back for bounce back trades. Quite a lot of them have given a nice bounce.
https://nooreshtech.co.in/2010/11/quick-technical-view-on-large-caps.html
Agro Tech foods and ISMT are two stocks which have sustained strongly in the current correction and can do quick moves on sustaining above 345 and 68. Traders can keep watch for strong moves.
City Union Bank needs to close above 53 to give a move to 60 + which was expected earlier.
Quite a lot of Infra stocks have become interesting with the correction. Technically there is a good possibility that over the next 3-4 months the worst could be over for the Real Estate Sector and one should look to change the view point towards the sector. Personally have been on a strict avoid on Real Estate sector as much as possible since March 2008.
Supreme Infra, Il N FS transport and J Kumar Infra look interesting with a long term view. Investors can look to research the above stock.
Accentia Technologies, Ion Exchange and Surya Pharma our old picks in the small cap coverage have declined sharply look interesting for real long term investors as the companies have good growth potential. The stock may not be quick movers in near term but reward in the long run.
Although Accentia has moved from 100 to 300 and Surya Pharma from 120 to 350 the valuations still look attractive.
Also we are starting with a trial of all our Advisory Services - Check the link here
 https://nooreshtech.co.in/2010/12/register-for-free-trial-for-analyse-india-advisory-services.html 
Regards,
Nooresh