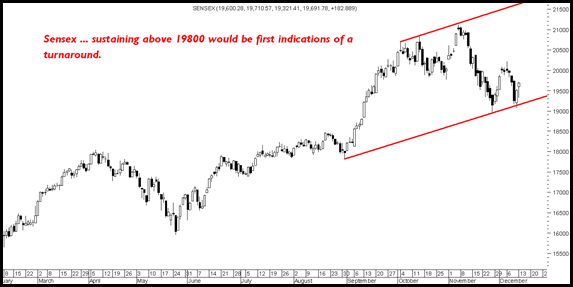 Sensex Technical View:
Sensex has now made a low of 19074 which is higher then the previous low made at 18954 which is a good signal in near term.
First signals of a turnaround would be if the current move can cross above 19800 ( 61.8% ). Ideally it would be good to see markets stay sideways in a range of 19000-19800 or even 20300 on higher side. A move beyond 20300 will confirm the reversal and start of a new uptrend.
Long term trend remains highly positive with strong supports placed at 18500-18800 ( Channel Support+ Previous Top) 
Bse Midcap Index:
Midcap Index seems to have found a strong bottom with a test of the channel and the rising trendline.
There is still a need for a confirmatory move over the next 1-2 weeks. Quality Midcaps will lead the show from now on.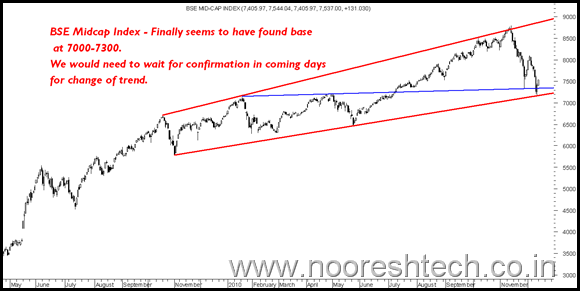 Bse Small Cap Index
In my last update had mentioned if it breaks 9200 we could see another 5% crack too. it did the same with a move down to 8617 which is roughly 5% more.
Bse Small Cap Index was the worst hit in the current turmoil but i would see this as a very good opportunity to look for cherry picking as the index has come down to almost 16k Sensex levels.
Wont be surprised to see a strong bounce back in small caps in next two weeks. Last weeks 5% crack was more due to the technical breakdown and further fuelled by margin selling so bounce back has to be sharp !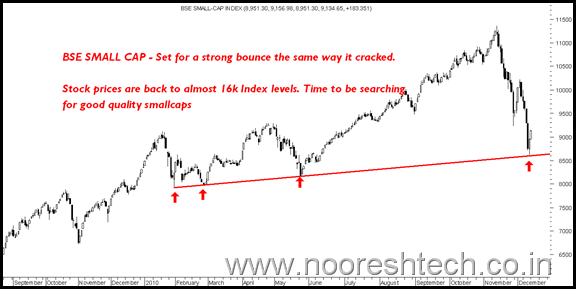 Stocks to watchout for :
In our free trial have initiated a strong investment call on Sugars with a view to shift from penny and underperforming stocks.
Favorites :
Renuka Sugars ( recommended at 76-77)
Triveni ( 100-104)
Sakthi Sugars ( 48-49)
Rajshree Sugars ( 67-69)
One may still look to accumulate the same on every dips with a target price of 20-30% from reco price in next 3-6 mths.
Small Caps Delivery Gains fresh trades ( Defensive Low risk Ones) :
Hitech Plast an Asian Paints group company remains a safe defensive bet at 105-110 levels.
Mirc Electronics at 21 with a div yield of 4-5% and good growth in the sector seems another defensive bet.
Mahindra Ugine Steel at 59 and on dips to 55.
Tata Elexsi at 265/250.
Regards,
Nooresh
Analyse India
www.analyseindia.com ( Check for daily newsletter and much more to come)
nooreshtech@analyseindia.com ( for any queries mail me to this id )