Sensex Technical View :
- > After the big crack from 21000 to 18954 the markets had to retrace back which it did by completing the 61% retracement where it was advised to exit short term longs or leverage as well as book positions averaged or new money deployed.
- > Sensex is at a crucial stage now where it is again testing the bottoms made. So we need to watch if index makes a bottom higher then 18954.
- > In the best case index should not fall below the 19400 mark which is 61% of the current pullback. If it does then it can even test the 18500 levels also in panic.
- > So at this stage investors need to just wait and watch and not redeploy the cash generated or add more investments at this juncture and look for turnaround signals.
- > A move to 19400 and a subsequent recovery above 20200 would be signs of turnaround till then get towards 25-30% cash.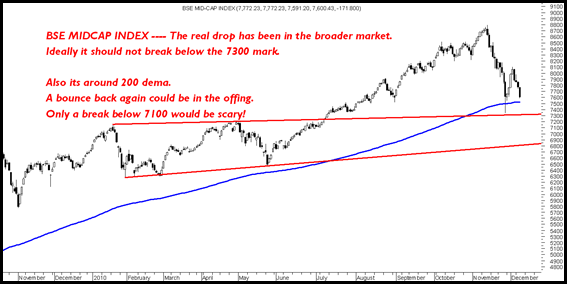 BSE MIDCAP and Small Cap INDEX
- > The most surprising element of the current correction has been the huge drop in Midcap and Small Cap Index. Both the indices are down more then 15% which has taken many stocks down by 25% from peak on an average with certain speculative ones dropping 50%.
- > The midcap index is still looking fine as it has tested the channel supports and closer to 200 dema. So a bounce back could be in the offing after any further dip to 7300-7500.
- > The small cap index suggests there is still some more pain left in the system and if it breaks recent low of 9200 then it can go all the way down to 8600.
- > The liquidity is low in the small cap stocks so any drop may not necessarily mean a Fundamental Reason but more of sentiments and over supply.
- > Many of the stocks in our tracking have also dropped by 25% so mistakes have been made but investors need to take it in the stride and look ahead. So the current drop could be a very good learning so we dont make these mistakes at the actual bull run which we have in front of us for the next few years.
Strategy:
- > In the last 1-2 months many portfolios would have been down by 20-25% max from the peak. Also people would be totally invested and would have added more money on declines to average.
- > If you have taken a call to reduce some holdings at 20000 in the bounce as was suggested you should now just wait and watch for further confirmation from the markets.
- > For short term traders this is a time to reduce VOLUME trades - For example if you would buy 5 lakhs worth in every stock then buy 50% of it only as volatility is high.
- > Money lost on a trade can be made but only if you keep the temperament till better times come and one should not increase the stakes in such market conditions.
- > Learn from the mistakes avoid getting leveraged or exposed to Penny/Speculative/Hear Say Stories and do proper risk management.
- > A portfolio down 25% can be recovered but a hit beyond 50% will require a lot of time and patience. Learn from your mistakes as no bear run is permanent in in long term Bullish Market. So be ready that next time you dont make the same mistakes.
- > One of the specific reasons as to why one needs to learn from this correction is over the next 2-3 years we may have much bigger rallies and corrections but mistakes later may be more riskier. This could be one of the biggest learning point in an investors life for now.
Regards,
Nooresh