Writing a post of after a long time.
But we keep updating through the day on Technical Traders Room ( Rs 1200 a month, Rs 11000 a year )
The last two posts which should be read again.
State of the Market
The Nifty50
Nifty has crossed an all time high and gone from 18800 to 19700
But a lot of heavies have not crossed all time highs made in 2021-2022 or close to it.
IT Sector ( 13 ) , Reliance Inds ( 10 ) , HDFC Bank ( 14), Kotak ( 3.2) , ICICIBank ( 7.8 ) , SBIN ( 2.62 ). That is almost 50-52% of the Nifty
ICICI Bank made a new high today but thats just 10 bucks higher than previous high.
Such a structure implies rotation would create a higher base.
A single heavy stock can lead the index higher.
Its an unusual situation where Nifty may look overbought by Heavyweights look like Breakouts.
This makes it easier to focus on the broader market or be stock specific till the time there is no major trend reversal.
Maintain the same stance. Be Stock Specific/Sector Specific as its a long term breakout instead of trying to time the next dip.
The Heavyweights that cab
ICICI Bank – Breakout into all time highs. Almost 8% weight in Nifty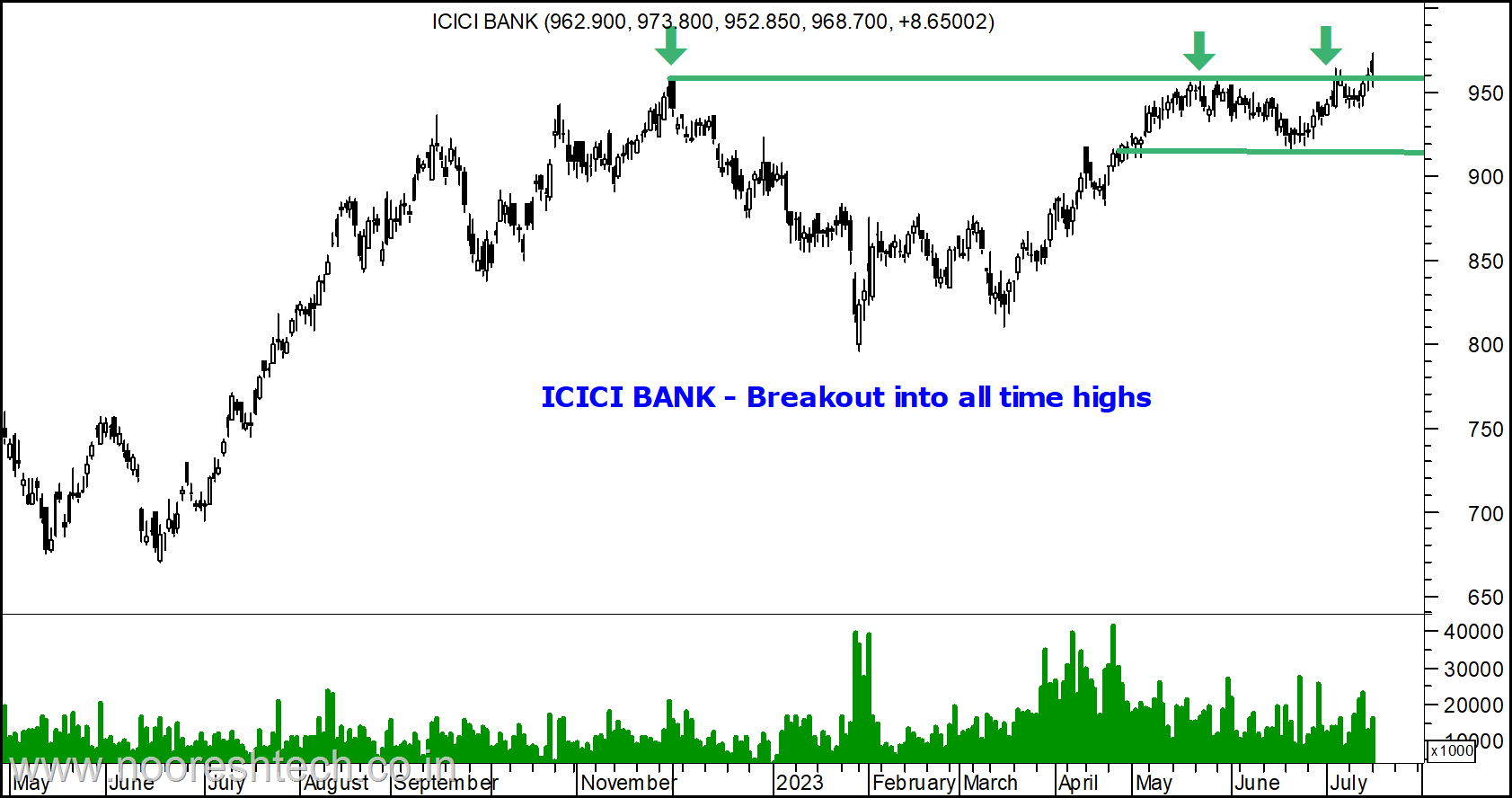 HDFC Bank – 1730-1750 a prob zone. 1550-1600 a support . 14% weight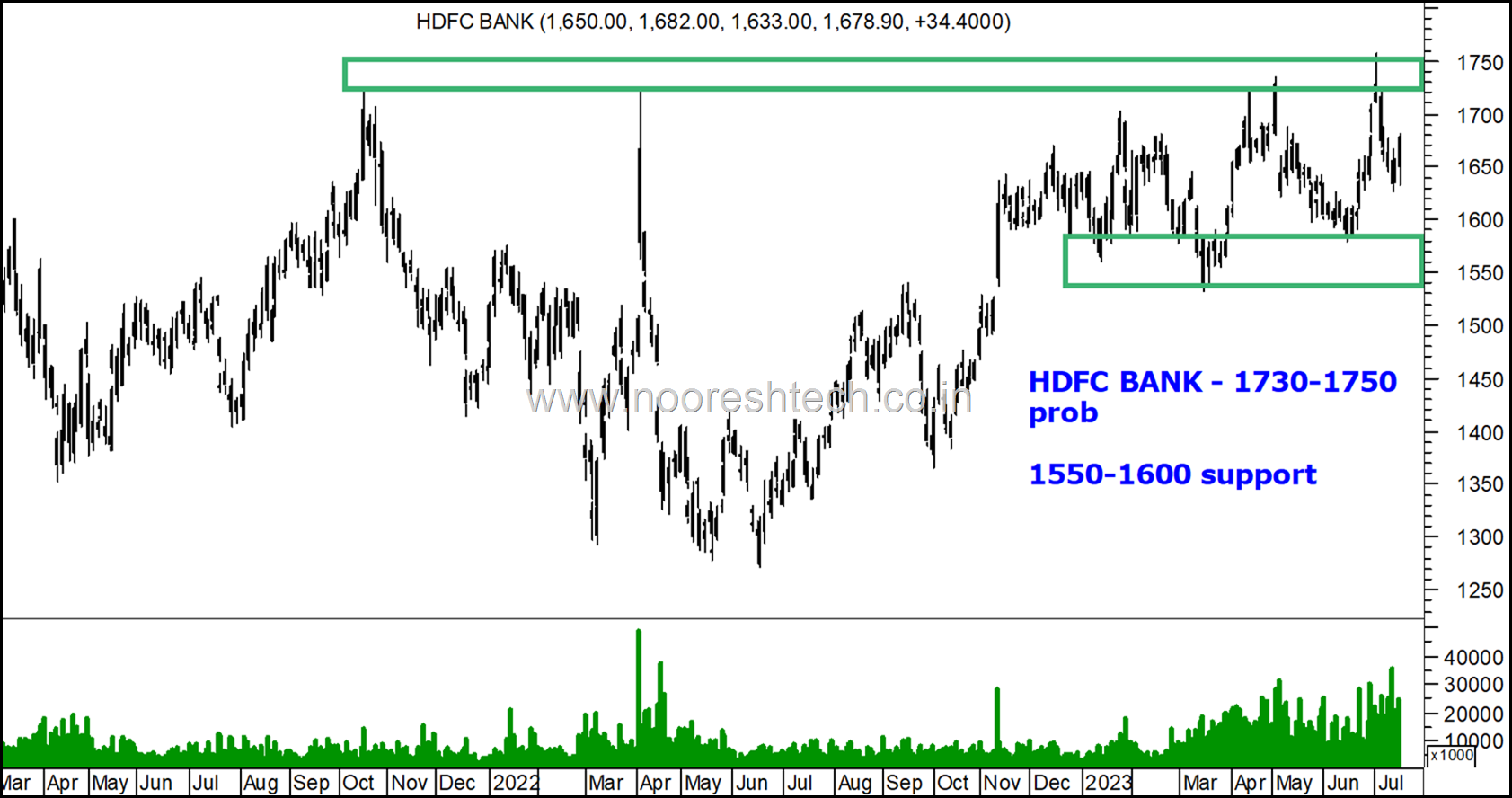 Reliance Inds - Back a the 2750-2850 resistance. 10% weight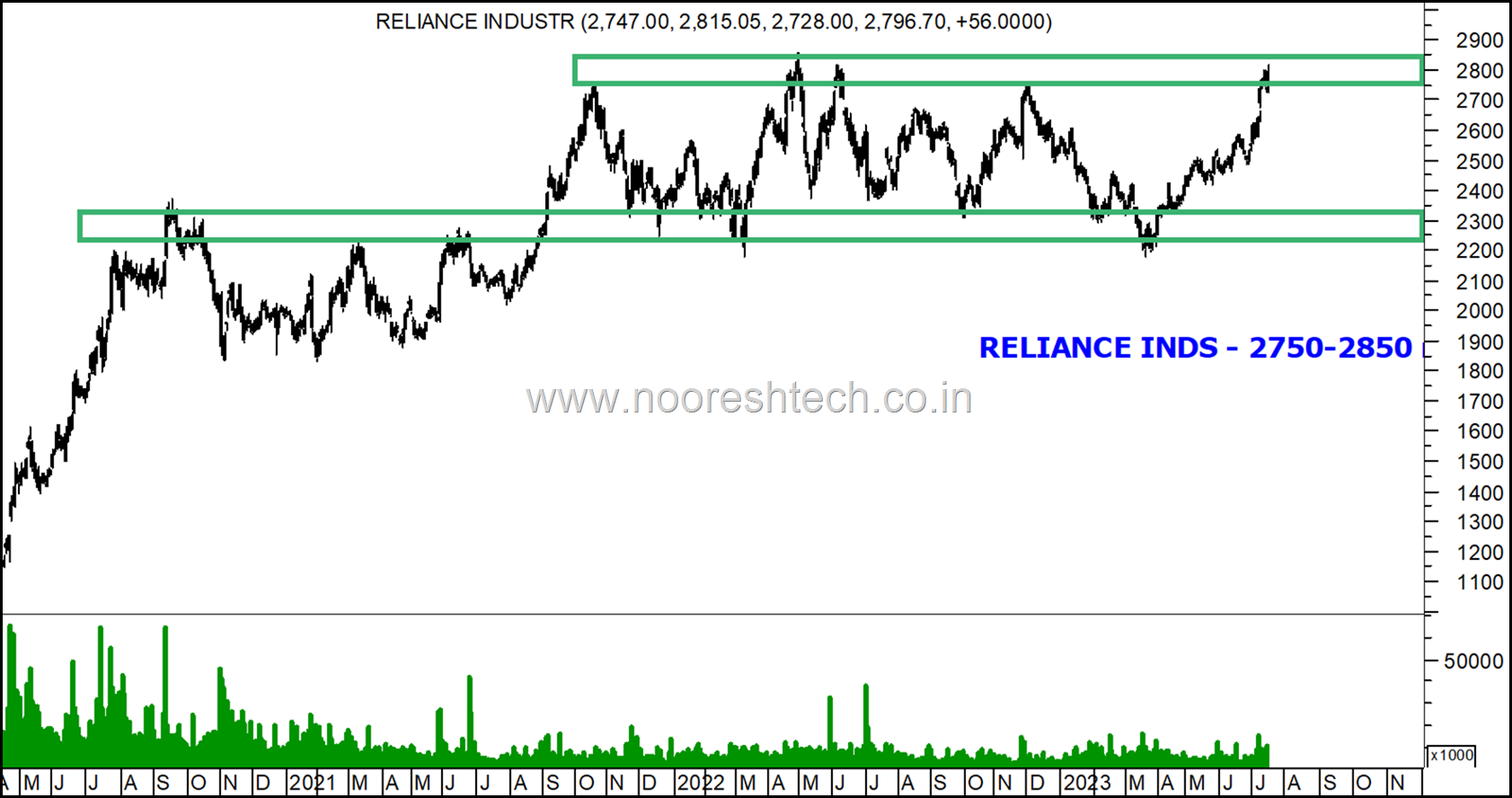 So what is the Problem ?
From the start of 2023 everyone was reading into how Global Recession, Rate Hikes etc will create a market mayhem.
The Markets did correct in Jan-March 2023.
But the recovery was swift and most could not latch on to it. Thats how Markets are.
This is our message on 27th March 2023 to Technical Traders Club –Check https://nooreshtech.co.in/quickgains-premium/technical-traders-club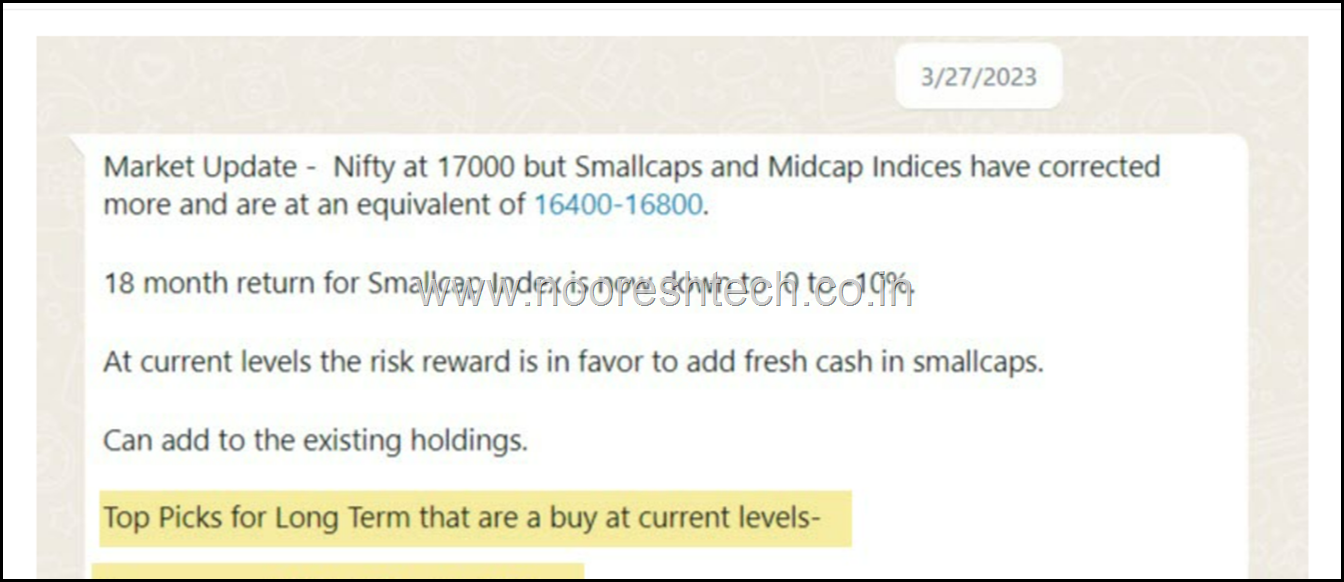 From March lows BSE Smallcap Index is up 25-27% and up 10% above the highs of 2021 !
Last 2 months the constant talk is Markets have over run, Smallcaps have gone crazy and bubble etc . The scars of 2020 and 2018 are still not erased from our memory.
A few funds have stopped fresh inflows in Smallcap Funds ( Size could be one reason and undeperformance going forward ). Interestingly some funds did so in Feb 2017 and it took a LTCG Tax in Feb 2018 to pause the Smallcap Run.
So What to do in Smallcaps ?
I ll just post 3 charts and that will give good clarity.
( Rest check older post and video we did in April on how to strategize across market cycles )
1) The 2023 Smallcap Breakout.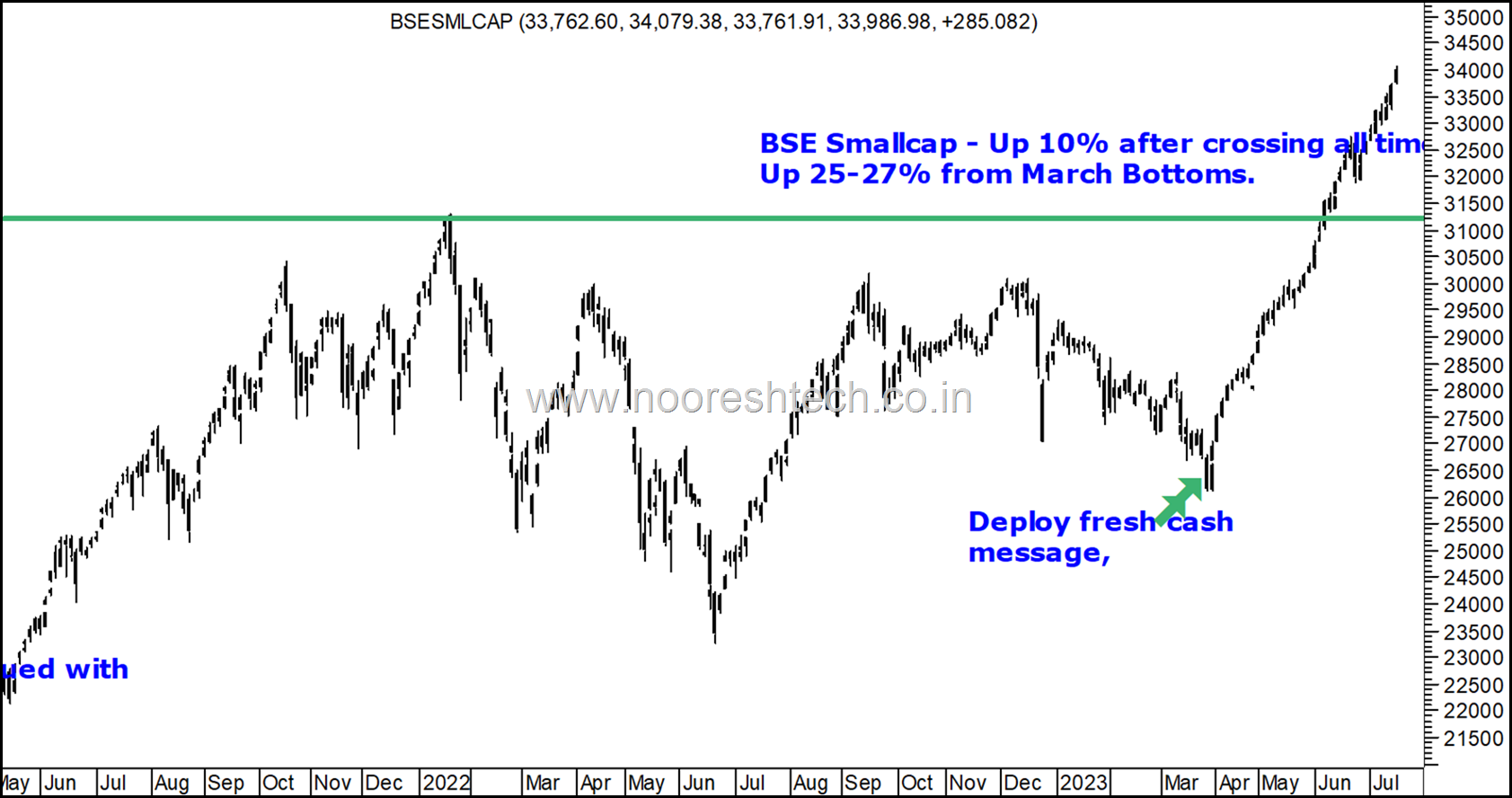 Not the first time !!
2) 2020-2021 Rally after breaking out pre covid highs.
Went from 15000 to 28000 in that move with small shakeouts.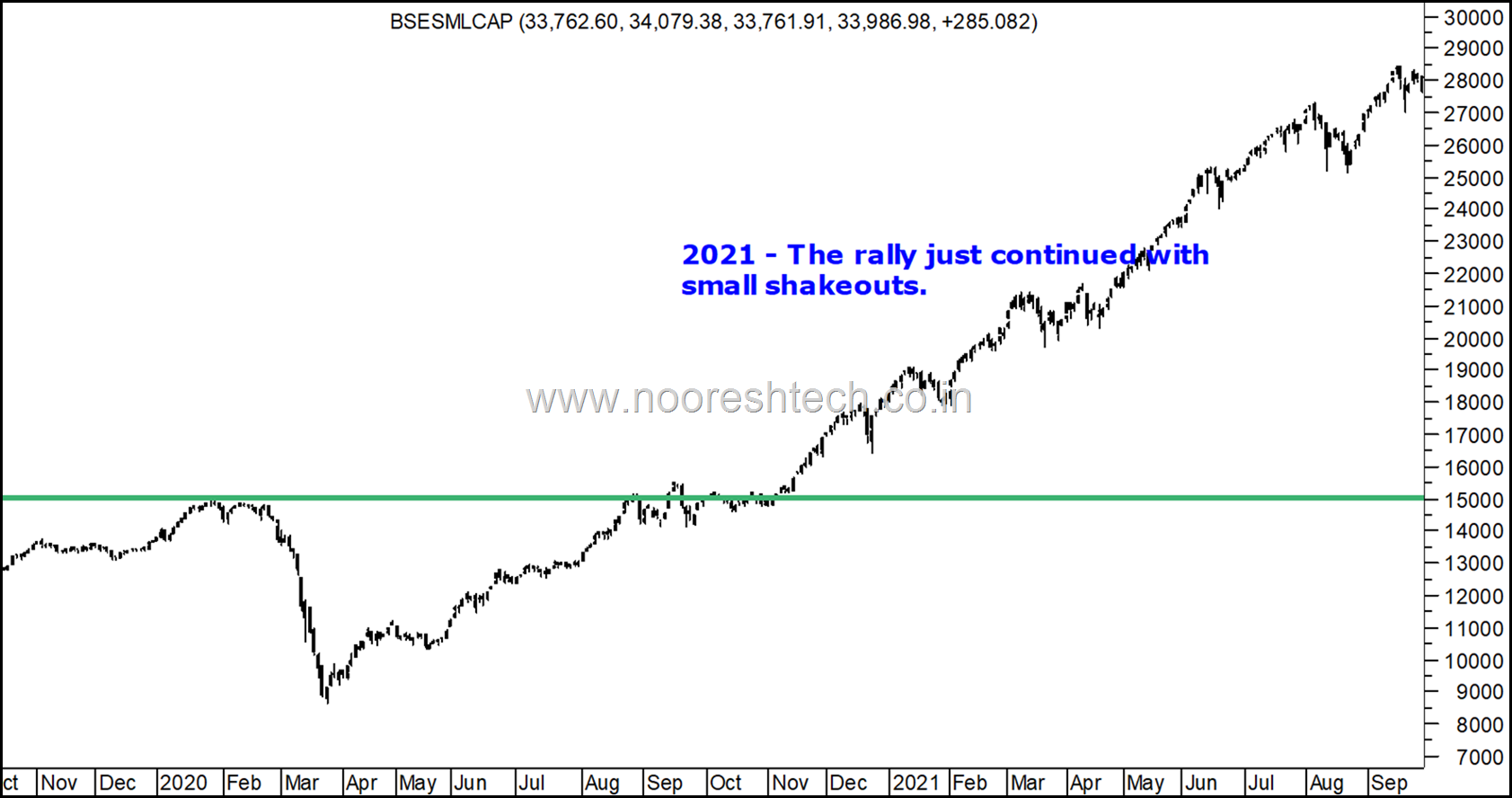 3) The 2017 Smallcap Rally
Crossed the highs after the Demonetization drop. From 13500-14000 to 20000.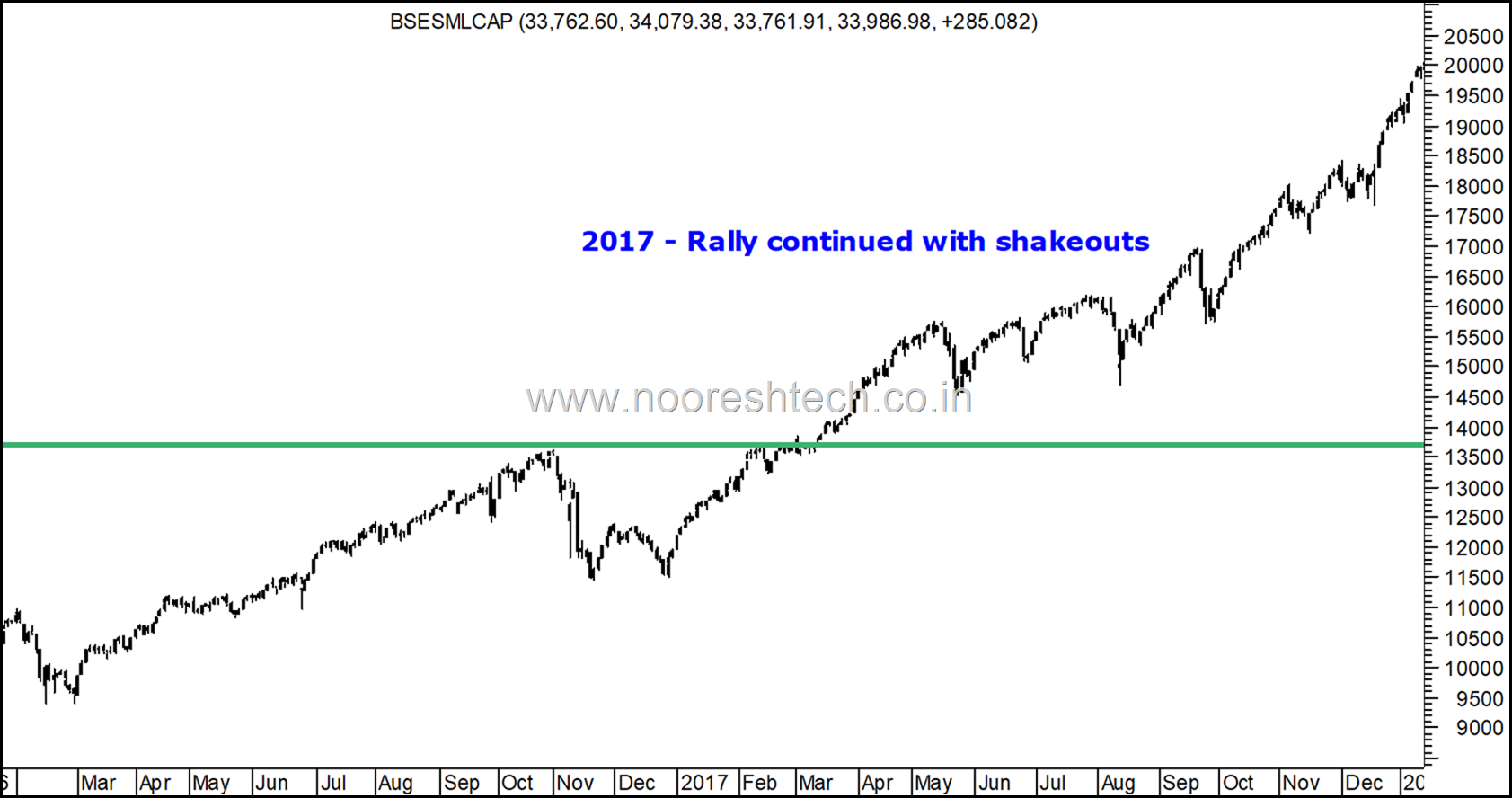 4) The Post Election Rally in 2014.
From 6500 and 7500-8000 to 11500.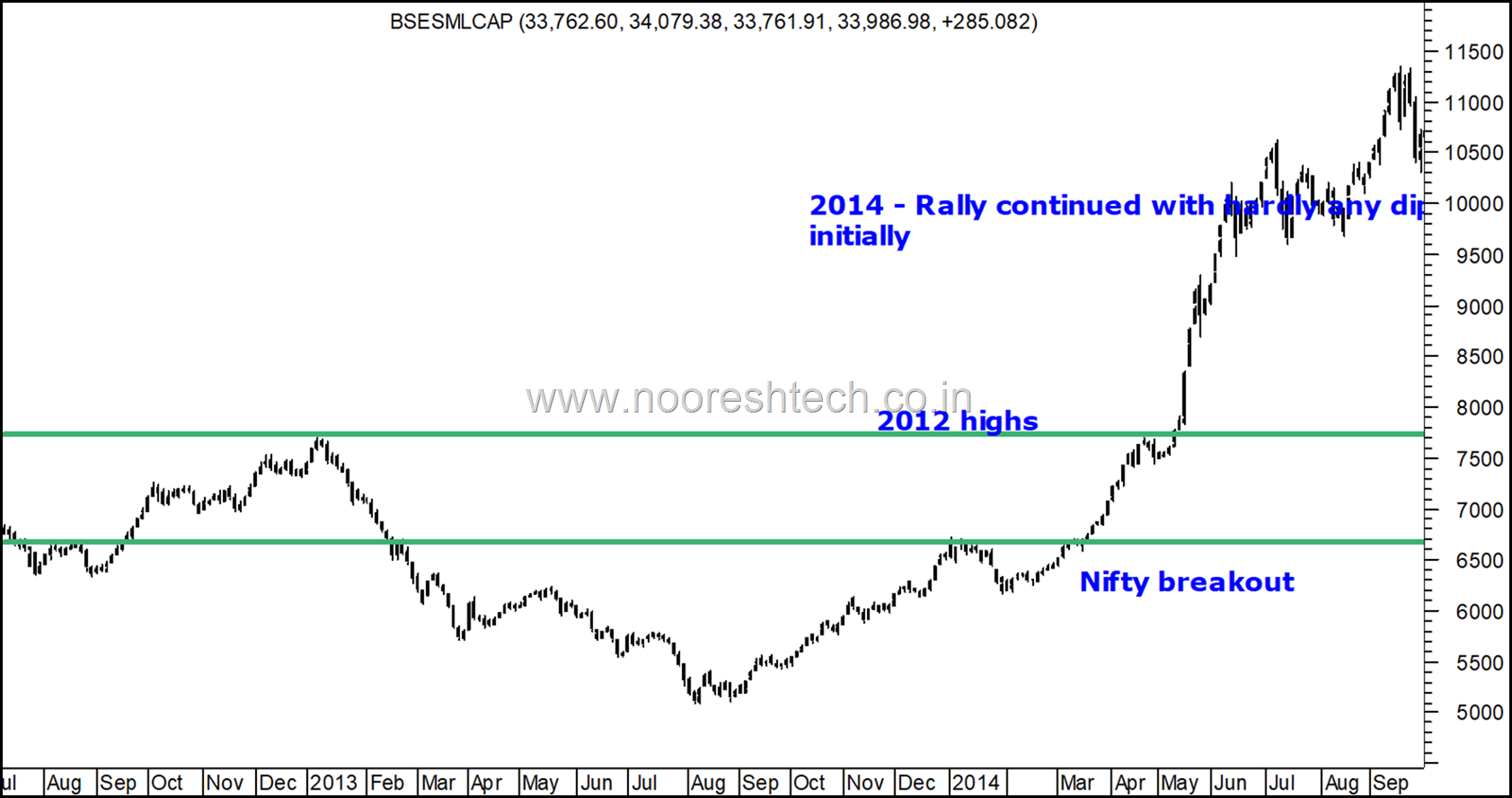 Everyone wants to sell for a DIP.
Increasing Cash should have some thumb rules based on either Valuations, Fundamental View, Technical Divergences etc .
Trying to go to High cash for a 5% Index Dip and 10-20% Stock Dip is like Shorting without a Stoploss with unlimited opportunity Miss on upside. Have to be right on both Legs. Need to buy also lower.
Also for somebody deploying regular Cash Flows from Income/Biz is better of just holding on to the cash for a Dip/Shakeout may still make some sense as one may even buy new leaders if missed the dip.
Our criteria to increase Cash is when Smallcap Indices are making higher tops and Nifty is making lower tops or BSE Smallcap to Nifty ratio hitting higher bands. Not the case now.
As per the same sets of principles it became a buy in March 2023.
Conclusion
Focus on Sector/Stock Specific Opportunity.
Trying to time the Shakeout is difficult.
Be ready to deploy fresh cash in a shakeout/dip.
There were opportunities in 2021-2023 with a Flat to Down Smallcap Index.
In a trending market and all time highs the opportunities should continue.
Example of capitalizing on opportunities
#Top10TechnoFunda #Smallcase hits a new ATH. Up 94 % against a 13 % of #Smallcap from 11th Aug 2021. #Top10Insider also wakes up to ATH. Up 80 % against 13 % of #Smallcap. Will be 2 years next month. http://nooreshtech.smallcase.com
A quick look at Everything that we do !! https://linktr.ee/NooreshTech For WhastApp updates, Join the Community https://shorturl.at/cewZ1 For any queries, WhatsApp us on 7977801488