#Nifty has bounced back almost 25% from the lows of February at 6825-6860.
Many stocks have bounced back much sharper.
#YesBk up 75% , #HDFCBk 26% , #KotakMahindra 30%, #SBI 52% , #BOB 45% , #canbk 52% , #PNB 75% #BankNifty 38% from the Feb lows. #randomfact
, #Vedanta 165% , , #Hindalco 125% ,#DLF 100%, #TataMotors 82%. The major gainers from top 100 companies. #randomfact
At the same time midcaps and smallcaps have also done well.
Bse Midcap Index just hit a new all time high with strong momentum.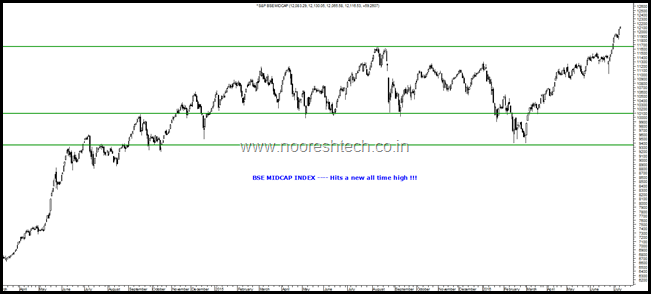 BSe Smallcap Index close to a 2-5 year high.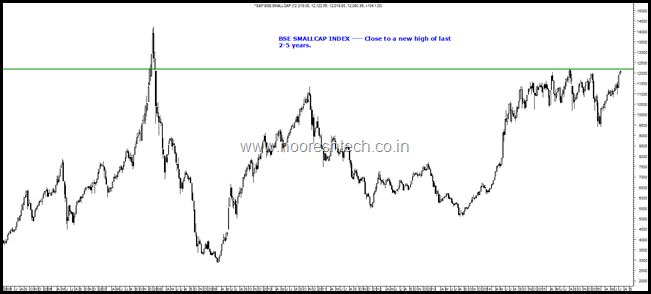 Nifty Technical View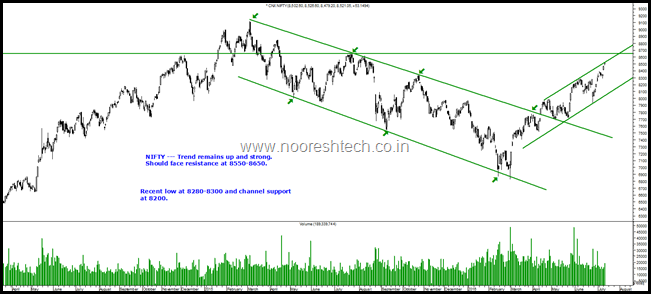 Nifty Technical View
The previous posts and expectations.
Current Technical View
Nifty has continued in a channeled move in last 2-3 months.
We are now at the upper end of the channel at 8500-8550.
Previous top and breakdown point of the uptrend at 8650 is another resistance.
Ideally we should see a pause here in coming days.
At the same time midcap and smallcap indices have broken out sharply and momentum can continue in select stocks even with a correction in Nifty. This is also the time when we see a lot of crap stocks do much bigger moves.
Supports at 8200 and 8300. Recent lows and channel support.
But the medium to long term trend remains Up and Strong. A major turnaround and bottoming confirmation was done by crossing 7600/8000.
So on a longer term basis it still remains a buy on dips and stick to the bullish stance of 1-3 years.
Strategy
The big problem with such massive moves is the stocks you own may not have rallied 60-100 % from the lows and that would make you feel left out.
Secondly if you would have not bought or deployed fresh cash in the dips to 7200 the big confusion is to deploy fresh cash or increase cash from the portfolio.
The big mistakes which happen in such momentum moves and left out feeling is you end up buying some companies just for momentum/news or compromise on quality and fill up your portfolio.
If you had deployed additional cash at 7200 and not booked partially it at 8000-8300 can do so now at current levels. Sit on that cash for a dip or a new opportunity as every new trend gets new movers.
Be very selective in stock selection. If trading momentum then be strict with stoplosses. Avoid over-leverage.
Conclusion - Step Aside out of the momentum unless you are very disciplined with position sizing and stoplosses. As an investor increase some cash but be on look out of fresh ideas with an open mind.
Technical Analysis Training Mumbai
Last 4-5 seats left.
Date:
23rd and 24th July
Timings:
9 am to 6 pm
Venue :
Hotel Karl Residency
36, Lallubhai Park Road, Andheri (W), Mumbai – 400 058. Maharastra, India.
Fees - Pay as much as you want.
Registration Fees = Rs 4000
This is how much you can pay
1) Ask for registration fees to be refunded if you do not like the course.
2) Pay anything above Rs 4000.
(You can pay in chq/neft/online/gift/blessings at the venue or anytime after the course. There is no upper limit to the payment

)
Entries on a first come first save basis. Batch size 15-30 participants.
No Conditions apply. You can also directly come at the venue if seats are left. Confirm via e-mail .
Registration and Payment Link - https://www.instamojo.com/entrepreneur987/technical-analysis-training-july-23-24th-mum/