Over the last couple of days have seen a lot of discussions as to how Indian markets are possibly getting into a phase like 2011 ( my view ) and 2008 ( the fear view) and how a lot of sectors are so troubled.
So everyone has a view from 7200 to 6300 to even some crazy 3800.
The funny part is nobody knows what are the constituents of the Nifty and their weightages. Also these constituents change marginally on a daily basis because of calculation being free float market cap.
So lets not get into details and look into Nifty and its constituents as 31st December 2007 and 31st December 2015. There are some amazing revelations.
I am just putting the Top 20 weights as that is almost 75% of the index. You can download the full weightage file here.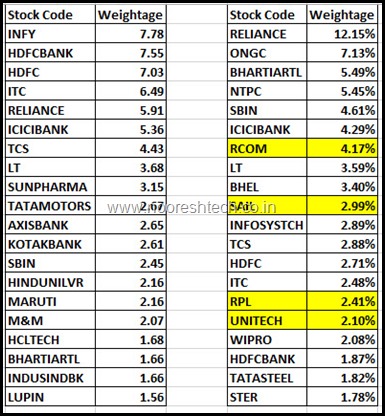 Now some amazing facts !!
Out of the Top 20 stocks in 2007 only 10 remain in 2015 in the Top 20 weights.
Out of top 20 in 2007 there are 4 stocks which are not part of Nifty. ( RPL got merged in RIL ). This constituted 11.67% of Nifty.
Out of the Top 10 weights in Nifty only 3 remain in Top 10 of 2015. These 3 constitutred 20.03% of Nifty and are now only constituting 14.95% of Nifty.
The top 4 weights of 2015 Infosys/ hdfc bank / hdfc / itc now command a weight of 28.85% but used to command only a weight of 9.95% in 2007 !! -------------- ( WOW )
Reliance Industries and Reliance Petroleum i.e RIL an RPL had a combined weight of 14.56% and now its only Reliance with a weight of 5.91% ------------------ ( WOW)
Rcom was the 7th largest weightage in Nifty is no more part of it. Even Unitech was at the 16th place.
ONGC the 2nd largest weightage on Nifty is now at the 21st place. From 7.13% to 1.56%.
Quite a lot of this is due to the change toward free float methodology and the big drops in many stocks and big rallies in others. You may find much more such facts.
Sectoral Changes
The big sectoral shift has been from Oil and Gas to Banking. Oil and Gas was at 24.46% in 2007 and is now 9.14% and Banks were 11.46% are now 23.94%.
Telcom was a darling in 2007 with a weightage of 11.26% and now closer to 2.1%.
IT was at 7.2% in 2007 is now at 15.02%
Metals and PSU banks weightages have reduced by half.
The big shift is Nifty was an index which in 2007 had majority of the index tilted towards investment linked sectors such as Oil and Gas, Telecom, Power, Industrials. This has now shifted towards sectors which are Banks, Financials, export oriented - IT and Pharma.
Such a shift is a major reason for polarization in sectoral/stock performance and Nifty.So we have a bunch of stocks down 50-70% but Nifty is up 20% since 2007.
To simply put Nifty today is a totally different animal then from what it was in 2007 and thats why the magnitude of ups and downs have reduced. We have a bunch of solid businesses ( unlike frothy ones in 2008) at the top of Nifty top 20 or a lot of crazy moves which have happened in smallcaps/microcaps.
For example even if the most troubled sector - PSU Banks like BOB SBI and PNB were to fall another 50% in next few months it would impact the Nifty by only 100-150 points.
Sentimental Analysis
The whatsapp groups, phone calls i receive and much more information tells me majority of the people are in different camps like Nifty 7200 Nifty 6300-6700 and bullish ones in Nifty 8500 Nifty 9500 and so on. But i dont see a camp which believes Nifty could remain range bound for quite some time to come with swings.
There is a lot of discussion on how markets have gone up because Domestic inflows in Midcaps/Smallcaps , How FIIs are selling and everything but a discussion on Stock Specific Fundamentals. The worst part it is all about feelings and emotions and no hard data to connect the dots.
In my very little experience of tracking markets for 10 years I have never seen a panic come when everyone is scared or where everyone is looking at Macro.
Conclusion
Nifty 50 today is a different animal which will not have big swings like it used to in 2005-2008 and will continue to be in a much tighter range then people expect like it did in 2012-2014.
My personal view is Nifty could bottom out around 7200-7400 a few 50-100 points here and there but will make a reversal slowly. But any incremental positives across global macro, domestic macro, Inflows or whatever you can discuss can lead to a sharp up tick from lows of 10% +. Think the current scenario is very similar to the one in 2011. This post will explain my technical perspective - https://nooreshtech.co.in/2016/01/nifty-2016-and-2012-will-consensus-of-downgrades-be-wrong-again.html
Also I would suggest you put all the worst possible prices you think for the Top 20 Nifty stocks in this excel sheet on Pessimistic Nifty and you would know what Nifty could be - https://nooreshtech.co.in/2016/01/nifty-calculator-january-2016-kya-lagta-hai.html