We have been focusing on IT sector as the top bet for last 1 year. Some of the earlier posts on large caps. All of them gave some superb returns and more is to come. The trend is still strong.
Wipro  given recently at 480-520.
Post that we looked into a lot of smallcaps. We had recommended Nucleus at 70-75 to clients but not covered on the blog. ( today its at 170 )
Sonata moved from 28-30 to 45+
Blue Star Infotech from 80 to 128 and still looks good 
Fundamentally we believe the IT sector has hit a sweet spot. Although this is a very simple reasoning.
-> Dollar remains high or at least we do not have a risk of 45-50 coming soon. ( this was a risk in the good times of 2008)
-> Attrition rate can lower with the downturn in economy and need for stability.
-> Indian IT companies have completed 10-30 years of existence and belief/trust in delivering capacity of indian companies is higher than before.
-> No more do IT companies need to over staff and create a bigger bench. Productivity should increase. ( There are many graduating engineers every year. In last 5-7 years the starting up salaries for fresh engineers has not increased considerably or rather are lowest adjusted for inflation)
-> US economy is recovering.
All said and done this is an opportunity for quality companies to do well. So one still needs to be very selective.
In that case the next company which we like is Datamatics Global Services.
We will keep it very simple for the stats below. Will try to cover more in next post with some more IT companies.
Datamatics Global Services
Market Cap – 270-290 crores.
Div Yield – 3.8-4%
Sales – 610 crores
Dividend Payout Ratio – 30% and higher.
PAT – 36 cr TTM
Some things which we like.
-> Totally export oriented.
-> Quoting at 7-8 times p-e.
-> Zero debt
-> The last two quarters have been the highest profits in its last 10 years.
-> High dividend payout ratio.
-> 80% plus promoter holding and consistent dividend for last 10 years.
-> All the new centres coming up in Nashik / Puducherry etc shows focus on tier 2 cities is a good strategy.
-> One of the reasons for low interest was it being the risk of Periodic Call Auction which is no more there.
-> Last acquisition of Cignex has done well.
-> At 270-300 cr mkt cap and 36 cr pat with a div yield of 4% reduces the downside risk. The compounded profit growth of 55% in last 5 years and if such growth continues we can see a significant re-rating in the multiples.
- > Investors can accumulate the stock if they are convinced about the prospects.
Disclosure : Recommended to clients at 46-50 levels.
Now lets look at technical reasons also.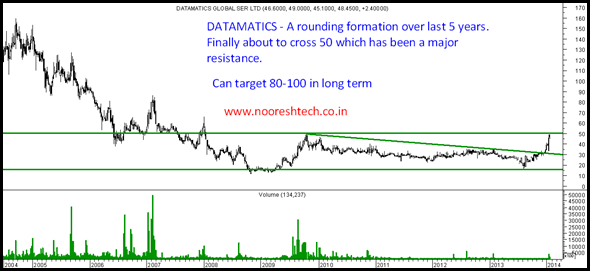 Datamatics Weekly Chart
-> After its listing in 2004 the stock has been in a downtrend for a long time now.
-> After 5 years the stock is making a first attempt to cross above 50 which is a major resistance.
-> Have been looking into the stock fundamentally as we have been focusing on smallcap IT for last 6 months. The volumes on daily charts finally convinced us about the interest in the stock.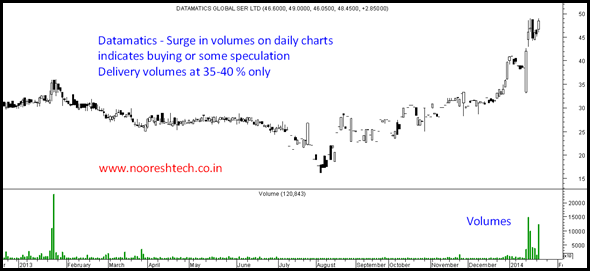 -> Volumes have slowly picked up in last 1 month but last 5-7 sessions have seen a huge surge. Although delivery volumes are 35% only but indicates speculation or interest is back.
Conclusion : At 45-50 levels the stock looks interesting with medium to long term view. Technical targets at 80-100.
Do your own research and read the disclaimer link.
PS – Have been a little unwell due to an injury to the knee so posts may be a bit irregular.