In the last many months we have seen Nifty continues to maintain higher levels and everything else listed going into dumps. We have almost reached a stage where Nifty is becoming irrelevant for a trader or investor.
There was a time when people would hedge the portfolio with Nifty Shorts/ or Puts. Now it seems the only hedge is to increase cash because Nifty is in a different trend.
The divergence in Bank Nifty and Nifty has never been so huge in last 5-8 years see this chart https://nooreshtech.co.in/2013/07/bank-nifty-and-nifty-major-divergence-pair-trade-short-nifty-and-buy-bank-nifty.html
Another index stock which was silent for past many years – Bharti Airtel seems to be now getting into a major reversal – See this chart discussed some days back
So we are coming down to a point where one cannot take a trade on basis of Nifty trend. We bounced from 5600 to 6100 but quite a lot of stocks kept going down. And now a dip from 6100 to 5700 and we see some stocks rallying strongly.
From now on the focus should be specific stocks and assume the broader market trend to be down and selective moves to continue.
Now we come to the part of Index management. Every few months we see a different heavy weight being notched up or down. Be it ITC, HUL, TCS, Reliance, Banks, Pharma etc.
The next most important chart which comes on the technical radar which can change the move in Nifty is Infosys.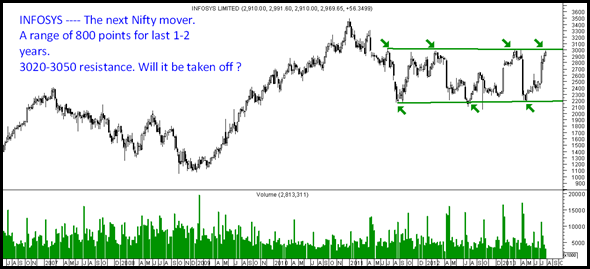 Technical View:
-> The stock has underperformed all the peers like TCS , Wipro , HCLTech and even the smaller ones like Tech Mahindra.
-> There have been huge swings on result days but the next result is 2-3 months away.
-> Major resistance at 3030-3050.
-> The range is of 800 points and will it be going back to the lower end of the range or blow out above 3020-3050.
-> The previous tops at 3400 could be an immediate target in momentum.
A confirmation of trend can come only above 3020-3050 but given the index management and underperformance of the stock , we would be keeping a close watch on this index heavyweight.
Given a 8-9% weightage and other IT stocks also tagging along we need to keep a close watch. On breakout quite a few option strategies can be worked out.
For now a stock on radar with 3020-3030 as a price point.
TECHNICAL ANALYSIS TRAINING SESSION MUMBAI
AUGUST 10-11
Can check a brief on the course outline https://nooreshtech.co.in/technical-analysis-training
TECHNICAL ANALYSIS ONLINE TRAINING SESSION IN AUGUST
This would be done through webinars.
For more details mail on nooreshtech@analyseindia.com or call Nooresh 09819225396 Ankit 09899899989
Nooresh Merani
www.analyseindia.com   ( For all our services )
Twitter – https://twitter.com/nooreshtech
Facebook – https://www.facebook.com/nooreshtech