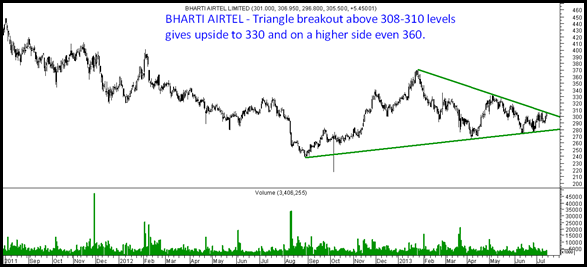 Bharti Airtel – After making good amount of higher bottoms the stock seems to be giving a nice triangle breakout which can target minimum 330 and even 360 in the best case.
Disclosure: Recommended to clients at lower levels.  ( For services check www.analyseindia.com )
Meanwhile HCL Tech ( check post  ) has done the targets faster coz of the nice move in Infy. Another favorite in IT segment remains Tech Mahindra to be bought on dips to 1100 or lower.
Planning small 1 hour webinars on Technical Analysis focusing on the basics and simple software tools. Would need suggestions from the readers on how it should be structured. Can mail me on nooreshtech@analyseindia.com or chat on gtalk – noorrock2002@gmail.com