Zicom Electronic Security Systems is one of the most known brands in security systems in India. People who watch Big Boss might have seen the camera product boldy showing the Zicom brand.
One of the major concerns is the lower shareholding by promoters and not giving out a fat dividend when they sold two of its divisions to Schneider Electric.
But when we look at the stock technically the volumes have picked up over the last 3-4 months and a technical breakout seen yesterday and confirmed today with higher volumes.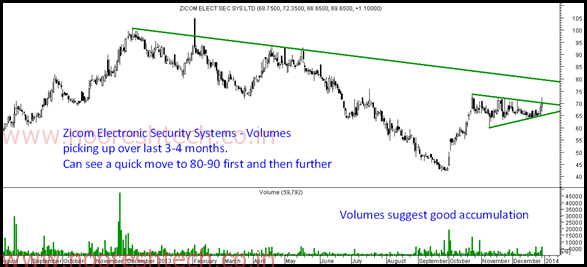 Zicom Technical View
-> The triangle breakout indicates a move to 80-90 zones quickly before taking a pause.
-> Today the volumes are almost double as of yesterday by 2 pm.
-> Volume accumulation indicates that this breakout can head even beyond 90 also but we will take this as a trading pick and keep trailing when it moves in line to expectations.
If investors who have been tracking the stock better please post their comments will reduce our research work on the company. The sector is promising, brand is promising if only the management seems clean it has all ingredients of a multibagger. Godrej Inds through its subsidiary Ensemble Holdings & Finance Ltd  has bought 2.2% stake also makes it an interesting bet.
Will post more once able to research more for now its a trading pick.
Disclosure: The stock has been recommended to our clients at 71-74 levels in the past two days.
TECHNICAL ANALYSIS TRAINING MUMBAI – January 11-12
For more details mail to nooreshtech@analyseindia.com or call 09819225396 Nooresh ( after market hours )
Thanks and Regards,
Nooresh Merani
Twitter – https://twitter.com/nooreshtech
Facebook – https://www.facebook.com/nooreshtech