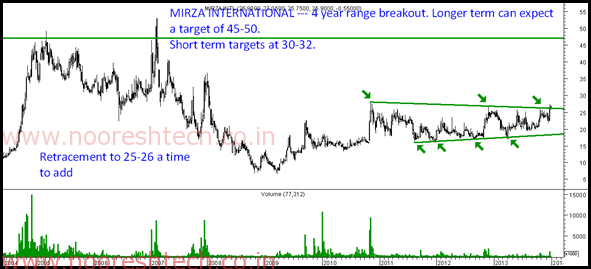 Mirza International Technical View
-> Over the last 4 years the stock would bounce to 24-26 and collapse back to 18-20 levels.
-> Recently after making a few attempts at 24-26 it sustained higher which gave a clear indication breakout was on the cards.
-> Today the stock has confirmed a long term breakout by crossing 28 levels.
-> Short term targets would be placed at 30-32 and any dips to 25-26 should be a buying zone.
-> Technically it can be termed as a channel breakout/triangle breakout or a range breakout but implications are we could be looking at 45-50 also in the long run. 
Disclosure: The stock came on our fundamental filter and has been advised to clients at 24 also with long term view. The stock was also recommended as a short term pick at 26-26.5 with a view of 30-32.
Also this is one of the tweets mentioning Mirza a few days back
Some of our services for monthly/quarterly can be bought from this link . For more of our services you can have a look at www.analyseindia.com
TECHNICAL ANALYSIS TRAINING MUMBAI – January 11-12
For more details mail to nooreshtech@analyseindia.com or call 09819225396 Nooresh ( after market hours )
Thanks and Regards,
Nooresh Merani
Twitter – https://twitter.com/nooreshtech
Facebook – https://www.facebook.com/nooreshtech