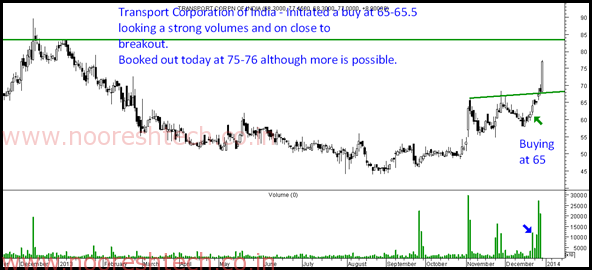 One of the important things to look into midcaps/smallcaps is the change in volumes with prices.
The above chart is an example of how a smarter entry can be initiated purely on volumes.
On 20-12-2013 we saw a good volume tick on this counter
This is the message sent to clients.
IM Dec 20, 2013 11:24:09 AM
11:03:39 AM 
nooresh merani: Buy hEXAWARE at 125-126 stoploss 122 targets 133-135
11:24:09 AM 
nooresh.merani: Buy Transport Corporation at 65-65.5 add around 61-62 with a stoploss of 58 for a delivery target of 75-85
We could not add on dips as it did not correct. The strategy to add on dips is as midcap stocks tend to be a bit more volatile and sometimes give you opportunities to add. So generally we take a major position at cmp and if at all it dips increase further.
Today the stock is up 10-12% and with very large volumes.
Although the stock can go further but we are happy with a quick 15-18% move in 10 days. Booking out at 75-76.
nooresh merani (30-12-2013 12:08:16 PM): Book full profit TCI at 75-76
We continue to be focussed on a lot of midcaps/smallcaps in the last few weeks. Will post some more trades advised in coming days.
Meanwhile last friday Everest Inds recommended jumped up 15%
Some of our services for monthly/quarterly can be bought from this link . For more of our services you can have a look at www.analyseindia.com
TECHNICAL ANALYSIS TRAINING MUMBAI – January 11-12
For more details mail to nooreshtech@analyseindia.com or call 09819225396 Nooresh ( after market hours )
Thanks and Regards,
Nooresh Merani
Twitter – https://twitter.com/nooreshtech
Facebook – https://www.facebook.com/nooreshtech