Although all our investment calls are given only to clients, making this as an exception for a couple of stocks which we believe can be good performers in the coming year.
Both the stocks are from the same sector and we believe the worst would be over in the coming quarter or after it. These two stocks were in favor with a lot of sell side analysts a year back and have since fallen a nice 30% from those prices.
Good managements and superb dividend payouts make it all the more interesting. Also technically the signs of bottoming out are pretty clear. Many more fundamental reasons to buy the two companies but lets just look at the technical charts below.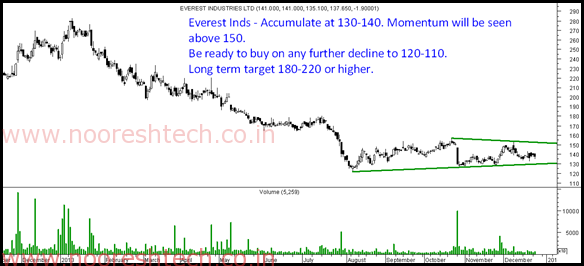 Everest Inds is consolidating around 120-150 with multiple bottoms around 125-130. Investors can accumulate at 130-140 and on any sharp crack to 120-110 in case of bad results this quarter.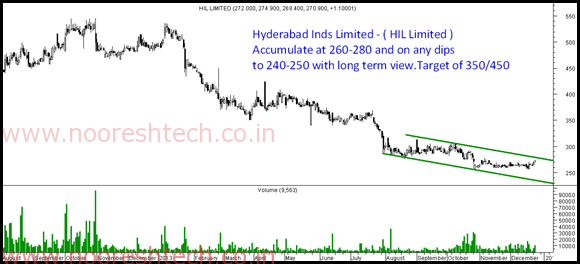 Hyderabad Inds has seen a slow decline on low volumes but a good accumulation seen recently at 260-270 zones.
Can accumulate at 260-280.
Disclosure: The stocks have been recommended to clients.
For our Advisory services check www.analyseindia.com
Also you can subscribe by paying online for our most favored plan – Quickgains Premium from this link - https://www.instamojo.com/noooreshtech/
TECHNICAL ANALYSIS TRAINING MUMBAI – January 11-12
For more details mail to nooreshtech@analyseindia.com or call 09819225396 Nooresh ( after market hours )
Book Recommendation
Thanks and Regards,
Nooresh Merani
Twitter – https://twitter.com/nooreshtech
Facebook – https://www.facebook.com/nooreshtech