Couple of days had mentioned about Wipro looking interesting in the large cap space.
This was one of our recommendations in the Technical Trades report at 475-480
Below are two charts taken from the report.
Wipro Daily Charts as on 2 weeks back.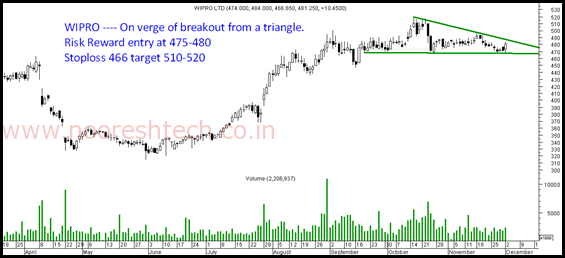 Wipro weekly charts 2 weeks back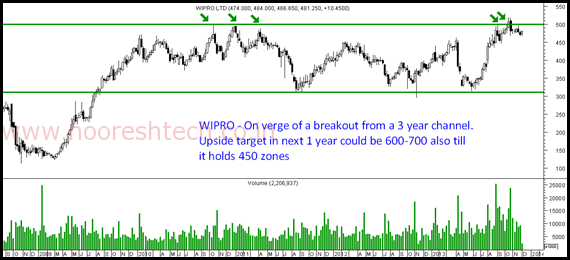 The way stock was consolidating gave a very good indication that stock may go through 520 levels with ease and fortunately it has.
Now lets look at the monthly chart.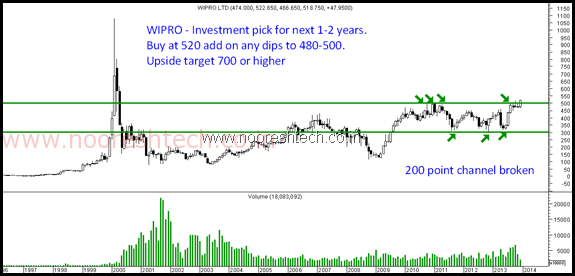 -> There have been almost 3-5 attempts at 300 and 500 in the last 3 years.
-> This gives us a range of 200 points.
-> The breakout now above 520 gives us a target of 700.
-> It may even be possible in the long term it can go back to its 2000 top at 1000.
Trading Strategy :
Although technically its a breakout and you would see almost every technical analyst pitching up this stock today or in next few days the trick lies in getting in before the herd gets in. So although we did get in early at 475-480 but one should be looking at it as a medium to longer term play and buy it in parts rather than jump in totally.
So ideally buy around 520 and wait for a dip to 480-500 to add the positions or keep chipping it over next few weeks.
If the stock does move up to 580 in short term book out some part of the initial position.
Disclosure:
No fresh trade in Wipro but we like the sector and have initiated a buy on Infy at 3410-3420 today morning. Will post charts on infy in next post.
TECHNICAL ANALYSIS TRAINING MUMBAI
December 21-22.
For more details mail to nooreshtech@analyseindia.com or call 09819225396 Nooresh ( after market hours )
Book Recommendation
Continuing with the book recommendations as in previous posts and to get some e vouchers as an affiliate below are a couple of books am looking forward to read. Already ordered the checklist manifesto by Atul Gawande and next in list is Thinking Fast and Slow by Daniel Kahnemann
Thanks and Regards,
Nooresh Merani
Twitter – https://twitter.com/nooreshtech
Facebook – https://www.facebook.com/nooreshtech