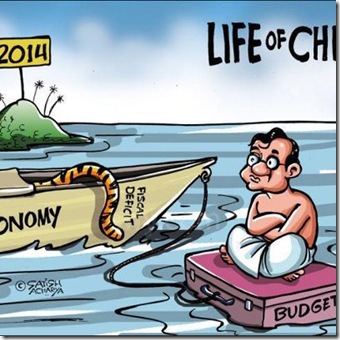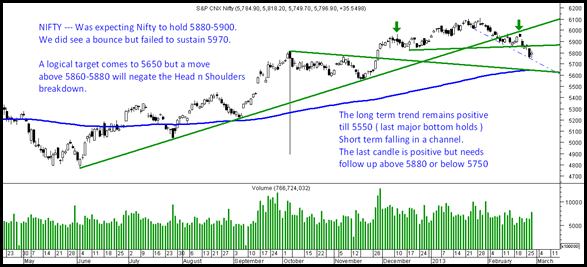 The last time had posted about a risk-reward buying opportunity around 5950 with a stop of 5920 (  me got it WRONG :)  but the stop loss took care of it and we have seen a drop now towards 5750. Link for the previous post.
That was past right now as per the current structure it seems a breakdown below 5840 and the next target would be 5750 and 5650 ( 200 dema ) on the head and shoulder breakdown as well.
Many a times have seen such patterns give false breakdowns also in a long term uptrend. For a long term view 5550 remains the trend change level.
In the short term the dip is in a nice down channel which was hit in last two days and the last candle stick indicates positive signs but would need a follow up above 5880 to negate the head and shoulders pattern or see a follow up below 5750 to give another dip to 5650.
In short 5600-5650 if comes would be a good area to look for index longs and 5880 to be a stop loss for any short trade and reverse above it for a quick dash to 5970 or higher.
The picture below describes the budget well
The current fall in midcaps has put up serious opportunities for long term investors.
Few stocks which we like as defensives – ( will discuss more in coming posts )
Godrej Inds below 280 till 260   ( diversified and safe long term play )
Smartlink below 56 till 52    ( Cash available for free )
Aarti Inds – below 86 till 80   ( Nice div yield and growth – Even Aarti Drugs is a good bet)
Best Regards,
Nooresh Merani