Over the last few sessions all of us market-men have been trying to search a TOP in Nifty. Also the last few months index has been in a nice rally on expected lines which quite a lot of people missed. Readers who would have followed our detailed presentation in August would have capitalized this move from 5100-5200 to 6000 and still riding on it.
Analyse India – Forget the Past
There is no belief in the current move with many people believing that the fundamentals still not being in place, government, CAD, Inflation, RBI  etc and lots of jargons used on TV. But nobody realizes that every global index is on a 3 year high so we are doing nothing different. Market moves ahead than fundamentals and for us at Analyse India we would be looking at getting cautious when fundamentals improve 😛
Let us look at the current Technical picture.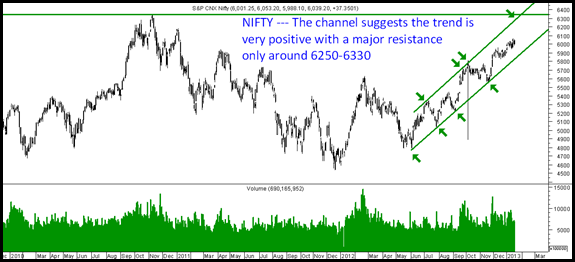 Nifty Technical View:
Like Newtons law of motion. A trend remains in motion till there is evidence of otherwise. This is the belief which a Technical Analyst believes in but at times difficult to follow.
All market-men have this habit of trying to call a Top or Bottom. Had written an extensive article in October 2011 mentioning to stop searching for a bottom and invest and followed it with another article mentioning how one will be left guessing a bottom as Fear had a hit a 10 year high around the world.
Right now there is no point finding a top till we see definite signals. We may keep seeing a lot of Technical Reports mentioning about it. A simpler strategy is to keep booking partial profits and use strict stoplosses and enjoy the ride which still has a lot to go.
Technically Nifty is in a higher top higher bottom in a nice ascending channel. The next logical resistance for the channel comes at 6250-6330.
Now some technical analyst would be calling the current volatile pattern in Nifty to be a rising wedge. Its too early to call it because we generally see big swings and 3-4 attempts on higher end of the wedge and a nice breakout too.
So for now it does not look distribution but possibly a lot of shakeouts to remove weaker hands.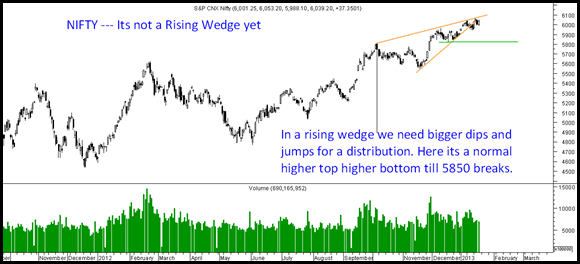 The simpler strategy is to now wait for recent bottoms to be broken for any turnaround signal. No point finding a top but its better to raise your stops. The recent bottoms are 5940/5850.
TECHNICAL ANALYSIS TRAINING WORKSHOP
MUMBAI – February 2-3
For more details call Ankit 09899899989 Nooresh 09819225396  or mail toanalyseindia@analyseindia.com
Regards
Nooresh Merani
Follow me on Twitter --    https://twitter.com/nooreshtech 
Follow this blog on Facebook - https://www.facebook.com/nooreshtech
You can mail me on -      nooreshtech@analyseindia.com
Phone -   09819225396  ( Only after market hours or message )