This is the guest post which i had written two weeks back but somehow missed updating on our website due to some network error and forgot. So posting it right now. The link for the post written on 14 October is as below.
Fear hit a 10 year high around the World  -
Also another article which i wrote a week back on the site. For getting all these articles every weekend fill in the pop up box with your details and subscribe to our blog.
SALE – Upto 30% OFF on 70% of the Market ---
Fear hit a 10 year High around the World !
Nifty was at 5100 on US Downgrade and yesterday Nifty was at 5100 but Panic hit a 10 year high on Global Volatility Indices ( VIX ) – ( excluding the 2008 Blackout) in the last 2 months when Nifty hit 4700 odd and S&P 500 hit 1075 and many other indices across the globe made new lows and highs is PANIC sentiment ( VIX )
VIX Definition by Investopedia -
The ticker symbol for the Chicago Board Options Exchange (CBOE) Volatility Index, which shows the market's expectation of 30-day volatility. It is constructed using the implied volatilities of a wide range of S&P 500 index options. This volatility is meant to be forward looking and is calculated from both calls and puts. The VIX is a widely used measure of market risk and is often referred to as the "investor fear gauge".
Read more: https://www.investopedia.com/terms/v/vix.asp#ixzz1ajZwZcTY
INDIA VIX definition by NSE:
India VIX is a volatility index based on the NIFTY Index Option prices. From the best bid-ask prices of NIFTY Options contracts, a volatility figure (%) is calculated which indicates the expected market volatility over the next 30 calendar days. India VIX uses the computation methodology of CBOE, with suitable amendments to adapt to the NIFTY options order book using cubic splines, etc.
VIX definition to be used for Market Timing
Whenever the VIX has hit levels of 40 + is equated with Extreme Panic and above 50 is a Black Swan or an unknown event which leads to markets being highly volatile. ( Blackout of 2008 ) . Such Panics should be used for Buying.
On the above definition we have been advising clients to buy closer to 4700 and stick on to them 🙂 some of them have pleasantly surprised with a 10% jump already.
S&P 500 and VIX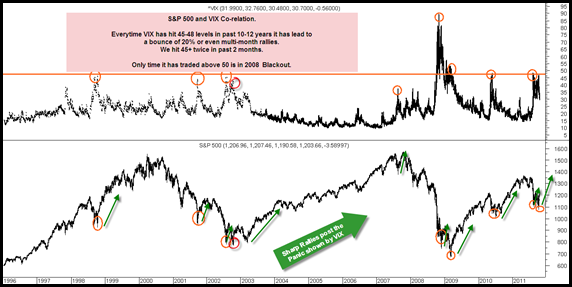 We hit a high of 45-48 on VIX and every time such a PANIC in sentiments has led to 20% bounce backs/multi-month rallies.
Over the last 10-12 years it has worked precisely except when in 2008 VIX went through the roof hitting 80 +.
We saw the same thing Happening in India in last 2 months.
Traders/Investors were buying highly priced PUTs as hedge in PANIC. They were ready to pay 100 Rs for a Nity 4500 PE of October ( Implying profit starts only below 4400 i.e more then 10% downside ) else he loses 100 Rs or like 2% of Nifty. ( It is now at 5 rs).
This helped us buy good stocks in the dip to 4700 recently.
( Also we got profits selling such highly priced options in Strangle Strategy – We will look into Why Investors should not Trade in Options or How to Profit from it from certain strategies)
NIFTY AND INDIA VIX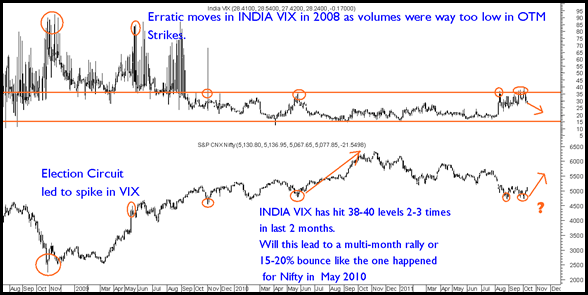 We have hit 38-40 levels 2-3 times with in last 2 months.
The last time we hit such VIX in May 2010 it led to a rally from 4800 to 5500 in next few months.
Will this lead to a multi-month rally or 15-20% bounce for Nifty this time ???
It would be a bit early to take a call on Nifty rallying to 5400 over the next few months ( probability is higher)  but from our previous article – Stop Guessing the Bottom it is very clear that Nifty/Sensex and broader markets are in Investment Zone and one should buy stock specific in every Panic shown on VIX /Drops on Nifty from here on else you might be left guessing the bottom.
Happy Investing,
Nooresh Merani