We had last time covered Nifty in May end and June when everyone was looking for 4500 Nifty but Defty gave a clear signal of double bottom.
Check link here and this one here
Currently although Nifty is at 6100 in we have yet not crossed January 2012 highs in dollar terms i.e Defty. This is one more reason we continue to see FII inflows.
USD-INR is still around 54 and there are two ways the chart below can breakout above 4000. Either nifty goes to 6300 or USD-INR does 52.
We may continue to watch this chart for breakout over next few days. But clearly no signs of topping out here yet.
When i mention topping out as discussed in previous post about Stop searching for a top does not imply a 100-150 point correction but a major medium term top so Nifty can keep moving from 6100 to 5920 in the short term without damaging the major structure which still remains up.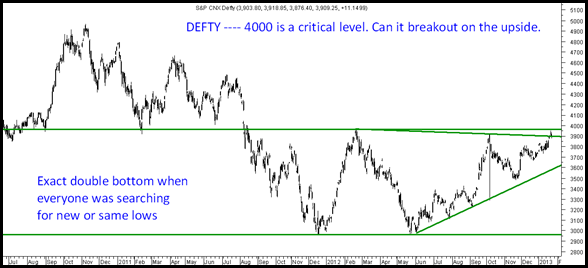 Conclusion – A move above 4000 on Defty can lead to some forceful FII buying. At the same time for Nifty the recent bottoms at 5940/5850 remain trend deciders. Shakeouts and breakouts will continue with many stoplosses or trailing stops being triggered with no gains or small losses. Continue to wait for opportunities with discipline so you can be part of the next directional move.
TECHNICAL ANALYSIS TRAINING SESSION MUMBAI
FEBRUARY 2- 3   ( The batch size is only 10 people so register at the earliest)
For more details mail to analyseindia@analyseindia.com
Regards
Nooresh Merani
Follow me on Twitter –    https://twitter.com/nooreshtech
Follow this blog on Facebook – https://www.facebook.com/nooreshtech
You can mail me on -      nooreshtech@analyseindia.com
Phone -   09819225396  ( Only after market hours or message )