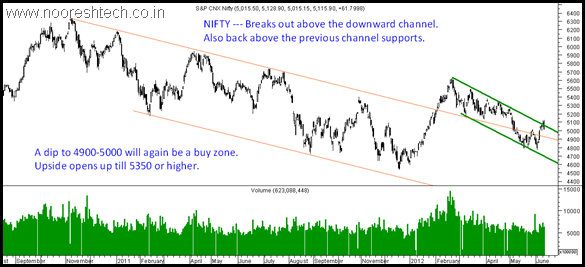 Nifty Technical View
We tested the 4770-4790 levels twice in the last couple of weeks which can even qualify as a double bottom.
The drop now has a major trendline and channel at 5100-5150 which it seems to be crossing. Also now it is back above the previous channel supports.
As it is the first move we may look at a possible dip to 4900-5000 which will be a buying opportunity but given the momentum will not be surprised to see this move head upto 5350 in the current move itself.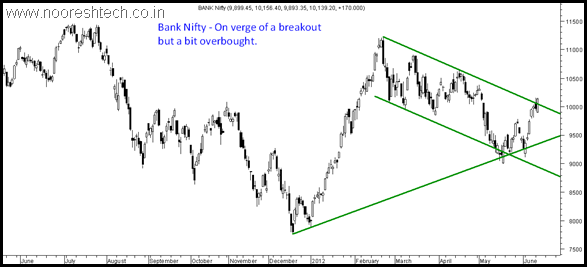 Bank Nifty – This again seems to be placed for a breakout but has moved very sharply so is a bit overbought and a little dip would be better.
In the meanwhile CNX Defty which is Nifty in dollar terms has just hit double bottoms exactly at december lows and that to two times in the current fall as well as the level has been tested thrice. A move beyond 3230 will be a confirmation of a momentum signal. Earlier post https://nooreshtech.co.in/2012/05/sp-cnx-defty-very-close-to-decemberjanuary-lows.html 
Meanwhile Lupin a stock which i expected to rally sharply has hit the stoploss at 540 :(. Also ranbaxy which we were waiting for a breakout has turned down and a drop below 470 on closing basis may change the trend. The defensive stocks now seems to be seeing an exit from investors. With the low liquidity the drop can be difficult to catch though the long term trend is positive. Will now start avoiding the defensive sectors like FMCG and Pharma and focus on aggressive high risk ones like banking, capital goods and infra.
Market Buzz : The possibilities of a rate cut have increased and street is expecting some big CRR and Repo rate cuts. Also this would be a good time to again start looking into midcaps as they may start participating post next week.
Disclosure: As have mentioned in all my previous posts that we had finished our buying at 4900-4950 itself and have a lot of long bias for the medium term and expect strong rallies to come over next few weeks. This view can be biased as we are on the long side in the short term trades and may look to add if there are dips to 4900 again.
So please do your own research, keep strict stoplosses.
Continue to remain very optimistic. Meanwhile would suggest to read this article - https://nooreshtech.co.in/2012/06/how-to-survive-a-market-crash-and-end-of-the-world-in-2012-sunday-thoughts.html 
TECHNICAL ANALYSIS TRAINING SESSION MUMBAI – JUNE 16-17
For more details mail us on analyseindia@analyseindia.com or call me on 09819225396 post market hours.
Happy Investing,
Nooresh Merani