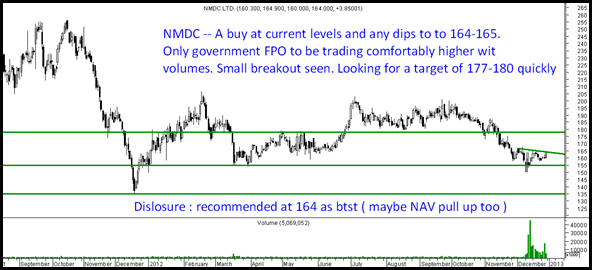 NMDC -- A buy at current levels and any dips to to 164-165.
Only government FPO to be trading comfortably higher wit
volumes. Small breakout seen. Looking for a target of 177-180 quickly
It could be a small inverted head and shoulders breakout above 165 giving a quick move. A longer term trend change can be seen only above 190. So its a quick trade with a small stoploss of 161.
Dislosure : recommended at 164 as btst ( maybe NAV pull up too )
Also have written another article on a stock we like for medium term – 
TECHNICAL ANALYSIS TRAINING SESSIONS planned for Delhi/Bangalore and Mumbai in month of January and Mid Feb.
Do register yourselves as we dont take more than 10-14 participants in one session.
For more details call Nooresh 09819225396 or ankit 09899899989