Had been pretty bearish on gold when it touched 1900 and subsequently was expecting 1450 but it reversed from 1530 a couple of times.
Recently had tweeted about Silver at 29 for a 10 % spike which did more than that.
For now it seems we might be again on verge of starting a new move on Gold.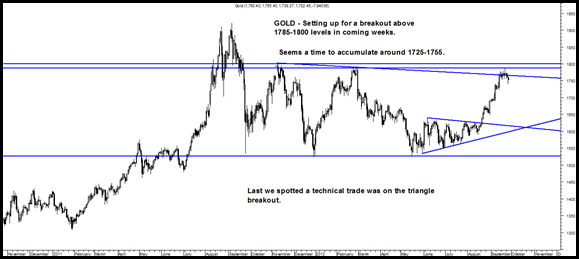 There are two ways to trade it. Accumulate on dips to 1725-1755 with a deep stoploss below 1690 or take a bet above 1790 with a stop of 1775 and upsides to 1830-1850 and higher.
For MCX traders – Given that USD-INR is now at 53 which if broken can even see a move to 51.5-52 further dips could be a good time to buy gold for a positional on at 31000-30800. Well this would be a deep stoploss.
For investors increasing allocation or starting a bit more to Gold ETFs as a hedge could be a good thing to do.
Please do your own research and dont speculate heavily on the above idea as its more of a medium term view on gold. On the short term its only a speculative buy above 1790 !!
Regards,
Nooresh