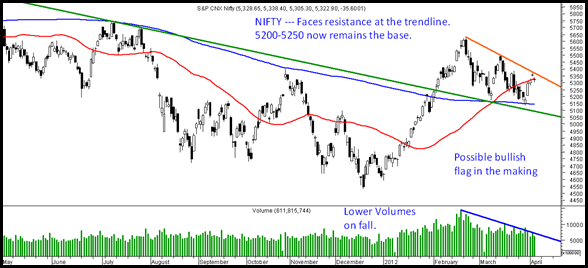 Nifty Technical View:
Last week amidst a lot of uncertainty or GAAR and more there was a lot of volatility and nervousness among traders. We had come out with a very simple view and another view  of buying the dips. From a low of 5135 Nifty bounced back to the upper end of the resistance band. Although its just a 200-250 points jump on the index we saw 15-20% jumps in many stocks.
Now with a doji on the trendline resistance we can now expect some pullback closer to 5250 or lower. We may now again look for dips to get into stock specific trades.
My expectation is we will be seeing a lot of stock specific action in the broader markets so one should now stop looking at the index and search for stock ideas. As a medium term / short term trader and even a long term investor we may now have a review point if Nifty goes below 5135 and 4950 till then its time to buy the dips or momentum trades.
Meanwhile we have launched a new plan which is best suited for Investors with a medium to long term outlook and a passive / conservative approach to investing.
ANALYSE WEALTHWYSE ---- Check the link for more details.
The consultancy charges are Rs. 9,999/-  inclusive of all taxes & charges for 1 year.
We had a similar portfolio in August 2011 which stands around 23-25% gains. We had a much conservative approach in it as booked partial profits a bit too early but majority of the stocks have jumped 50% + also from recommended levels.
Happy Investing,
Nooresh Merani
09819225396 ( after market hours only )