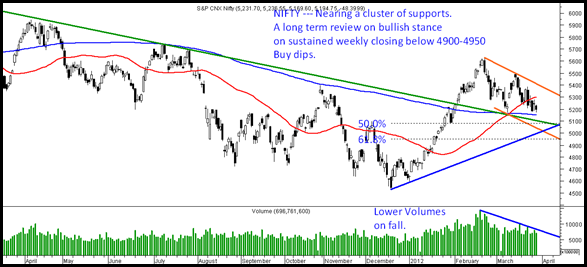 Although the recent correction might be termed by many as a fall and is getting scarier by the day with the amount of uncertainty and no clarity on various issues – govt reforms, fiscal deficit, P-Notes, GAAR, RBI , Rate cut, Crude , Global Issues and say on !!
Now lets look at the Technical View first.
Negatives
- > The fall from 5640 is from a crucial point ( 61.8%  of the entire fall from 6300 to 4530 )
- > The current drop has made a lower top at 5500.
- > Nifty is about to make a lower bottom if it trades 5170 levels. We did make same bottom today.
- > Nifty is trading below the 50 day moving average and very close to the 200 day moving average.
- > All the indicators seem to have given a downward signal.
-> Nifty has dropped below the 38.2% level and can now even test the further retracements.
Positives
-> The rise to 5600 was with very large volumes and good price action.
-> The correction from 5600 is on low volumes and they have been dropping with every passing day.
-> Nifty has given a golden cross when it was around 5400 odd levels. The general pullback is around 6-8% post the crossover.
-> Channel breakout level was tested previously and can be tested again around 5080-5100.
-> 50% retracement level comes to around 5080 and 61.8% at 4950.
-> If its a correction then it should not stay below 61.8% ( 4950 )  or maximum 73.6% ( 4820) . We may review our medium to long term bullish stance only if 4950 is broken.
-> The current correction seems like a bullish flag pattern.
-> The drop is slow and steady with no major price action which is generally seen in correction.
Now the other part which i dont understand but below is somethings as per interactions with market-men. None of it makes enough sense to me but can be considered market gyan.
Govt Deficit and Reforms– No idea how will they manage. But they work only when the situation gets really tight according to older investors ( aka 1991 reforms). Nobody is looking at the uptick that could come if govt reforms step in.
Fiscal Deficit --- Will remain a concern always. But one nice point i read Gold Imports are hurting it too. Crude fall and rupee appreciation can totally change this.
P-Notes – Major problem is the source of money in this case. It should be taxed or made to disclose. This instrument has been used for avoiding tax, money laundering and manipulation. But Right now the government does not have bargaining power with current liquidity conditions. Every time govt has tried to put a curb on P-notes they have retracted it back. In 2007 it was less then a week. In Oct 2008 they removed the limits when the times were bad.
GAAR – This has been in the offing for long to curtail tax evasion and maybe is a tool put in place to take harsh steps in good times.
Rate Cut – Inflation remains a major problem but so is growth so RBI will have to step in maybe soon. The huge amount of repo and liquidity conditions are still not getting cushioned with CRR cuts. Liquidity need is high so what measure RBI takes is difficult to say but they have to.
Crude – The rise in crude is more in Brent prices and the discount of 20 cannot stay forever. But there can still be a spike in crude which nobody can predict. But over a period of time it should settle lower once there is more clarity.
Global issues --- Indian Markets have underperformed developing markets. Or rather the whole of emerging markets have underperformed. China being the worst. Europe and US are up 25-30% from August lows. India is still just 8-12% up from those times or even lower.
But above all bhaav bhagwan so let Nifty give the signals. Also in fundamentally strong companies above things will not impact their operations in a big way. Nesco will not get lower rents or exhibitions coz of P-Notes or GAAR it can only lead to a market reaction which needs to be utilized to accumulate quality stocks.
Strategy :
The dips remain a buy zone provided you focus on quality defensive stocks. Also if they do drop by 10-20% one may look to add or just be patient if convinced with the stock. Market corrections are part of the game. Any panics from here will remain a strong buying opportunity.
Expect Nifty to find base either at 5100-5200 or 4950-5050.
Good time to deploy cash or even fresh money 🙂
Happy Investing
Nooresh Merani