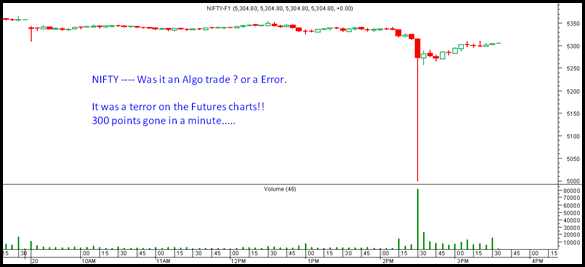 Nifty Futures dropped 300 points in a minute. I did see it on the screen too. 
From 5300 to a low of 5000 and back to 5240-5250 in a minute and closed around 5300 by end of the day.
Net result was 20 negative but that few minutes were a killer.
Most important thing Nifty Spot did not see a similar correction. This is how it looks like. So the scare that came in futures did lead to a 50-70 point dip but a subsequent recovery.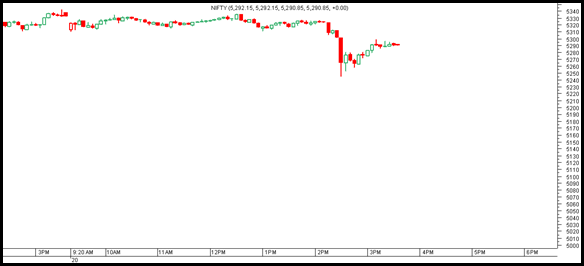 There have been lot of rumours of an Algo trade by a foreign broking firm which hit 17 lakh Nifty.
Have got many reasons from some big guy selling, GAAR effect or some big shorts had to cover etc etc. Just a brief reasoning after speaking to a couple of dealers and traders.
Ideally this has to be an Algo trade as Nifty has a quantity freeze on single orders so it cannot be a single dealer mistake as there is a limit of maximum quantity per order. Also such a trade may need a broker to have 300-400 crore margin ( very few indian brokers have that open all the time on one terminal ) . Whereas in algorithmic trading one can do order slicing timewise, valuewise, average traded price, market orders and many such parameters. Some big broker did screw up on the parameters or a dealer had a Fat Finger.
Last friday we had seen a possible Nifty basket as there were huge volumes on quite a lot of Nifty scrips which happens many a times but this time around the volumes were specific to Nifty futures only.
FII figures do not show a big trade so who did it ?? NSE has not recognized it to be an error so somebody took the possible 20-30 crore hit.
It clearly shows our stock exchanges do not have enough depth but we are not as connected like US systems 🙂 too. We do have circuit breakers on spot markets. We can just forget the Friday as our Fat Finger Day 🙂
 Dow Jones had a fat finger day a really FAT one where one trade led to another with dow crashing 998 points. Many stocks traded 90-95% down also and recovered back fully. Nasdaq had to cancel trades in 296 stocks !! . Accenture traded at a 1 cent from 40 $ 🙂 back to 37-39.
Markets do find equilibrium after such crashes in quick time so lets take this NSE fat finger day. Even bse had one some time back on its newly launched Sensex futures.
All in all we should celebrate the fact that NSE also gets into the league of NYSE as we also had a Fat Finger day but luckily we are not as obese as US :)