There are lot many questions about what happened with Dow Jones today. I was almost asleep before i got a call that Dow down 1000 points within a minute another call saying down only 400 points.
There are many questions to be asked as to what happened like.Some are below.
Dow Jones drops 700 points in 15 minutes and recovers 600 points in next few minutes.
Procter and Gamble a fat-finger trade. Low of 39 to 58 next minute.
Was High frequency trading responsible for the Dow fall?.
Automated trading and flash orders a major systematic risk to developed financial markets.
Margin selling by automated systems would have triggered the 1000 point drop.
Many trades initiated were cancelled by exchanges as per trading desks.
How will Asian markets react to the US fiasco is difficult to guess but it seems Indian Indices are better regulated 🙂 with circuit barriers for all stocks. But todays move on Dow would be historic as to what sort of shit can happen even in developed financial markets with bad regulations.
Some examples of crap moves.
One stock which was worth 13 dollars traded at a low of 0.10 or rather say 10 cents !!! in the day. Stock ticker PIE.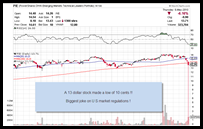 Procter and Gamble which is 4 % weightage on Dow Jones did a low of 39 odd from 60. Within the next minute it was back to 58. A tracking software which is a demo version – gcitrading could not even catch the low 🙂 it shows 47 as low.
Its a big sham on US regulators when billions of dollars of market cap can be eroded for minutes 🙂
Check the chart below

For the Sensex technically we may not go below 16500 mark ideally rest can review the situation in the morning.
Dow Jones move would be considered a freak move but whats surprising the low of 9800 odd was exactly close to 9835 of February 2010.
Will put up more examples on the historic day soon… Meanwhile google for Automated Trading and High frequency trading to know what would have triggered this. Margin Selling etc.