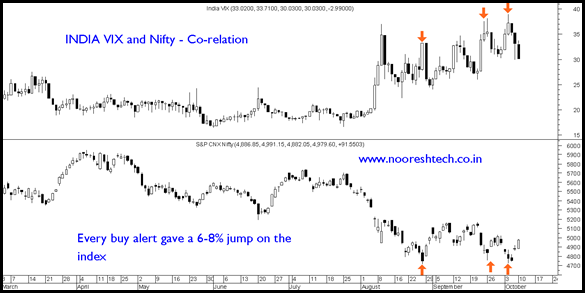 India Vix and Nifty Co-relation :
The basic co-relation between INDIA VIX and Nifty is an inverse one. So if VIX hits a high implies Nifty will bottom out but how much VIX will you expect to give the Nifty bottom ? Well thats where expertise of Analyse India helps to time such contra trades. Above all it alerts Short traders to cover shorts and book profits at least 🙂
Last Tuesday on October 4 at 11.51 am in the morning made a quick post -
after that index made a low of 4728 and 4741 the next day. Majority of the analysts were looking at a possible short trade but we got into a contrarian view to buy the decline. Keeping in mind the volatility the option to buy till 4550 was open in case of any adverse news.
Since then now Nifty almost did 5000 which is a cool 250 points from the low satisfying our previous VIX views of 6-8% jumps.
Although we did not take a Nifty long strategy we took a view to take short strangle and continue to hold it. The premium inflow for two strategies was 215 ( 2 strikes ) and 415 ( 4 strikes ) was closed at 115-120 and 220 levels giving a neat gain of 5-8% on the deployed capital 🙂
Look at our previous contra trend updates on India Vix.
After the US downgrade and many other news index was at 4950-5000 on 9 the August and today on 10 October the index is still at 4950-5000. The above statistic looks surprising in terms of how the sentiments have moved around in the last 2 months !!! with the index at the same place. Many traders got trapped on either side due to sentiments and we at Analyse India kept alerting on how to buy the dip and book the rise.
In the same period we did a lot of Option Strategies to get 5-7% returns utilizing the sluggish index conditions. We would soon be introducing a Option Strategy + Nifty calls combo service at a discount next week.
Have not been able to update more on stock specific recommendations as many of them are being copied by other people as well as busy with work and social commitments 🙂
NIFTY TECHNICAL VIEW :
The current view is to watchout for resistance at 5035-5050 and till we dont cross 5120-5150 trendline we may need to follow the simple strategy of buy the dips book on rise :). Although this week may see lot of stock specific action but trades will have to be quick.
on a lighter side Blackberry Services have just stopped functioning:) for many telecom operators , there would be lesser inside info and Heard on Street tomorrow if issue not resolved tonight.
For people on facebook do look at our page and like it ;)  Analyse India . We may soon be updating more on my twitter account as well – Nooreshtech on twitter
Also if you like the articles posted on this site refer it to your friends 🙂 post it as status message on facebook 🙂
Happy Investing,
Nooresh Merani