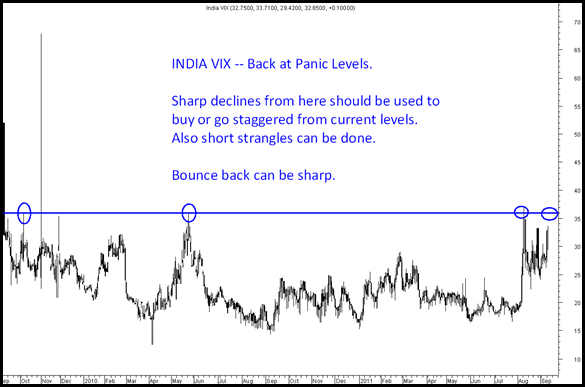 The VIX made a high of 36-37 in previous panics as shown in chart.
ATM vols of 4900 around 31%
OTM vols  put 4600-4700 at 36-37 %
OTM Vols of calls at 28-29%
The markets are pricing in sharp moves to the extent of 5-7% indicating lot of fear and hedging taking place on back of possible global announcements or RBI hit.
The last two two times INDIA VIX was above 32 was on 09/08/2011 – Nifty was 4950-500 it bounced to 5195 and next on 26/08/2011 it traded at 32 – Nifty was at 4720-4750 it bounce back to 5150 +.
So panic is at high watch if there is a sharp correction one can look for stock specific buying. Nifty support points 4850/4720 in panics.
Possible bounce back candidates if there is further drop of 3-5% in following stocks  SBI, M& M , Maruti, LnT , Metals like – Hindalco/Sterlite/Tata Steel and Infrastructure stocks.
Buying staggered or on declines should be with a view to exit on bounces.
Only time Index has traded above 38-40 vols has been in 2008 Lehmann collapse period.
Haapy Investing,
Nooresh Merani