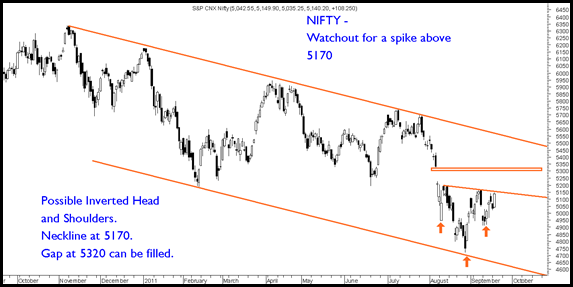 Nifty Technical View:
The current pattern does look like an inverted head and shoulders for Nifty but generally the probability of targets being met in such short duration patterns of Head and Shoulders is comparatively lower but the current structure of holding 4900 and a gap at 5320 suggests Nifty may well head to 5320 also.
Also with a lot of people being stuck on shorts a short covering rally also seems imminent.
In our previous ALERT – INDIA VIX trading at 33-34 had mentioned that fear is very high and in last two similar instances we have seen a jump of 6-8% or more on this indicator. So from a low of 4911 to 5150 we seem to be on track for the possible move.
The view for staggered buying has worked whereas the stocks we have covered in our previous posts have continued their rally.
Stocks to watchout for :
Eicher Motors has jumped from 1410 to 1560. One may now look to book profits now.
Berger Paints can be added on dips to 100-102
Escorts is a good candidate for a short term jump to 82+
GSFC from initiated levels of 395 has jumped to 460 --- trail part of the position
MAx India is going beyond targets can look to buy on dips to 195-200
We maintain the strong view on Cement stocks and they have been resilient in this markets. ACC Grasim still good for more.
Lupin sustaining above 490 can give a move to 520.
ALSO WE STILL ARE NOT RECEIVING MANY ENTRIES FOR THE QUIZ -
 https://nooreshtech.co.in/2011/09/niftysensex-a-brief-statistical-look-on-p-ediv-yield.html 
Do reply in comments for free gifts from Analyse India
TECHNICAL ANALYSIS TRAINING SESSIONS SCHEDULE
BANGALORE SEPTEMBER 24-25
MUMBAI OCTOBER ------------ ( tentative schedule for 2 weeks in October )
To know more on Discounts & Details contact: Kazim on 09821237002 or Asif on 09833666151