Above is a quick snapshot of Sensex/Nifty statistics – namely – EPS , Div Yield , P-E ratios. 
Mind you the above numbers are consolidated and the estimated eps is as mentioned in bloomberg.
So lets take a plot of it and major swings in it.
1) Nifty Consolidated P-E stands at 14.2 as on 12/09/2011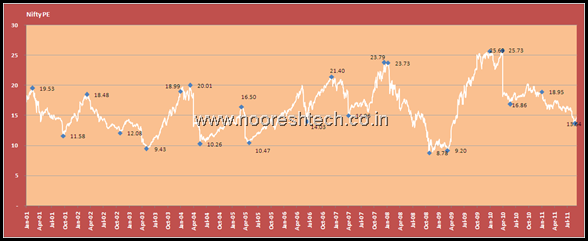 Source - Bloomberg
2) Nifty standalone P-E stands at 17.86 as on 12/09/2011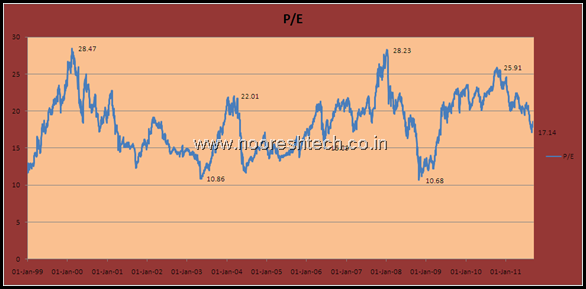 Source NSE
I am still in the process of doing a detailed analysis which can be explained as well 🙂 but sharing the above data so to get more reviews and give a learning perspective on statistics.
Now certain questions that come up are more of statistics and may need a bit of excel/google and brokerage reports. I would request readers to find it out as well as post the same in the comments section or if somebody is doing a detailed study in doc/ppt format can mail it to me on nooreshtech@analyseindia.com . You need not answer all the questions but provide answers to at least 2 questions.
1) Why is consolidated P-E at 14 times whereas standalone given on NSE at 18 times.
2) The FY 12 EPS estimates are considering 6-7% growth whereas FY 13 EPS expects 16-17% growth from FY 12. As per earnings growth rate of last 10 years is this possible ? ( Hint -  Need to do statistical analysis of growth rate )
3) What were the earning estimates for FY 08/ FY 09  as per and how bad was it . And what were FY 12 estimates a year back. ( Hint – Google it or skim through old brokerage strategic reports )
4) As per FY 13 estimates earnings will grow 23-24 % from current earnings. Is it overly optimistic / moderate / pessimistc ? and Why ?
5) What has been the mean/worst/best  P-E for Nifty/Sensex for TTM and Estimated EPS.
6) How much is the difference between consolidated and standalone nos for Nifty.
7) What is the lowest dividend yield and highest dividend yield for Nifty/Sensex in conjunction with market highs and lows.
The best 3 readers who give a good reply to the above questions will receive lucrative gifts/prizes from Analyse India  🙂 . The contest ends in next 10-14 days. Also if you need some more historical data check www.nseindia.com ( Index statistics section) or mail me on nooreshtech@analyseindia.com
There are many more questions will be answered in the above in coming days also will need comments from readers. Right now making no conclusion on the stats but its an interesting time as personally i see this time to be a good research time 🙂 as many opportunities maybe on hand.
Once we are done with Nifty we will try to take this towards stock specific Statistics. Meanwhile i would suggest people to also comment on Aditya Birla Nuvo Brief Analysis
TECHNICAL ANALYSIS TRAINING SESSIONS SCHEDULE
HYDERABAD SEPTEMBER 17-18
BANGALORE SEPTEMBER 24-25
For more details mail to analyseindia@analyseindia.com with your contact details or call Kazim 09821237002, Asif 09833666151 to avail of group discounts and more .
Also if you have any further queries or would like to speak with me sms me on 09819225396 will get back post market hours.