Aditya Birla Nuvo has been another defensive favorite which we have kept trading between 800-970 and prefer to buy in systematic manner at 910/850/800.
Now let us look at the Sum of the Parts ( SOTP ) calculation for the various businesses under Aditya Birla Nuvo. Before we take SOTP one needs to realize markets never give such lofty valuations to conglomerates like Aditya Birla Nuvo but whenever there is value unlocking or markets are on a turnaround they suddenly give you sharp returns.
This is the latest SOTP valuation given by Prime Broking in their recent Result Update.  The whole result update can be download from this
A detailed report out in April by the same firm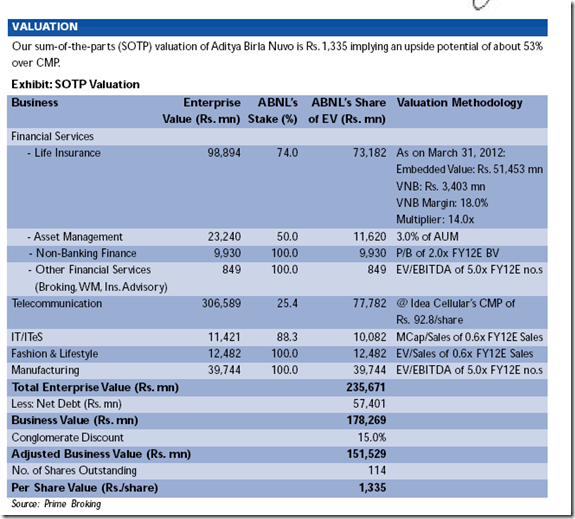 Now i will not try to point out different valuations but the total enterprise value comes to around 17800 crores ( after removing debt )  accordingly whereas the current market cap is around 9900 crores. This looks like a steal with the growth possibilities in all the segments.
But then why is the stock available at 870 bucks compared to a value of 1560 +. The reason being none of the businesses it holds will be sold off so it should be considered as a holding company. Generally holding companies tend to trade at a discount of 50% or more ( so it should trade at 780-800 )
Now let us look into the few points which makes it a buy for me at current levels and declines till 750-800
-> Fashion, Manufacturing, NBFC are 100% holding companies so the discount should not apply to its value.
-> As per some market buzz - Apax Partners has signaled its interest in a buyout but Birla has stated that he would consider only a stake sale under 26%. PE funds have indicated valuations of around $800 million, while Aditya Birla Group is seeking $1 billion. ( Now this implies a valuation of 4000 crores whereas in above calculation it is around 1250 crores )
- > There is a good possibility that there could be further stake sales in Madura, Life Insurance ( FDI Limit increase )  and so on over the next 1-2 years which could lead to a good unlocking of value.
-> From the current levels there is a good margin of safety with low downside risks but over the next 1-2 years when there is value unlocking or when market re-rates the stock on SOTP value and discount reduces.
-> So one can look to buy the stock at 870/830/780 levels slowly with a minimum target price of 1100-1300 over the next 12-18 months. This could be one of the stocks where one can even look at a 5 year horizon for slow and steady returns.
The view above is personal and the calculations are just indicative. Please do your own research.
Happy Investing,
Nooresh Merani