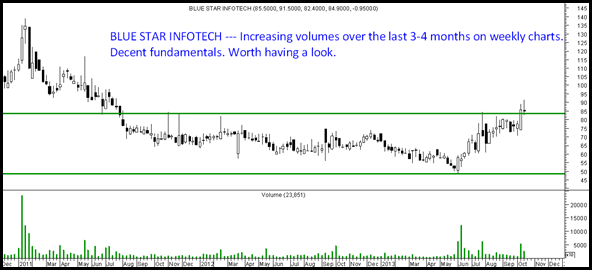 Technically the stock came into radar for the last few weeks as volumes have consistently been picking up in the stock.  Above 80-85 is a strong indication of something cooking into the stock.
Now lets look at a quick fundamental check ( trying to find out more on the company )
Market Cap: Rs. 88.30 Crores
Current Price: Rs. 84.90
Book Value: Rs. 89.73
Stock P/E: 10.79
Dividend Yield: 2.36%
Stock is Rs. 10.00 paid up
Company website
52 Week High/Low: Rs. 90.15 / Rs. 48.15
Some Fundamental Points to look at :
Company has around 25-29  odd cr cash which gives us an enterprise value of 60 cr.
Dividend payout is a nice 40%. So if company makes money dividends will rise. At some point in previous years it even gave dividends of 5 bucks.
Company pays tax and the last quarter results were exceptional with a 350 % rise in profits. Deal sizes increasing and so is annuity business.
At 10 times multiple and given the possibility of growth in coming quarters can be an interesting bet at 70-85 bucks.
Will like readers to share their views.
Nooresh Merani
www.analyseindia.com   ( For all our services )
Twitter – https://twitter.com/nooreshtech
Facebook – https://www.facebook.com/nooreshtech